Wednesday, December 29, 2004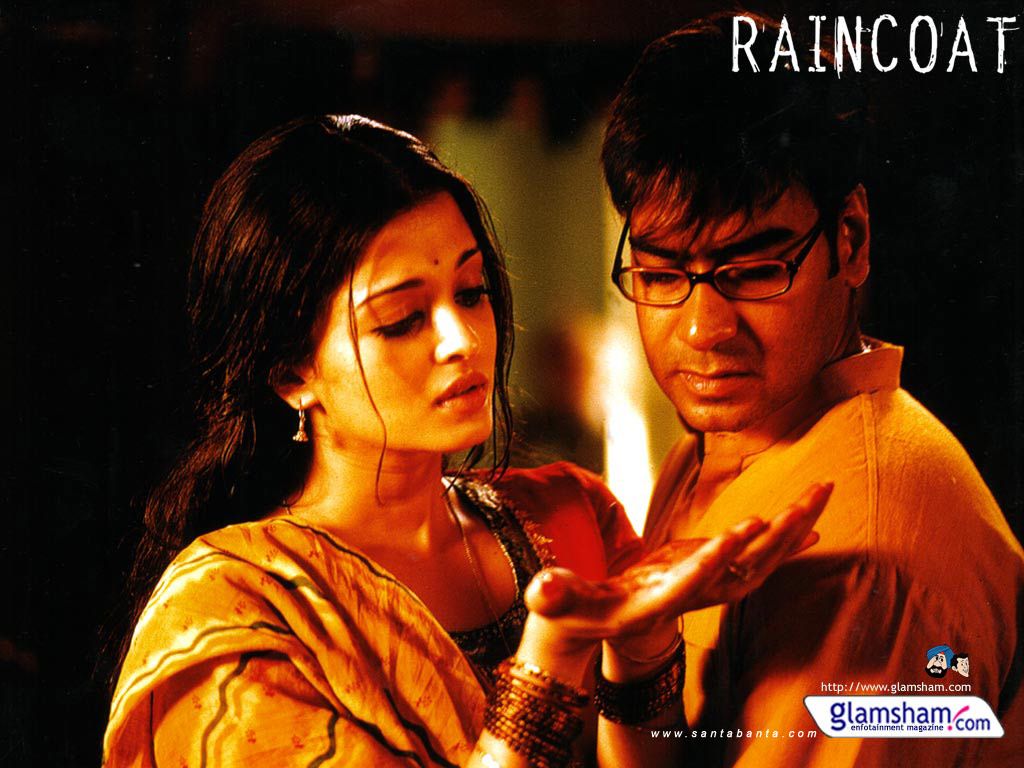 With only six actors to fill the frames and the frames themselves, moving at a pace that can not be called anything but slow, Raincoat never had the big chance to be a superhit. The promotions of the movie have been coming on the tele for a long time, too and much of the curiosity effect has been killed before the movie actually became ready for release. Rituparno Ghosh, however, has done a wonderful job of translating one of O Henry's works on screen through this short movie that beautifully traverses the border between mainstream and art cinema.
Manoj lives in Bhagalpur where he loses his job with the local factory, putting him in dire need of money. He decides to go to Calcutta and ask his friends for some monteray help and with that, start a business. Once in Calcutta, he goes to see his college friend who makes television serials. He is welcomed there by the friend and his wife and given all contact addresses of people who might be able to help him.
Manoj has another agenda to meet in Calcutta, and that is to meet his childhood sweetheart Neeru, who had given him the slip and married a well-off business man from Calcutta. When Manoj visits Neeru amidst the rainy weather wearing the raincoat lent to him by his friend's wife, the story moves on to a dialogue between Manoj and Neeru and occasional flash back sequences to establish their romantic history and subsequent bereavement.
The events take an interesting turn when Neeru borrows Manoj's raincoat to go out to buy soem supplies from the grocery and there enters into the scene, another character, the full-bladder Landlord.
Ajay Devgan as Manoj and Aishwarya Rai as Neeru have done an amazingly perfect job of portraying two estranged lovers who have not really let go of their passions for each other. Aishwarya Rai looks sweet as well as manipulative. Having tried the same kind of role in Khakee, she perfects it in Raincoat. In the flash back as well as in the current sequences, she clearly comes across as the dominant partner of the romance and not just because the story is so, but also through the way the two actors act out their respective roles.
The silent yet disturbed protrayal of a ditched, troubled man by Ajay Devgan, though not very spectacular, is as effective as it could have been. He restrains himself, stutters, stammers, cries, and at the same time brags with abandon, as any normal person in real life would have done.
Annu Kapoor impresses in his small but effective role. It has been a long time since he made an appearance on the big screen and this time, he does not disappoint. He is very straight forward and rude, as the nature of his character demands. More than that, he manages his entry and exit very well.
Direction by Rituparno Ghosh is bordering on excellent. Specifically, the scenes between Aishwarya and Ajay and between Annu and Ajay are very well executed. The rip-offs between the lovers, the tone of Aishwarya and the way she carries herself are evidences to the mastery of Ghosh.
The cinematography, however, might be one area where the movie loses out a little, although it must be admitted that the look of the movie is in keeping with the feel of the movie. The dark corners, the stormy nights where the faces of neither Ajay or Aishwarya are clearly visible, though they add to the story, take away a lot from its appeal. This is where, despite some very popular mainstream actors, the movie moves on to the art cinema mode with hardly any background music and dark backgrounds.
Even on other occasions, when there is background music aplenty, it is in the voices of Shubha Mudgal which is anyday not as popular as a Lata or a Kavita or an Alka. Classically beautiful, yes but practically popular, certainly not.
If you want to watch Aishwarya uninterrupted for one and a half hours and that too, at one of her best, if Ajay Devgan has started impressing you more and more with every movie he takes on, if you are in that over-boisterous kind of a mood and require some straightening, Raincoat will do wonders for you. If you are already in the dumps and are looking forward to some cat calls and whistles, you are in for a disappointment.
Posted at 05:02 pm by Nitai
Permanent Link
Monday, December 27, 2004
Jab bhi hum daleelon me kamzor parhne lagte hain
Hum hamesha do hi cheezon ka sahara lete hain
sanskaar aur Parampara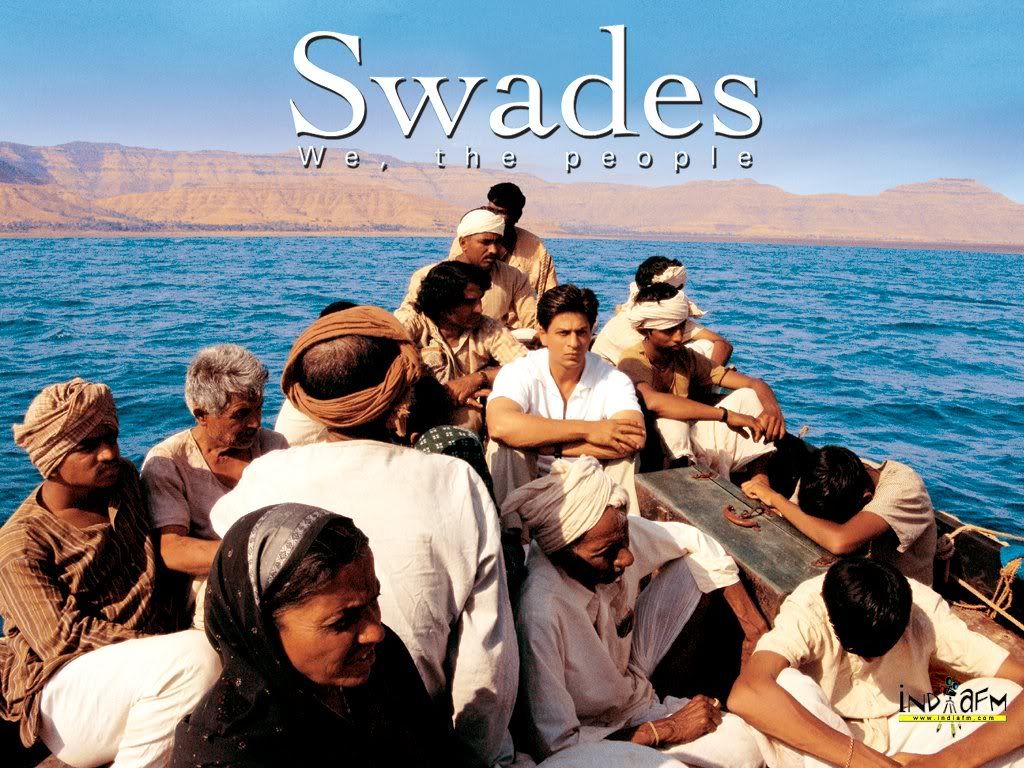 After the amazing success of Lagaan, there were quite a lot of expectations from Swades, Gowarikar's next. In a sense, Swades does come close to Lagaan in parts, it fails, on the whole, to entertain. Swades has a story to tell and it does tell the story in a unique style, that of realism and perfection. Aamir Khan and his Lagaan notwithstanding, Swades is indicative of the effect that Khan had on his director.


Mohan Bhargava works as a Project Manager for NASA where he is working on the Global Precipitation Measurement model. In the middle of his project, he starts thinking of Kaveri Amma, the lady who took care of him during his childhood. He feels the guilt of having left her alone in India and as such, leaves for India to find and take care of Kaveri Amma. Once in India, he realises that Kaveri Amma has left the Old Age Home where she was living and has gone on to Charanpur, a small village in Uttar Pradesh.


He also meets Gita, who guides him to some other place but luckily, Mohan manages to find his way to Charanpur. He finds that there are a lot of problems in the village and Kaveri Amma is too attached with Gita and the village to leave them with their problems. The rest of the story revolves around how Mohan starts solving the village's problems to enable Kaveri Amma to accompany him to America. Soon however, he gets truly involved in the village and its people.


From the directorial front, the movie is well made but for the speed of execution of some situations. As mentioned earlier, the high point is that the movie showcases things up front, as they are and without any pretence. The viewer is provided the choice to see and feel India from an outsider's point of view, unbiased and unadulterated. All the same, the drama of the story is lost once the story starts becoming too real for the taste of the masses. The classes might still appreciate the directorial efforts of Gowarikar, especially the minor touches like the scenes where Shahrukh is shown riding pillion with two others on a Bajaj M80.


The cinematography, keeping in mood with the rest of the movie, is serene and quiet, but of good quality. The picturisation of the songs has come up quite well, especially the Dekho na song which looks a lot different from the way many would have imagined it to be like, on listening to the audio. The songs, even otherwise, are good and display a decent combination of fast and slow pace, instruments and vocals, imagery and direct talk.


Shahrukh Khan does an honest job and after a long time, may not have been able to sleepwalk (in his own words) through his role, as he might be doing in his other Yash Chopra-esque movies. Gayatri Joshi as the principle-driven socially conscious school teacher is fresh, beautiful, graceful, and in one word...smart. She makes the screen come alive with her eyes. As they dart around seductively at times, mockingly at others, the entire gamut of expressions plays its part on Gayatri's face.


The character artist who essays the role of Kaveri Amma is effective, too, but for her sickeningly always smiling expression and her awfully southern diction. Rest of the cast, including the Daadhi-waale-baba from Lagaan who plays the postman here, the actor who plays the role of Melaram, the budding American Dhabba owner, and Makrand Deshpande in a cameo, are all very good and provide the much needed relief from the endless moral science lessons that the others seem too intent on providing the audience.


Swades might as well be a true story for many NRIs and as such, should end up being a big hit overseas and probably that is what the target audience of Gowarikar is. Having tasted the blood once, he intends to go all the way to the Oscar this time but he might not be as lucky this time around. He will definitely have to wait for another inspiration. As for the local audience, Lagaan scores far higher than Swades on the entertainment aspect. Swades bores the audience at many places and at times, people are forced to await the intermission/end due to the sheer stretching of the dialogues. Had there been a little less of moral lesson delivery through dialogues and more of drama interwoven with the story, the movie would certainly have been more effective.


If you are the die-hard patriot, if you do not miss any of Big Khan's movies, if you want to watch a fresh, young face who gives another dimension to the school teacher role (played so differently by Sushmita a few months back), if you want to see and appreciate the reality in Indian villages, if you want to know what it is like for the expatriots who leave their country of birth but are not able to leave their memories, Swades is the movie for you. If you want entertainment and paisa vasool, look elsewhere.
Posted at 09:58 pm by Nitai
Permanent Link
Saturday, December 25, 2004
Tradition...Custom...Convenience
My trip to Patna is over and I have been in Buxar since yesterday. There are already quite a lot of relatives at home and more are expected in a day or two. The occasion is the annual 24-hour Harikirtan organised every year on the 26th and 27th of December to remember my Great Grand father who passed away on the same date many years ago. It has become a tradition for the family. Still, however much may it be a part of the routine, every year's Harikirtan brings with itself a new flavor, a new form in which the family dynamics plays its role.
Right from my Bare Papa to the youngest member of our family, Bharat Bhaiya's (my first cousin) daughter, it has become a custom of sorts for everyone to be present on this occasion. We may think of absenting ourselves from any festival but not from this one unless there is a very strong reason. Unfortunately for me, I had such a reason last year due to which I had to give the Kirtan a miss. This year, however, the Kirtan is going to be special. It is also going to purify the new house that Chote Papa has built in Buxar. I have just been to the new house and I must say that by Buxar standards, the house has come out quite well. I hope that the Kirtan, that is actually going to shift its venue for the first time in my memory, proves auspicious for the new house.

It is only because of the Kirtan that all of my cousins have been able to keep so much in touch. We are not just on Hi-hello terms but are actually into each others' lives fully, living the others' joys and sorrows alike. There has never been any distinction between brothers/sisters and cousins in our family and God willing, it shall never ever happen.

It is not that our family is perfect and does not have the usual skirmishes that any family faces. But, with the trend moving from the joint to the nuclear families, I must say that our family puts up a brave face despite everything. It is time now that I play my part in this tradition that my Grand father has set up for us. With Bharat Bhaiya's daughter making her first entry in the Kirtan this year, I am no longer a part of the family's youngest generation. Going on 25 this June, it is about time that I, along with my cousins, take hold of the family tradition and take it forward...at least, that was what quite a lot of the talk this year was all about...Gosh!!! Am I really ready for it?
Posted at 06:32 pm by Nitai
Permanent Link
Thursday, December 23, 2004
I have been violated. I have been opened, explored and penetrated. The experience, as I had heard earlier, was truly bitter sweet. There were times when it pleased me but all the same, there were moments when the pain was intense. The pleasure was intermingled with instances of awkward disturbance when all my innards protested against the invasion of my body. It was, after all, my first time with the dentist :-)
For the past three months, I have been having this tingling sensation at the back of my teeth set whenever I had anything cold. Ice-creams, cold drinks, et al were rapidly becoming unaffardable and the sword of tooth cavity was hanging precariously over my head. Since I had to come home anyway, I decided to give the neighborhood dentist shop one shot...luckily, the shot was worth it. There was no cavity in my teeth but only a little abnormality in the way my Wisdon Tooth had shaped up. It had turned up a little slanted and had actually lost touch with the gums, creating a gap that the dentists call the fourth pocket. This pocket had, in turn, been filled with foreign material which needed to be cleaned up for any relief from my condition.
As is true with any professional worth his salt, the dentist, despite assuring me that I had a set of wonderful teeth, advised professional cleaning to make sure that the teeth remain even close to wonderful. And that is what I had to undergo when it felt as if something external had overcome me and my body. The saliva-dripping, saliva-sucking pipe, the water spraying jet, the adhesive-fixing gun, the tongue-restraining God-knows-what...all of them moved freely inside my mouth and made merry as if it was their territory and I was just a minor inconvenience.
The long and short of it is that going to a dentist is okay as long as the dentist does not start any 'professional' stuff. As soon as he starts talking of that, let the warning bells start ringing and let the preparations begin for an orgy where the patient, that is you or me, is not even a mute spectator, but actually the much-punished victim.
Posted at 08:08 pm by Nitai
Permanent Link
Tuesday, December 21, 2004
It has been a short term and as all of us here at IIMK from the batch of 2006 were expecting, it came to an end just too soon. As for me, the end came at an opportune moment. Like every year, this time too, all my relatives were gathering in Buxar to take part in the annual Harikirtan on the 27th of December to remember my Great Grand Father who passed away on the same date many years ago. 27th of December falling right in the plum center of my leave, there could not have been a better duration for the term break.
The journey home was long (with a capital L). I had decided to accompany Aditya to Bombay and thereon till Allahabad, thinking that he will turn out to be a comrade in solitude. But alas! it was not to be as Aditya decided to dedicate some more of his time to his 'dedication'.
The journey to Bombay was fun. With about a dozen classmates for company, it could hardly have been anything else. The numerous games of cards where I tried to run Mayank out of luck in Flash...where I tried to team up with Aditya to turn up the black 2's and catch all the 10's against Mayank and Manish.
Another interesting incident that I missed because of sweet sleep was when everyone was playing Dumb Charades and Pranay was trying to act out the word Yaad and ultimately ended up with making the people guess it by trying to make it rhyme with some word really out of place and one that, of course, did not rhyme at all :-) (unfortunately, I do not remember the exact word)
I also got to know quite a lot about things that happened in Aditya's life and got a chance to brag about my own history for a bit...an interesting conversation and trip...but not so for the remainder of the journey. The start was good with a visit to Hiranandani with Aditya, Tarun, and Mitali and some really good Aloo Parathas to top it off. However, good things were not there to last as I realised, and that too once I was well settled in my seat on the Kurla Patna Express, that I had left my bed cover (and Aditya, his) in the train to Bombay.
Two shivering nights later, I was home with Nani, Mamas, and cousins...and a good stay it promises to be. Despite the trip, I and my entire self were fully warmed up once at home and with my dear ones.
Posted at 08:06 pm by Nitai
Permanent Link