Saturday, December 25, 2004
Tradition...Custom...Convenience
My trip to Patna is over and I have been in Buxar since yesterday. There are already quite a lot of relatives at home and more are expected in a day or two. The occasion is the annual 24-hour Harikirtan organised every year on the 26th and 27th of December to remember my Great Grand father who passed away on the same date many years ago. It has become a tradition for the family. Still, however much may it be a part of the routine, every year's Harikirtan brings with itself a new flavor, a new form in which the family dynamics plays its role.
Right from my Bare Papa to the youngest member of our family, Bharat Bhaiya's (my first cousin) daughter, it has become a custom of sorts for everyone to be present on this occasion. We may think of absenting ourselves from any festival but not from this one unless there is a very strong reason. Unfortunately for me, I had such a reason last year due to which I had to give the Kirtan a miss. This year, however, the Kirtan is going to be special. It is also going to purify the new house that Chote Papa has built in Buxar. I have just been to the new house and I must say that by Buxar standards, the house has come out quite well. I hope that the Kirtan, that is actually going to shift its venue for the first time in my memory, proves auspicious for the new house.

It is only because of the Kirtan that all of my cousins have been able to keep so much in touch. We are not just on Hi-hello terms but are actually into each others' lives fully, living the others' joys and sorrows alike. There has never been any distinction between brothers/sisters and cousins in our family and God willing, it shall never ever happen.

It is not that our family is perfect and does not have the usual skirmishes that any family faces. But, with the trend moving from the joint to the nuclear families, I must say that our family puts up a brave face despite everything. It is time now that I play my part in this tradition that my Grand father has set up for us. With Bharat Bhaiya's daughter making her first entry in the Kirtan this year, I am no longer a part of the family's youngest generation. Going on 25 this June, it is about time that I, along with my cousins, take hold of the family tradition and take it forward...at least, that was what quite a lot of the talk this year was all about...Gosh!!! Am I really ready for it?
Posted at 06:32 pm by Nitai
Permanent Link
Thursday, December 23, 2004
I have been violated. I have been opened, explored and penetrated. The experience, as I had heard earlier, was truly bitter sweet. There were times when it pleased me but all the same, there were moments when the pain was intense. The pleasure was intermingled with instances of awkward disturbance when all my innards protested against the invasion of my body. It was, after all, my first time with the dentist :-)
For the past three months, I have been having this tingling sensation at the back of my teeth set whenever I had anything cold. Ice-creams, cold drinks, et al were rapidly becoming unaffardable and the sword of tooth cavity was hanging precariously over my head. Since I had to come home anyway, I decided to give the neighborhood dentist shop one shot...luckily, the shot was worth it. There was no cavity in my teeth but only a little abnormality in the way my Wisdon Tooth had shaped up. It had turned up a little slanted and had actually lost touch with the gums, creating a gap that the dentists call the fourth pocket. This pocket had, in turn, been filled with foreign material which needed to be cleaned up for any relief from my condition.
As is true with any professional worth his salt, the dentist, despite assuring me that I had a set of wonderful teeth, advised professional cleaning to make sure that the teeth remain even close to wonderful. And that is what I had to undergo when it felt as if something external had overcome me and my body. The saliva-dripping, saliva-sucking pipe, the water spraying jet, the adhesive-fixing gun, the tongue-restraining God-knows-what...all of them moved freely inside my mouth and made merry as if it was their territory and I was just a minor inconvenience.
The long and short of it is that going to a dentist is okay as long as the dentist does not start any 'professional' stuff. As soon as he starts talking of that, let the warning bells start ringing and let the preparations begin for an orgy where the patient, that is you or me, is not even a mute spectator, but actually the much-punished victim.
Posted at 08:08 pm by Nitai
Permanent Link
Tuesday, December 21, 2004
It has been a short term and as all of us here at IIMK from the batch of 2006 were expecting, it came to an end just too soon. As for me, the end came at an opportune moment. Like every year, this time too, all my relatives were gathering in Buxar to take part in the annual Harikirtan on the 27th of December to remember my Great Grand Father who passed away on the same date many years ago. 27th of December falling right in the plum center of my leave, there could not have been a better duration for the term break.
The journey home was long (with a capital L). I had decided to accompany Aditya to Bombay and thereon till Allahabad, thinking that he will turn out to be a comrade in solitude. But alas! it was not to be as Aditya decided to dedicate some more of his time to his 'dedication'.
The journey to Bombay was fun. With about a dozen classmates for company, it could hardly have been anything else. The numerous games of cards where I tried to run Mayank out of luck in Flash...where I tried to team up with Aditya to turn up the black 2's and catch all the 10's against Mayank and Manish.
Another interesting incident that I missed because of sweet sleep was when everyone was playing Dumb Charades and Pranay was trying to act out the word Yaad and ultimately ended up with making the people guess it by trying to make it rhyme with some word really out of place and one that, of course, did not rhyme at all :-) (unfortunately, I do not remember the exact word)
I also got to know quite a lot about things that happened in Aditya's life and got a chance to brag about my own history for a bit...an interesting conversation and trip...but not so for the remainder of the journey. The start was good with a visit to Hiranandani with Aditya, Tarun, and Mitali and some really good Aloo Parathas to top it off. However, good things were not there to last as I realised, and that too once I was well settled in my seat on the Kurla Patna Express, that I had left my bed cover (and Aditya, his) in the train to Bombay.
Two shivering nights later, I was home with Nani, Mamas, and cousins...and a good stay it promises to be. Despite the trip, I and my entire self were fully warmed up once at home and with my dear ones.
Posted at 08:06 pm by Nitai
Permanent Link
Monday, December 13, 2004
Once upon a time, in a kingdom far far away, there lived two hundred and fifty odd MBA students. In another kingdom, several miles away from the first, lived another set of two hundred and fifty MBA students. When eight students of the second kingdom decided to go to the first kingdom as ambassadors of their faith, they had no idea of the fate that awaited them.
And a strange fate it was, especially for one of the visitors. This visitor from the Kozhikode kingdom was not alone. He had been carrying along with him, his friend, popularly known as 'Lappie'. Now, Lappie had an uncanny habit of going on solitary walks and not returning unless really sought after. Unknown to the concerned visitor Lappie had come with, Lappie decided to make a case for going out just as the visitor to the kingdom of Hyderabad was deciding to pack up the bags and go back to the home kingdom of Kozhikode.

As Lappie started on this eventful walk, clouds started to part, darkness engulfed everything there was to engulf, eerie sounds filled the ears, and pungent odours made the noses stiffen. It was a walk from which Lappie was not to return, at least not very soon. The visitor was to return all alone to the kingdom of Kozhikode, disappointed and distraught by the loss of his friend. The only good news was that Lappie, instead of being lost on the walk, was discovered by the sentries of the Hyderabad kingdom and handed over to one of the kingdom's residents.

Lappie, being of a weak disposition, could not travel alone, despite being so interested in roaming around. So it was that Lappie and the visitor from the kingdom of Kozhikode had to spend many-a-sleepless nights in the agony of separation. The agony was too big to be cast aside by mere fluke of fate...there were higher powers and another kingdom, the kingdom of Bangalore, to play their roles.

One of the residents of the kingdom of Kozhikode, while on a chance visit to the neighboring kingdom of Bangalore, was brought in knowledge of the fact that Lappie was to be escorted from the kingdom of Hyderabad to the kingdom of Bangalore by a lady in shining silk. The said lady in shininig silk, being the apple of the eye of one of the residents of Hyderabad kingdom, was entrusted the difficult job of escorting Lappie, as a reward for which, she was to spend three days and three nights in the kingdom of Singapore. However, the lady's silk was too smooth and she made a move to Singapore even before she handed Lappie over to the visitor from the kingdom of Kozhikode to the kingdom of Bangalore.

It now came upon the lady's parents, the Lord and Lady of BTM riyasat in Bangalore kingdom to perform the handing over ceremony for Lappie. Once that was done, the visitor from Kozhikode kingdom escorted Lappie all the way back to Kozhikode where the ultimate milan took place. Tears knew no buckets, lightning no trees as the two friends met again. It was after not too long a time that they were brought back together but it seemed ages to the estranged friends. However, the separation had ended and ended well....the kingdom of Kozhikode was bedecked like a Queen tonight with all and sundry bringing their hands together to welcome Lappie with the words: "they will live happily ever after".
Posted at 07:35 pm by Nitai
Permanent Link
Saturday, December 11, 2004
Apna to ek hi usool hai yaar...tez dhaar
Aadmi Musafir hota hai hero
Aata hai...chala jaata hai
tere jaane ka time aa gaya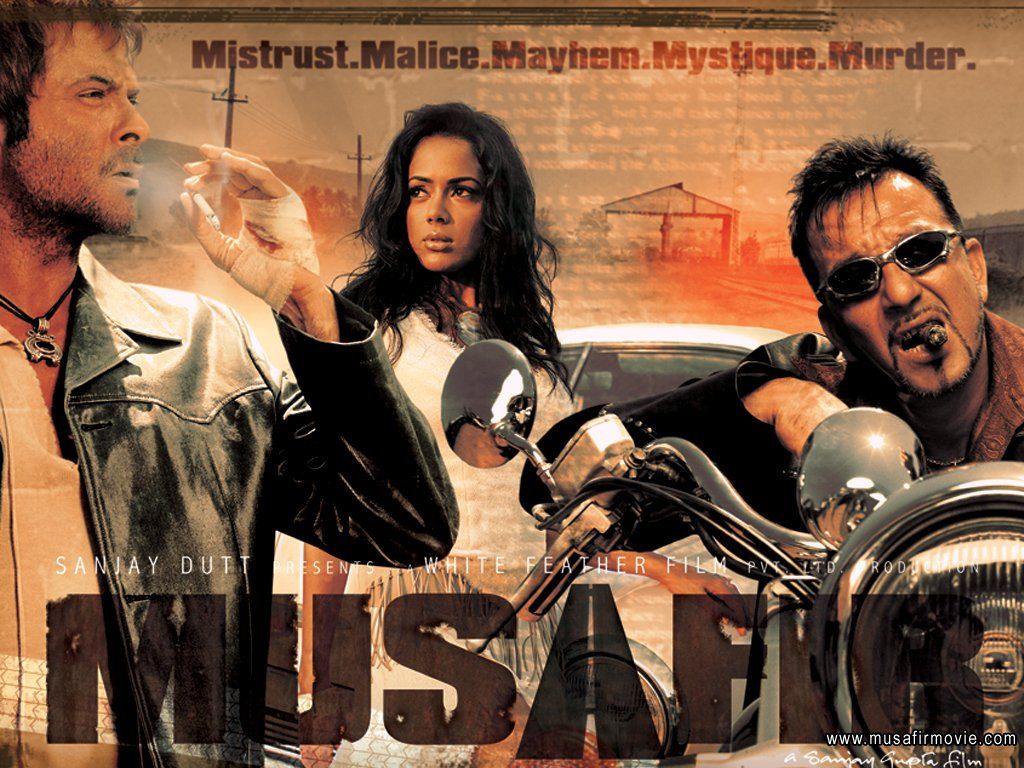 As has been happening with the 'different' Hindi movies since the time of Kaun and others of the genre, Musafir could have been another dud at the box office. Directed by Sanjay Gupta of Kaante fame and produced by Sanjay Dutt, this movie seems to have done something else that is different. Having opened with 100% collections in Mumbai, the movie has all the scope to set the box office ablaze.
The look and feel of the entire movie (thanks to the director, cinematographer, and the art director) is completely international. Athough more than the due effort seems to have been put in the first half to make the movie look slick (so much so that the product seems to be overdone and badly overdone at that), all of it pays off in the second half, which, apart from the ocassional song disturbances, is as fast paced as you will ever see.
Musafir is the story of Lucky, a small time conman, who plans to pull off his last job before settling down to a peaceful life with his girlfriend Lara (played sexily by Koena Mitra). Unfortunately, the job he pulls off puts him in the red books of the drug lord of Mumbai, Billa (the most ceetee-taalee inducing role that Sanjay Dutt has ever played...excpet maybe Khalnayak). Even more unfortunately, Lara cheats him off the money that Billa is now desperately looking for. To pacify Billa, Lucky has to go to Goa to pull off a drug deal and get the money back to Billa.
Once in Goa, Lucky comes across the sultry Sam getting tattoed at one of the beaches. Sam has a strange past and as deep as Lucky gets into Sam's past, the more strange it seems to be. As it turns out, Lucky reaches a position where he has to accept one of the propositions of Sam or of her husband (played with aplomb by Mahesh Manjrekar). Both of them have a different story to tell about Sam's past and a different proposition, a different plan for Lucky. What really happens, however, is another of the several twists of the tale. Hounded by Billa at one end and the cop Tiger (Aditya Pancholi coming back in an author-backed role) on another, Lucky races on to the climax of the movie, which, though, well executed, is a little lame, given the rest of the movie. The saving grace is that unlike the other Hindi movie villains that Billa keeps taking potshots at, Billa's character is not shown to crumble at the end, after all the building up of it during the rest of the movie.
The etching of all characters in the movie has been first rate. In fact, one of the opening sequences where Sanjay Dutt is introduced in the movie is simply awesome and straight out of some slick Hollywood flick. As Lucky stands in the rain with guns pointed at him, a truly Hercule-esque figure strolls down the pavement. Dressed from top to the bottom in a raincoat with a hood covering his eyes, Sanjay Dutt would have put Darth Wader to shame. His cigar, the Swiss knife that he keeps fiddling with, and not to mention the six cylinder bike that he drives in the end, all add to the effect.
The Liv Tyler (refer to the movie "One Night at McCool's" and the car wash scene) done by Koena Mitra is as sleazy a scene as you would get, even after the Murder-esque movies that get churned out every now and then. Even the tattoing scene that introduces Koena Mitra is brilliantly picturised and would certainly have the arousing impact that the filmmakers would have been banking on. Mahesh Manjrekar as the horny, incestuous, and frustrated husband, and Aditya Pancholi as the corrupt, care-two-hoots cop are the other characters that create their own space.
As for the songs and music, the movie scores in that area as well. With 'Saaki Saaki' and 'Ishq kabhi kariyo na' already topping the charts, the music does not leave too much to be desired. The icing on the cake, however, is the title song rendered by Sanjay Dutt himself. If you don't mind the lyrics and at the same time, have an ear for the kind, 'Tez Dhaar' would take you by a storm.
Koena Mitra and Sameera Reddy outdo each other in the sleaze show while amongst the male protagonists, Anil Kapoor seems to be too old and tired to play a fugitive from crime and law alike. Sanjay Dutt looks a million bucks, what with the new fashion-statement sidelocks-cum-beard. Amongst the supporting cast, while Shakti Kapoor is wasted, Aditya Pancholi and Mahesh Manjrekar do a wonderful job.
The direction is top class, especially in the second half, where the director takes a leaf out of an innovative book, as he presents the same sequence twice, once each from different perspectives (the last I saw something similar was in an old English classic called The Clue). Though the first half seems a little overdone, the movie is able to project an overall slick feel that is surely going to appeal to the classes. As for the masses, they are surely not going to be disappointed, what with the Kaante style street dialogues selling dime-a-dozen in the movie and of course, the Koena-Sameera magic blowing all covers off.
If you are a Sanjay Dutt fan, if you want to see some slick and sleazy fare at the same time, if you are sold on the 'Nikal Le Bhaiye' song of Road, if you really believe in all those who compare Sameera Reddy to Smita Patil, if you are the ceetee-taali type of junta, if you want to be entertained for two and a half hours, and above all, if you don't want someone to kill the suspense before you do, go watch Musafir ASAP.
Posted at 11:01 am by Nitai
Permanent Link