Wednesday, November 17, 2004
IIMK is on an upswing and it is not just because my blog says so. IIM Kozhikode, the fifth-to-be-set-up amongst the Indian Institutes of Management (or the IIMs, as they are popularly known) has had a brief but eventful history. About to complete a decade of operations, the institute is all poised to take over and reach up to the best in the business. However, it will be pointless to say that there have already been events that prove the forward march of this institute beyond doubt. In fact, seen from the realistic angle, there are miles to go before the institute can even count itself amongst the top few in this country.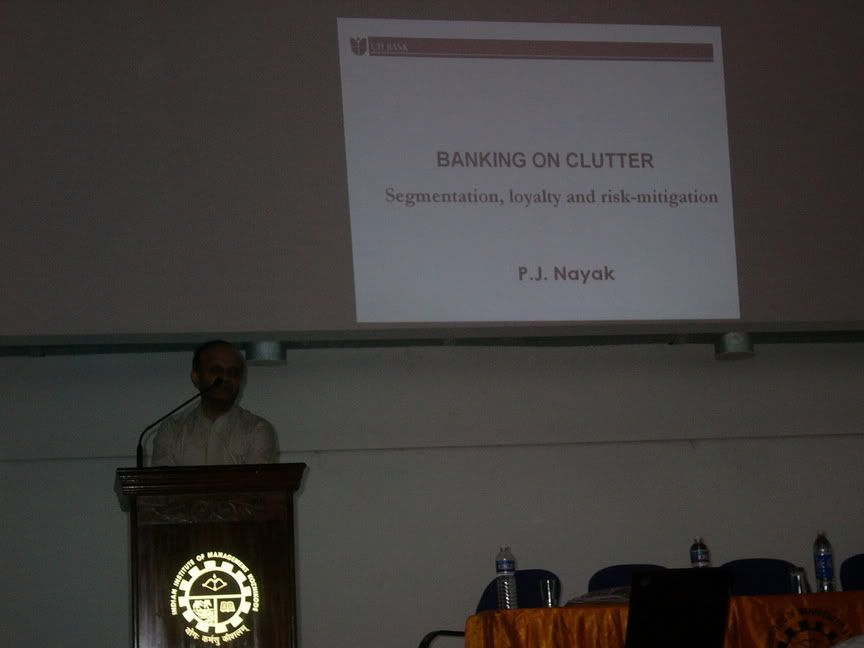 But then again, the signals are all there. One strong signal was last night's talk by Dr. PJ Nayak, the CMD of UTI Bank. The kind of professional display and the quality of interaction that the students of the institute put up during this talk would have impressed even the most hardcore of cynics. The talk on
Banking on Clutter: Marketing, Segementation, and Risk Mitigation
was not really hard core fin. However, the sheer brilliance of Dr. Nayak's elocution combined with a receptive audience made the talk really interesting. The faculty's presence in the talk was another encouragement that, according to me, actually made the students participate more than they normally do.
In fact, for the past few seminars and talks that I have been witnessing on campus, there has not been much of quality participation from the audience (except probably for a part of the IT Seminar, due to widespread familiarity with the topic). This time, things were different partly on account of the short, simple, and yet meaningful nature of the talk by Dr. Nayak and partly due to his delivery which was, as I have already mentioned, impressive.
Dr. Nayak talked about how one of the oldest institutions that have survived in the market is commercial bank and how despite being written off by many as being liable to disintegrate into the asset side and the liability side, these banks have carved out a niche for themselves while at the same time, not letting go of the bundled service that they provide to their customers.
However, this ability of banks to survive, Dr. Nayak said, is not sufficient if they have to actually grow and flourish. Modern banks have to take care of customer relationships by moving towards more intimate relationships with their customers. At the same time, they have to look at another scale of completeness of service and make sure that they provide as comprehensive a package to their customers as possible and all this at reasonable costs.
As he pointed out and as came out in the questions later, this leads to a paradox. Banks try to provide comprehensive facilities like ATMs, internet banking, etc by which they remove the low value tasks from the branches but at the same time by doing so, they have fewer chances of talking to their customers face to face and establish a relationship with them to either up-sell or cross-sell products and services. To counter this, banks can go for mailing communication supported by data mining techniques to ensure that things continue to go on smoothly on both relationship and completeness scales.
An ethical question on such techniques, however, was well received by Dr. Nayak as he said that there has to be a balance and self-restraint that banks have to adopt because if not, it will result in prohibitive legislations in the long run. Personally, I believe that before tapping the small market that it already has, the banking sector should look at expanding the customer base which they do not seem to be busy doing. Calling up a person who has three credit cards with three different banks (which is what the data mining software is likely to recommend) and trying to convince him/her to change to/add on a new card is useless. Creating awareness about Indian banking and its modern face amongst those who are not current customers of the sector at all, is a more prudent strategy and in the long run, a more paying one.
That was what I thought about the topic. However, there were quite a few quesions to Dr. Nayak from the students about things different from the topic (varying from asking for his comments on as brow-raising topics as HSBC's interest in UTI Bank to as eye-raising as role of GFIs in the Indian scenario). I must say that this batch seems to be more of the Fin-Mark kind than any other. I am eagerly awaiting the Finance and Marketing Seminars and can just imagine all the action that is going to come.
Posted at 06:13 pm by Nitai
Permanent Link
Monday, November 15, 2004
The long weekend of Diwali and Eid is well over and the classes scheduled for this week seem to be bringing things to a head for probably the first or second time this term. This does not, in any way however, take away from the immensely eventful weekend that the past one has been. With three free days in a row owing to some sincere efforts by the Student Council yet again, the mood was upbeat with a lot of people packing their bags Thursday evening for places like Bangalore, Goa and Kovalam.
For the people left on campus, there were plans for Diwali celebrations. Even the night preceding Diwali was very interesting. Having gone to sleep after watching a movie or two at about 3:30 in the night, I kept having dreams of a very noisy and boisterous Holi for some reason. When I woke up in the morning, I saw that the entire hostel had water and more water everywhere and the sweeper was having a hard time figuring out the reason for this downpour inside the building. It was only later that I came to know of the water fight that had broken out in IIMK on Diwali eve. Spread across hostels, the splashing extravaganza saw some interesting highs like Gagan's hydrophobia, people being woken out of their sleeps and water being poured over them, reactions of some such people to such treatment in so-early hours of the morning.
That notwithstanding, people were all geared up for the Diwali celebrations with Puja planned at 7 in the evening. Before the Puja however, Veer-Zaara happened. I still go by my opinion that the movie will do well because of its being designed for the masses. Anyways, Diwali Puja was up next as we came back to the hostel (just in time, considering that the rains were following right behind). Lots of kurtas, saris, unspoken mantras of the priest, uninhibited and free flowing revelry in the midst of the Puja, some real hard work by the organizers, and the Swedes with their huge camera were some of the attractions of the Puja.
The dinner that followed had its own fruity flavor with two sweet dishes thrown in the Diwali bounty. I must say here that I really appreciated what Rajat did to regulate the food distribution. Such conduct is rarely seen and the only recent example that I can think of is what Priya did at the hotel in Munnar where like Rajat, she was busy carrying the puris and serving them to the rest of us.
The very first number called up in the Housie won me a prize (a shooting star) of 100 bucks but I more than made up for it by losing some 550 rupess in the late night (went on till 5 in the morning, actually) game of cards...so much for the ill-effects of gambling (and to think that at one point, I was winning around 400 bucks). The fireworks display made up for the teeny weeny little bit of home-sickness that had started creeping in and by the time the fireworks ended (though a little tragically, what with the injuries to Sandipan, Abhineet and Devroop), I was in a complete festive mood.
Saturday was pretty uneventful as I got up at about 1 in the afternoon. The only change from the typical lazy day routine was yet another movie, this one decided at the very last minute. Naach turned out to be disappointing and so did the India Pakistan cricket match that followed and resulted in yet another loss for India.
Sunday was spent lazing around and trying to read up on the case for Monday's Operations class. That I managed to do much more of the former as compared to the latter is obvious. I even managed to watch The Italian Job...had heard a lot about it...nice movie, but not as good as you would expect after the rave reviews...personally, I think that Ocean's Eleven or even Mission Impossible was much better...but then again, each one for his/her own.
Diwali night is also the ocassion when I get in touch with my family like I never do in the normal course. I make it a point to call all my relatives, cousins, friends on Diwali and despite a one day bill that normally goes beyond 500 (it even touched four figures once), it gives me a lot of satisfaction to be able to connect to the people who really matter in my life. It is not that I do not talk to them normally but Diwali is a special ocassion when people expect calls and greetings from their near and dear ones and a greeting at such times is received as being the most affectionate of all.
Posted at 07:39 pm by Nitai
Permanent Link
Saturday, November 13, 2004
Naach Naach ke Duniya Hila De
Berang Zindagi hai...raftaar chahiye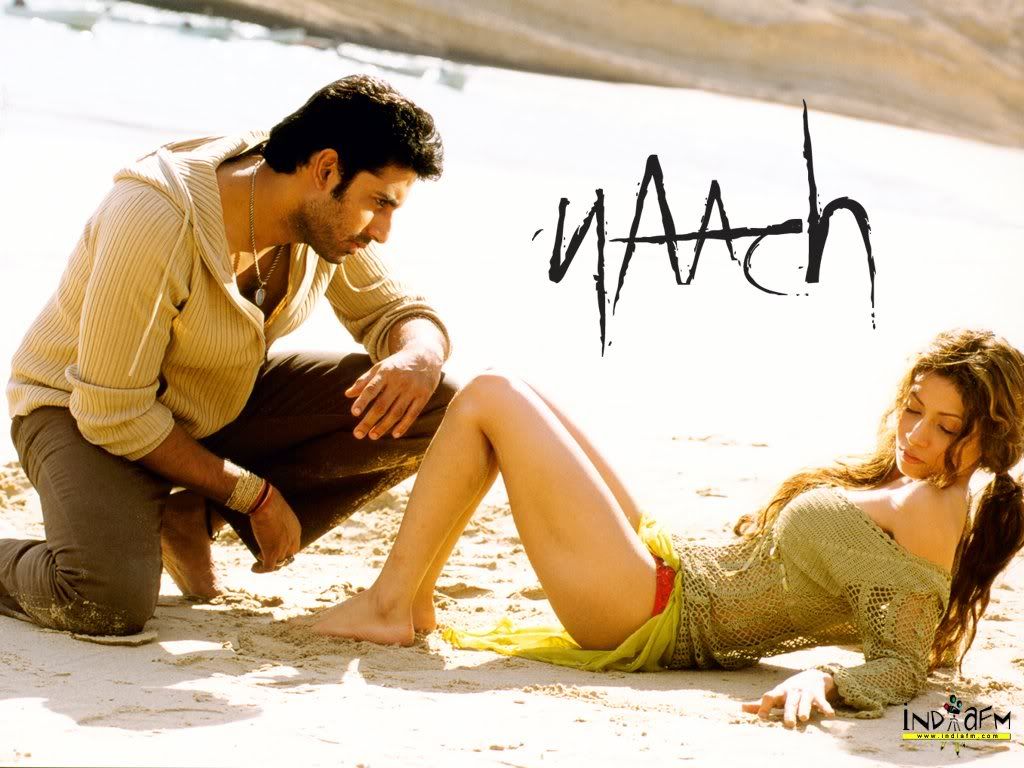 The above line sums up what goes wrong with RamGopal Verma's latest, Naach. The movie was made with very good intentions but soemwhere along the line, the writer, director and the screenplay people got lost.
Abhi is a struggling actor in the Hindi film industry who can do anything for fame, money and recognition in the movies. Rewa is a budding choreographer with a very strict set of rules and conducts that she will not compromise upon, not even for success and fame. Despite this basic difference in idealogies, the two characters come together in a bus as Abhi and Rewa are both coming back from a production office.
Abhi persuades Rewa to teach him dance, which he badly needs for his first break in the movies. While learning and teaching dance, Rewa and Abhi fall in love. Abhi becomes a big hit after his movie and achieves all that he ever wanted to. Rewa, however, is thrown out of the movie because of some petty reason. Before the audience could even think of all this leading to a happily ever after ending, comes the jolt. The idealogical differences between Abhi and Rewa come to a head and they decide to go their separate ways with some cruel words by Abhi marking the separation (somehow, the scene reminded me of Amitabh in Abhimaan).
As Abhi gets more and more busy with his movies and fans, Rewa does not let go of her ideals and ultimately succeeds as her work is recognized by Diwakar, a young director who launches Rewa in his music video. The video is immensely successful and Rewa becomes an overnight star. Diwakar launches a musical with Abhi and Rewa in the lead, little knowing the past story of the two. Being professionals, both of them carry on putting the garb till one fine day, when it becomes too much for the jealous Abhi who is not able to prevent seeing Rewa and Diwakar together from affecting his work.
As Abhi decides not to work for Diwakar's musical any more and breaks down in his proclamation of his pining for Rewa, the movie ends (rather abruptly, as Ravi says is the hallmark of Ramu movies) with Diwakar, too, declaring his love for Rewa and Rewa making the final choice.
The movie, as I said earlier, lacks speed. What it has in plenty, however, is realism. Right from the first bus scene where the conversation between the lead pair is interrupted periodically by the conductor's bells and the coming in/going out of passengers, to the scenes on the movie sets with aparent hits on candy-floss genre, the movie is as real as they come. Not that being realistic takes something away from the movie...rather, it only adds to it. However, all this realism needed to be at a pace where it made sense. The sluggish nature of the screenplay leaves hardly any scope to identify and appreciate the nuances that make Ramu such an acclaimed movie-maker.

At times, the sets and the costumes go over the board, too. The sleaze show that Antara Mali presents for the B-crowd starts getting to the head after some time, too. Instead of slowly appealing, as Urmila was in Rangeela, Antara tries too hard and does an overkill (yes, despite showing all flesh that she could probably have without the movie getting an A certificate). Abhishek, on the other hand, does not seem to be trying at all. Though the character does need the intense, brooding, and even arrogant part that Abhishek looks, there are ocassions when he plays it in too subdued a manner, which again adds to the overall sluggish and dull feel of the movie. Ritesh Deshmukh, as Diwakar, will surprise the audience with his credible peformance. After Masti, I had almost written off this actor who proves with this movie that he is made of sterner stuff. A very restrained, and to-the-tee performance should surely earn him some browney points.

The direction, as in all Ramu movies, is a little hatke. The shades of darkness and light are mixed to perfection, and so are the facial expressions in the dances and the scenes. Inspite of being based on dance, the movie surprisingly lacks good music (except one or two catchy numbers). Though the dance is there, it looks more of a gymnastic performance than dance. Given that dance, like gymnastics, requires fluidity of body, but does every step requires twisting your legs back in some sparingly believable postures? But then again, from the point of view of the choreographer, the movie's dance steps might look appealing...so, nothing against them as I do not have enough expertise or even knowledge to talk about this area.

The typical Diwali movie-goer who is looking for a bit of all-in-one, will be disappointed with Naach. Although he will get more than his dose of sleaze, he will, in all probability, find the movie a little too heavy and dull and slow. Despite some very interesting scenarios that could have been built in the story (especially when the movie starts with Abhi and Rewa in the lead), the screenplay fails to capitalize on them and disappoints the public. The domain experts (that is the dancers, choreographers, et al) will probably like the bits and pieces, but even they will not be satisfied with the overall effect. As for the parallel cinema enthusiasts, it would be difficult for even them to appreciate this half-escapist, half-realistic movie.
Posted at 07:08 pm by Nitai
Permanent Link
Is the candy floss too sweet for you?
Main, Kaidi No. 786, jail ki deewaron se baahar dekhta hoon,

to wahaan ek pari si dikhaai deti hai,

wo kahte hain main unsa nahi,

phir kyun wo apni si lagti hai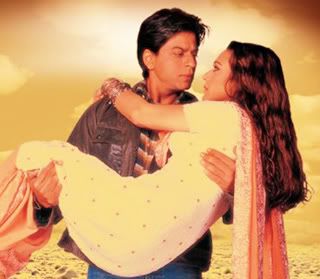 The latest offering from the Chopra stable comes to town this Diwali amidst some very high expectations and some tough competition in the form of three more movies making their presence felt the same weekend. Veer-Zaara, as the promos and Yash Chopra's reputation (which is not to be underestimated any day) suggest, is about love...love between an Indian Air Force Officer and the daughter of a Pakistani politician...love between the junta of the two neighboring countries of India and Pakistan that goes much beyond the cacophany of political slogans.

Squadron Leader Veer Pratap Singh is a rescue pilot with the Indian Air Force with an uncanny :-) habit and job of rescuing and airlifting girls from precarious positions. Some day, he plans to fulfill his Babuji's dream of working for the upliftment of their village. All is going well with his life till he rescues a girl who changes his life.

Zaara Hyatt Khan is the daughter of Jehangir Hyatt Khan, one of the influential politicians of Lahore. Jehangir Hyatt Khan has dreams of fulfilling his father's wishes of making their political party successful, at any cost. Zaara's Bebe (played in a short but effective role by Zohra Sehgal) is on her deathbed. Having taken care of Zaara and her family for years, Bebe now wants Zaara to fulfill her last wish of being immersed in India after her death. Zaara brings her Bebe's ashes to India and that is when her bus has an accident and she is rescued and airlifted by Squadron Leader Veer Pratap Singh, who not only saves her life, but also changes it completely.

In return for the help that Veer provides Zaara in taking her to her destination in India, Zaara promises to spend a day with Veer in his village...give one day of her life to him, as is said in the movie. This one day turns out to be the most special day of Zaara's life with Chowdhury Sumer Singh and his wife Saraswati Devi (the uncle and aunt of Veer who have raised him up) giving her love, respect, and even naming the girl's school after her. Zaara also finds place in the hearts of the Punjabi-Madrasan couple as both of them encourage Veer to open his heart out to Zaara.

Before he can do so, however, comes in Raza, the fiance of Zaara who has come to India in search of her. Our hero, nevertheless, proclaims his love saying that he can die for Zaara if need be, but since she is engaged to be married to someone else, he might as well say good bye for now :-).

Even after the good bye, Zaara can not forget Veer. Zaara's friend and confidante, Shabbo (played in a most effervescent manner by Divya Dutta) calls up Veer to tell him about Zaara's coming marriage to Raza (which is a poltically motivated decision of Zaara and Raza's fathers) and her love for Veer. Veer resigns from Indian Air Force and comes to Pakistan to claim his love. Though he does create a scene at the dargah on the day before the marriage, he is soon persuaded by Zaara's mother (Kiron Kher, in another Devdas-esque role) not to ruffle the lying feathers and return to India. But return to India, he can not, because of certain plots and plans that result in his spending 22 years in a Lahore prison with the news of his death reaching his dear ones.

Veer is destined to live his entire life without Zaara in a prison, but not so easily if all goes as per the plans of the gutsy little advocate, Shaamiya Siddiqui. Shaamiya is going to court for the first time with the re-opening of Veer's case and despite the biggest barrister in town (and also Shaamiya's former boss) as the opposition, she spares no efforts to bring justice to Veer. She even goes to India in search of this justice and in turn, unravels some things that had been buried and forgotten for a long long time.

The story, as can be seen, is not very original, and yet it is not the quintessential boy-meets-girl-loses-girl-fights-bad-men-wins-girl-back-lives-happily-ever-after story either. The movie comes across as a sincere attempt to please the masses. Whether it be the little bit of the wedding festive mood thrown in, or the des prem emanating from the songs in the sarso ke khet, the movie plays to popular themes. The only place where Veer-Zaara fails is probably the elongated sequences of emotions that the characters go through in the movie and the fact that it is, in one word, sweet candy floss.

The music, derived from the original works of Late Madan Mohan, is excellent and haunts the viewers for quite some time (I am still humming some of the tunes). The picturisation is typical Yash Chopra, all green and happy and sunny and rosy. As for the actors, Shahrukh Khan seems to be improving with age and Preity Zinta is becoming more and more beautiful. Rani Mukherjee does the job of walking fast in long corridors pretty effectively and that is the only thing that she is actually required to do in the entire movie.

If the lead actors are not considered, the best performance comes from the supporting artists or the special appearances, as the title says. Kiron Kher as Zaara's mother, Anupam Kher as the prosecution lawyer, Hema Malini as Veer's amazingly beautiful (still!!!) Maate, Divya Dutta as Shabbo, and above all, Amitabh Bachchan as Sumer Singh, Veer's Babuji, are all a class of their own, as they lend to this movie, what the lead actors could never have hoped to provide. In fact, it has been a recent observation of mine that a good string of supporting cast actually sells more than a strong subject with the lead pair performing very well.

For all those who are Shahrukh and Preity fans, the movie is a must-watch...for all those who want time off from their busy schedule to relax and be happy about it, the movie is a must watch. The movie can, however, be avoided by people who want the realistic touch...people who are fed up of too much sweetness in the world...and people who think that this movie is another India Pakistan war movie.
Posted at 06:23 pm by Nitai
Permanent Link
Friday, November 12, 2004
Long long ago, in a land far far away, the return of a King was celebrated by his subjects with a city decked with lights and hearts overflowing with happiness.

The doors were kept open for the deity of wealth to come in the households and leave behind the eternal blessing of long-lasting happiness and wealth.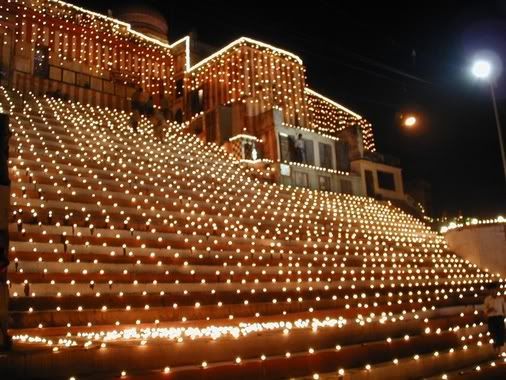 These and many more legends reflect what we know of Deepawali, The Festival of Lights. Celebrated all over the country (and even abroad, amongst Indian settlements), Deepawali is not just these legends...not just the victory of good over evil. For children, it is one time in the year when they are not scolded for making noise and having fun. For teens and semi-adults, it is the time when they meet new people over sweets and delicacies and rise over petty disputes to bridge gaps and (re)form friendships. For the middle-aged, this time of the year means a time-out from their busy schedules to re-affirm family ties and engage in some networking with neighbours, relatives and friends. For the old, it is time to sit back and enjoy the lights emanating the youth that they once felt, while wondering at the timelessness of it all.

India, a land of so many religions and cultures, seems to unite under the umbrella of this amazingly celebrated festival with Hindus, Muslims...Punjabis, Tamilians alike, none knowing any bounds to the joy and enthusiasm that Deepawali symbolises. In fact, I still remember that the biggest and most varied collection of fireworks in our mohalla used to be that of our Muslim neighbors. Not having been home for the past few Deepawalis, I don't know if somebody from down south has now occupied the frontrunner position but what I do know about and can still smell, sitting at all this distance from home, are the sweets of Deepawali, the new clothes, the view from the terrace, with the absence of stars and moon on an Amavasya more than compensated for.

As I sit here today morning writing this post n my blog, I want to reach out to everyone I know and wish them all a very happy and prosperous and joyous Deepawali. I will be calling up some of them, meeting in person, another few, but for all those I may not be able to communicate with on this auspicious day, may they all be blessed with all the happiness that Deepawali brings with it.

We do have a party tonight at IIMK to celebrate Deepawali the traditional way, with sweets and lights and fireworks...there might even be a movie lined up if some of us decide to go for it...I just hope that it is a night to remember for all of us, a night to cherish for yet another year till we come across and join together to celebrate another Deepawali.


Posted at 09:51 am by Nitai
Permanent Link