Friday, November 12, 2004
Long long ago, in a land far far away, the return of a King was celebrated by his subjects with a city decked with lights and hearts overflowing with happiness.

The doors were kept open for the deity of wealth to come in the households and leave behind the eternal blessing of long-lasting happiness and wealth.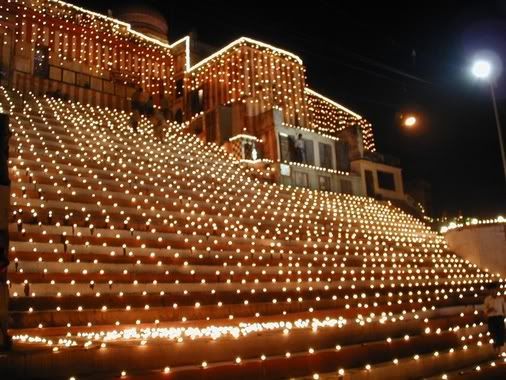 These and many more legends reflect what we know of Deepawali, The Festival of Lights. Celebrated all over the country (and even abroad, amongst Indian settlements), Deepawali is not just these legends...not just the victory of good over evil. For children, it is one time in the year when they are not scolded for making noise and having fun. For teens and semi-adults, it is the time when they meet new people over sweets and delicacies and rise over petty disputes to bridge gaps and (re)form friendships. For the middle-aged, this time of the year means a time-out from their busy schedules to re-affirm family ties and engage in some networking with neighbours, relatives and friends. For the old, it is time to sit back and enjoy the lights emanating the youth that they once felt, while wondering at the timelessness of it all.

India, a land of so many religions and cultures, seems to unite under the umbrella of this amazingly celebrated festival with Hindus, Muslims...Punjabis, Tamilians alike, none knowing any bounds to the joy and enthusiasm that Deepawali symbolises. In fact, I still remember that the biggest and most varied collection of fireworks in our mohalla used to be that of our Muslim neighbors. Not having been home for the past few Deepawalis, I don't know if somebody from down south has now occupied the frontrunner position but what I do know about and can still smell, sitting at all this distance from home, are the sweets of Deepawali, the new clothes, the view from the terrace, with the absence of stars and moon on an Amavasya more than compensated for.

As I sit here today morning writing this post n my blog, I want to reach out to everyone I know and wish them all a very happy and prosperous and joyous Deepawali. I will be calling up some of them, meeting in person, another few, but for all those I may not be able to communicate with on this auspicious day, may they all be blessed with all the happiness that Deepawali brings with it.

We do have a party tonight at IIMK to celebrate Deepawali the traditional way, with sweets and lights and fireworks...there might even be a movie lined up if some of us decide to go for it...I just hope that it is a night to remember for all of us, a night to cherish for yet another year till we come across and join together to celebrate another Deepawali.


Posted at 09:51 am by Nitai
Permanent Link
Tuesday, November 09, 2004
There are times when happiness knows no bounds and yet there are others, when there is no limit to the tears that come to the eyes. Some people say that this is what brings balance and fairness to it all. But why does it have to be like that? Why can't joy and sorrow be in moderate measures at all points in life?
Despite the kind of dare-all face that I may put forward to the world, I am frightened...frightened of all these sorrows that await me...of all those joys that might cause me to forget the people who matter. No matter how hard I try, I just can not make myself call Nani today. With exactly one year having passed since Nana passed away, I could not control my tears today. They flowed like they knew no end...compensated for all those tears that had dried up in my eyes one year ago...during the rushed flight from Chennai to Kolkata...the train from Kolkata to Patna...the Ghats where Nana was lying on the ground, all cold and silent, as if waiting for me to kiss him good bye. I never knew that a person's forehead could be so cold...and then the fire that purified...that took it all away from me...the guardian that I ever knew, even more than my father.

Baba is not keeping well and is bed-ridden ever since he came back from his yearly trip to Vrindavan. I tried talking to him yesterday but he couldn't even speak to me. The effort that it took for him to call out my name made me cry out at my helplessness. As Maa said, it is time for me to be strong because I am going to face some very big losses in the near future. As she put it, it is time for one generation to bless us and go on to attain salvation...sounds logical...but I am so selfish...I don't want them to go. I want to hold on to them, never let go.

I am actually ashamed to write all this on the blog...somehow, it feels as if I am trivialising the entire thing by opening my wounds and hurt for others to read. I still don't know why I am doing this, except for the fact that it helps me get over the thing in some way. I know that I am being selfish and just because I am afraid of my emotions, I am trying to give them a shape and figure that I can then ignore.
Posted at 12:13 pm by Nitai
Permanent Link
Tuesday, October 26, 2004
To know that Prof. Uday Damodaran knew my by name did not come as much of a surprise (given his much acknowledged interest in student blogs) but that I came to know of it for certain in this way, really took the cake. It was the first of a series of UD's quizzes on readings from The Economic Times and I was peacefully writing whatever precious little I knew of the answers. I have this habit of moving my head and craning it upwards and towards the left at an angle of nearly 45 degrees whenever I am thinking hard (am not sure but I believe that I have read it somewhere that it is natural for people to look Left Up if they are trying to make up something, Right Down if they are trying to recollect something and so on).

To say that I had no idea that UD might take it as an indication that I was cheating, would probably be an exaggeration. I admit that it may look to the 'suspecting' eye as something not really out of a book but then again, the truth of the matter is that there was hardly anything that I could have cheated for (even at the cost of hypothetically admitting of my intention to cheat). Nobody would have known more than what everybody (including me) knew and so, it was not worth it at all. Whatever it may have been, as Ravi rightly pointed out, I am now in the spotlight and I better take care of myself and my neck movements from now on if I don't want any more trouble from UD.

I might as well go for that band those people wear around their neck for some back/neck problems...
Posted at 06:10 pm by Nitai
Permanent Link
Saturday, October 23, 2004
Of Extremes, Munnar trip, Genesis of Gandh and others...
As she used to say, I am capable of only two extremes...either being the life of the party or being as aloof from it as humanly possible. I never believed her then and in fact, it was one of the things we fought the most about. After the Munnar trip, however, I think that she was actually right. The trip started off really well for me, with songs and dance aplenty, making life difficult for light sleepers like Mustu and all the more exciting for people like me. Having already explored the mountains of Munnar on my bike trip, the only reason I agreed to go along this time was that I wanted to have some fun. With 25 people coming for the trip in a mini bus arranged for the trip by the
Women in Charge
, the trip was certainly going to be fun.
And fun it was, till I decided to take myself out of the fun. We were all having a great time, singing songs, playing Antakshari and Dumb Charades, cracking some really pathetic jokes, building and popularising liaisons :-)...I don't know exactly what happened but by the time we were done with our late lunch, I had been turned off by something...it may have been some thing some one said, it may have been the food (if it can be called that), it may have been the memories of Kodaikanal and her, it may have been the lack of sleep for the past three days in a row...whatever it was, from there on, it reduced my role in the trip to that of a spectator who watched, smiled, and even laughed but did not speak...a loser, as the people on the adjoining dinner table would have defined the term.
Despite what happened to my role in the proceedings, life continued to rock and roll for all others. The genesis of Gandh group was complete, with a full court sitting on the matter of the three caps (pink, white and blue) and the Bond. With a detailed analysis by the special correspondent and some candid confessions by the witnesses, all came out in the open as the audience cheered and jeered at the revelation of who was after whom, whether the red cap was accessible, if it was, then for whom...or was it the pink (another one) who was sought after by the Bond...many questions and even more answers...
The next morning was a little better for me and as the day just broke, I was into another of my extremes (yet again), but this once, the extreme seemed to have been forced (by me???) and did not last for long. Before I knew, I was back in the Yes Sir, Yes Ma'am mood and it was thus that we eneterd into Calicut. The last couple of hours were well spent, with some more concept laying for the Gandh group, Reddy actually making an OB-style relationship map of all the liaisons that we were able to establish on the trip (by hook or by crook :-)), and the many photographs that we had as proofs of the real intentions (cruel???) of the femme fatales...

Myself apart, I found a few more people on the trip who were not really having a great time, or so it seemed. For some reason, the initiator and organizer of the trip, Pavithra was in one of her worse moods...though Karfa joined the party at times, he was a little away at times, too...or perhaps, I had been thinking a lot, especially since I was reduced to one of my reflective moods. Even the people whom I do not know well enough (haven't observed them enough) and who may normally belong to the quiet version (Kundan, Rahul, Qaynat...) were suspects when it came to finding like minded souls :-)

On the whole, it was a nice trip (I was in my full of life extreme for a majority of 21 out of the 40 hour trip) that made me realize that there is a lot that is possibly wrong with me, that there is more than a substance of truth when people describe me as idiosyncratic, that there are things about me that make me appear inaccessible and not-worth-it...that I waste a lot of my time thinking and cribbing about things that may or may not have any relation with reality...
Posted at 12:38 pm by Nitai
Permanent Link
Wednesday, October 20, 2004
RJ Baba welcomes you all to the voice of IIMK. It is 30 minutes past 10 and you are tuned in to Kdio.

Kdio ke saare shrotaaon ke naam ek sher arz kiya hai:


Gunghat Mein Tujhe Dekha To Deewana Hua,
Sangeet Ka Taraana Hua,
Shamaa Ka Parwana Hua,
Masti Ka mastaana Hua,
Jaise Hi Gunghat Uthaya Is Duniya Se Ravana Hua

The intranet radio channel of IIMK went on air two nights ago and what awesome nights I have been having since then. Having taken over the RJing thing for the initial few days (just to promote the concept of the channel) from Chimpy, I did two night outs yapping away on the microphone. Kdio (and yours truly) was on air from 11:30 PM in the night to 4AM in the morning over the last two nights and believe me, it has been an experience that I will not be able to forget too soon.

I have never had any experience of RJing before but for this once when I thought that I will just try to be natural and do what I can do, without trying to emulate some body who goes live on Radio Mirchi or Times FM or MTV (yeah yeah, I know I have been going on for just too long now but...:-)). I don't know how good or bad, decent or attrocious I have been during these two nights of RJing and blabbering away in the nights (when I should have been studying for the OB quiz or completing the Finance assignment) but what I do know is that I had a great time.

The best part was to look at the dedications. With the imagination of junta taking huge leaps, songs were dedicated right, left and center from one party to another without either of the parties having any idea of what was happening. The girls, obviously, were in huge demand as they got connected to so many of the guys through songs as subtle as straight from the heart to as blatant as Rape Me (I applied some RJ discretion (sic!) and did not play all the songs as dedicated by the junta). All the same, no one can take it away from the girls we have here at IIMK, either, with Neeta and Priya having some real good time the night before with dedications and some fooling around with song titles (yes, I do know some of it ;-))

Two nights into Kdio and the radio bug has caught the campus. With KDio's popularity jumping from a peak of 15 odd listeners on the first night to a peak of about 60 last night, I am not too sure about what UD would say of the valuation of Kdio in IIMK and whether it will crash to below 10 in the final run. However, regardless of what happens to KDio finally, I believe that it has done its job...already there is some talk of a rival channel KLPDio (courtesy Kunal and JC) coming up tonite :-)
Posted at 12:41 pm by Nitai
Permanent Link