Wednesday, August 09, 2006
Dham dham dhadam dhadaiyya re
Bewakoof aur chutiye me dhaage bhar ka farak hota hai, dhaage ke ek taraf bewakoof to dooji taraf chutiya.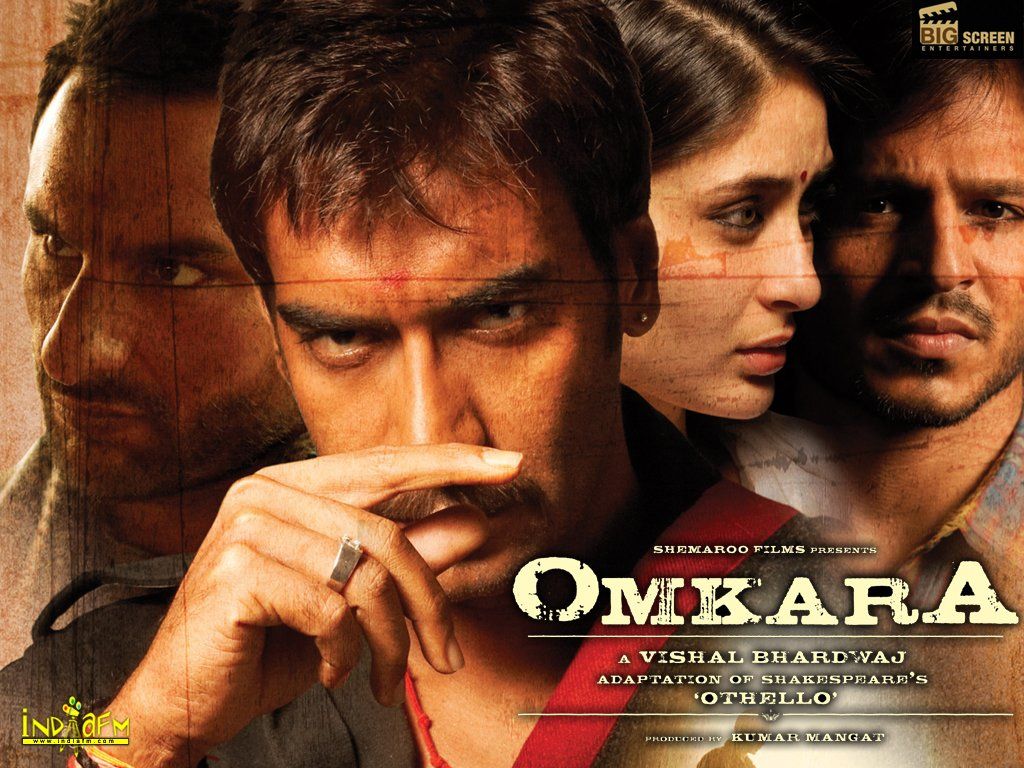 Pardon my language but Omkara could possibly not have been complete without the use of such and more foul language. Shakespeare would never have approved of the same, what with his medieval English ruling the roost as far as the original went, but in the Indian context, if Vishal Bhardwaj had to show the baser instincts of men, he could not have relied on the Gentlemen's language, could he?
And so the scene changes to Uttar Pradesh, the hinterland where an abuse is just another word, a kind of filler that keeps coming in the middle of a long sentence without the speaker realizing the imperfection. However, even though the foul language has been one of the most talked about points whenever Omkara is discussed (mostly in male gatherings), there is much more to the movie than just that.
Othello, as avid readers (unlike me) would know, is the tragedy of the same named character whose jealousy and mistrust gets the better of him, aided, of course, by the wily and innovative Iago who leaves no stone unturned to get his due, at whatever cost it may take. Vishal Bhardwaj stays mostly true to the story despite the fact that his straying from the story on earlier ocassions (refer Maqbool and Macbeth) did not really remove anything from the creative piece itself. However, he got it bang on here, too for Othello, unlike Macbeth does not need any embellishments to be converted into true, Bollywood ishtyle drama.
All that was required for achieving the above was a bit of creativity from the director in terms of imagining an Indian context for age old and eminently replicable feelings of love, jealousy, spite, and the inevitable tragedy. Not only does Vishal perform beyond expectations on this front, he goes a step ahead and makes sure that all his actors are cued in to the change in context that he has imagined for his version of Othello.
Kareena Kapoor as the innocently seductive Desdemona avatar is probably the weakest link along with Vivek Oberoi's Kesu Firangi. Ajay Devgan's Othello-Omkaara seems routine for the actor who can easily open a school for the brooding, less-talking-more-staring scheme of acting. In fact, even though Vivek and Kareena were not anything spectacular, they melted into their roles. However, Ajay seemed the only case where the casting could have been more experimented with. There is hardly any difference between Gangajal and Omkara as far as Ajay Devgan goes. He performs exceedingly well in both the movies, but where is the variety, the different touch that a movie like Omkara demands?
I know that by now, this would have been drilled into all those who have heard anything about the movie at all, but even at the cost of being repetitive, I would like to emphasize, yet again, the amazing effect that Saif Ali Khan has on this movie. The Chote Nawab of Pataudi has done all that he could have and more. As Langda Tyagi, it has been his movie right from the first scene when he discusses the two sides of the thread to the last when his handiwork is all over the climax. Abusing with conviction, making lewd gestures with elan, smirking away to glory on seeing his wily plans work, Saif has made a pretty complicated character out of just another political activist. In fact, replicating the complexity of character of Iago would have been the toughest act for Vishal, given his choice of context for the movie.
It is easy to imagine a complex character like Iago in the Shakespearean context, a person who does wrong and yet does not see the folly is what Iago has always been whenever Shakespeare's original has been adopted. However, to make sure that you get such a complex character in the no-nonsense heartland of politics and brazen violence that leaves no scope for hidden and implicit feelings or emotions, it was required that the director and the actor are in complete sync. And that is what is seen in the case of Omkara. Vishal Bhardwaj, who has also taken on quite a few other responsibilities in the movie (including screenplay and dialogues) has been absolutely spot on, in terms of a lot of things, and getting the story, the actors, the music and lyrics, even the item songs and the item girl Bipasha, are just few of the many things that he does right in this movie.
Music in the movie is very apt and tailored to meet the situation. Not a great hear, perhaps except the item numbers, the songs gel into the story very well, and that to my mind, is the best a song can do in such a movie. Gulzar has surprised his fans (including me) by coming up with the folksy lyrics in songs like Namak and Beedi, and with the choreography pretty much on line, the songs have been enjoyable, to say the least. Videography throughout the movie has been exceptional and very well aided by the background score. The scene where the new Bahubali (sort of a gang leader) is chosen and annointed is a case in point.
I can go on and on about the finer aspects of Omkara because that is what the director and actors in the movie have stressed upon. However, let it suffice to say that if you are on the right side of the thread, you should not give this movie a miss!
Posted at 03:13 am by Nitai
Permanent Link
Saturday, July 22, 2006
Continuing from where I left!
The journey never seems to stop but there are so many stoppages en route that at times, it becomes very difficult to maintain the same continuity from one destination to other. While there was a time when I used to think, write, and act in a routine manner, life currently has stopped giving me the same privileges. It has become increasingly difficult to really reflect about anything. Memory seems to have lost the knack of keeping things in limbo for at least as long as there is time to analyze them for whatever physiological gains one might think of.
In fact, even the previous blog post that I wrote here seems so very jarring as I go through it, now that I am writing this one. A clear case of trying to re-create a broken habit is very much evident. The spelling and grammar notwithstanding, even the flow is not the same. The same looks so true of life for me, currently. Full of meeting people, trying to profile the huge number of HNIs in Delhi to scope out further meetings, following up on whatever was discussed in the meeting, a different sort of coninuum is setting in.
Classes on campus, even seminars like the one going on at IIMK right now (http://www.aims-iimk.com), were a part of life not so long ago, a different flow that used to be much more juicy (at least for some readers of this blog). It is not to say that there is no juice in office but as is obvious, any mention of that on such a public forum and I will just be repeating past mistakes, and probably paying a much heavier fine than what I got away with earlier. Adding to the present and the immediate past, there was a different aroma of a little more distant past, that I realized so pleasantly a few days ago.
As I made a business visit to my school, DPS RK Puram, there couldn't have been a more amazed and incredulously happy boy in that school on that day. In fact, the two colleagues of mine who accompanied me on the visit were silently smiling at my antics. I made them go all over the place, trying to visit the places that used to be so dear at one point in time, so very taken for granted in the continuity of life at that instant, that their importance was never so apparent. But this day was different, was in a present so different from that past. The playground, the classrooms, the hostels, even the principal's office brought back so much and so well. I was oh-so-nostalgic that day.
Amongst other stuff, life has been kind to me. There have been things at workplace that have been lucky breaks, to say the least. Right from appreciation for jobs done, to actual probabilities of finally getting along with what I am supposed to do, life seems to be back on tracks, at least the professional aspects of it. Personally, things seem to be at a standstill and probably, they will remain so for quite some time...but more on that a little later.
Posted at 03:31 pm by Nitai
Permanent Link
Tuesday, June 27, 2006
My experiments with truth
More than the truth, I would say that these experiments were an indicator to where I stood as far as my job is concerned. Having worked for two years before joining work, it seemed like just an extension of the office culture I already had an experience of...till this date. Cold calling was what proved me wrong and resulted in my coming to the realization that thigns are not hunky dory as they used to seem to be. The prior work experience that I have is to no stead as far as my current job profile goes.
This does not mean for even a moment that I am cribbing about my job profile. In fact, I am probably one of the happiest people from my institute who got what they really wanted. Starting with a sales profile, my job promises to develop into a hardcore marketing thing and finally evolve into some heavy finance fundas. The best part is that I do all this with an eye on my own bottom line alone with no one to really hang the sword at my neck, except my own targets and my own bonus expectations.
At the same time, however, sales start with cold calling and after delaying the inevitable for many days, I finally gave myself a break and jumped headlong into the stuff. And what a jump it was! With responses ranging from "You are bothering us for nothing" to "I have had it, that's enough", it has all been a joy ride so far. There will be people, I am sure, who will listen to a line that is well past the second line of my script but that there are people like these, I have no proof of.
Things had been looking up, otherwise till today as I have been able to dig up a sort of HNI database for myself and have been to some meetings with a touch more of confidence that I used to have earlier during the first of my meetings. People at work have also proved to be quite a team with the initial formation taking no time at all...still waiting for the norming and the storming.
On a personal front, it has been all great going as I went to Bharat Bhaiya's place for birthday celebrations of Bade Papa and Bhabhi's father this Sunday. There is a lot to catch up with as far as movies are concerned and having a football crazy flat mate like Niranjan does not help one bit. Now that another flat mate in the form of Ashu has moved in (complete with the cooler and fridge), I have better hopes of catching a number of movies that will be higher than what I can necessarily consider to be the cause of my demise.
My home (would love to call and treat it as home instead of just a house) at IP Extension is pretty nice, too and has given no cause of complaints so far except exhorbitant charges for housekeeping, washing clothes, et al. Photographs of the place, especially the view from the balcony will follow in the next post. Till then, ciao!
Posted at 03:44 pm by Nitai
Permanent Link
Saturday, June 24, 2006
So many things have happened since the last time I wrote a really long post that I have completely lost count of what I have shared with my blog and what I haven't. Probably, it is quite as well that ways, too primarily because it reduces the strain on me of trying to bring the blog up to date. So, instead of boring whoever still checks this place out with the history that included an amazing Backwaters 2006, a great farewell party, some rocking campus placement stories (and some not-so-rocking ones), tales of my roaming all over India for a month and half, and of course, the two months I stayed at home, doing nothing but lazing around, I will come straight to the point, that is the present.
When I say present, however, it does not mean present as present with respect to the current day, but more like the events that are closely related to what I am doing as on this day today. It all started, obviously with my touching base in Bombay (I can not make myself call it Mumbai, as well, just like some other bloggers I have seen mentioning this city in their blogs) and moving into torrential rains of the city airport on board a much delayed flight.
Seven odd days of staying at the four star Ritz (the service was pretty decent but the place reeked of the past, certainly not chic and modern enough for the current times, I felt) and five odd days of attending induction programmes at World Trade Center with a bunch of intelligent, smart, and fun-filled people was what followed next. Life was good as we attended the lectures the whole day and I chilled out with my sister, Priya in the evenings. Priya's journey over the past two weeks has been eventful, as well, right from kicking at a secure job at LifeStyle just because she did not like her role (how can anyone do that to one's first job?), and then struggling with attempts at getting a new job for all of one day till she landed a plum post and salary at Shopper's Stop.
Filled with the Gyan of the different financial product sessions, we were soon sent for practical sessions with the product teams, which was pretty much good fun, if not great learning in the real sense. Whatever it was, it was supposed to get us ready for our jobs as I moved into Delhi with Nishith on my birthday and joined office on the same day. Yes, the day I really joined my job was my birthday (speaks a lot about fate indicating to make this company and job last at least a while for me).
I did have quite a nice birthday celebration of sorts when I went to Bharat Bhaiya's place and there on to Shalini Bhabhi's, who incidentally was born on the same day, month and year that I was (I still maintain that I am younger by a few hours, though). I also received indicators of things to come as on the first day of office, I saw people playing golf in the office (of all places!). Now that it has been nearly two weeks since I joined and the boss has returned from his sick leave and the golfstick has lost its putt, and I have been given my first targets, things are not the same but that is a different story altogether.
As things stand now, I am having a lot of problems commuting to and fro the office. The fact that I have got a place in Gazipur (the one in Delhi, not the one in UP but still seems just as far) coupled with the one that Jerin has been held up from sending my bike here because of an accident he had (poor chap!), makes life all the more difficult, not to mention the crazy trafic snarl-ups that happen on the highway and the alternate approach road to my residence. However, life is not all complaints as the house is really good and the society even better. More over, I am set to meet all my realtives (especially my dear cousins) pretty soon as next week is the marriage of Raja Bhaiya, my Bua's son. A lot to look forward to and update this place on but all that for another day, another time...
Posted at 12:12 pm by Nitai
Permanent Link
Wednesday, June 07, 2006
This is just to report that I am still alive and so is this blog. I will be back to regular posts pretty soon.
As of now, I am just getting inducted into Kotak Mahindra Bank Ltd. at Mumbai as a private banker (or a Wealth Manager, as Kotak calls the job). With the markets crashing like nine pins, it is certainly not a nice time to disturb people with queries and doubts but that's how it has been and will be for some time to come for me in this job.
More details and other stuff when I reach Delhi (where I have been posted, btw) two days later.
Posted at 07:04 pm by Nitai
Permanent Link