Thursday, August 26, 2004
I am hap...hap...happy...
The mystery is solved, finally. I know who has been reading my blog from the faculty building. I just hope that Dr. Sarkar realises that whatever I do write about him or any body else from the faculty or student community is just my personal opinion and that again, more than being judgemental, is actually perceptive (you know, writing the report for OB has taught me the difference between the two :-))
Well, as the topic mentions, I am happy and more than that, satisfied with the way things have been shaping up. Priya (my little sis) is settled and happy at her institute and is considering a distance MBA from IMT Ghaziabad to supplement her course in footwear design and management. By the time both of us pass out, despite the one and a half year difference between us (me being the big bro), here is a brief comparison of what I will possess in terms of education and what she has laid her hands on. As for me, I am just a B.Tech and hopefully will be a PGDM holder in the coming years (not too many years, though, I hope). When it comes to her, I will have to leave the commas and go to the list format. Priya is a
BBA
B Com
Natya Visharad....or something (basically a graduate in Kathak)
Sangeet Visharad...or that same thing above
PGDFDM (Post Graduate Diploma in Footwear Design and Management) holder
PGDBM (Post Graduate Diploma in Business Management) holder


Hey kiddo, if you ever read this, I just want to say that I am really proud of you and your rakhi and card have made my day and I feel myself at the top of the world again...lest it skips your mind, just don't forget to return my walkman, music CDs, and all other things that you have stolen...robbed off me :-)

I got another letter...this one from my mother...a letter written in real ink on real paper...after about six-seven years. With phone conversations almost every other night, there was hardly any occassion for her to write me one. It is because of this reason and many more, Maa, that this letter has been truly special for me.

As if the things above were not enough to enthuse a guy enough, I found out that I have done decently in my mid terms, too....ok ok, before some of my batchmates kill me...a little more than decently in the mid terms. Let's see what I have got in three out of the six papers for which we had examinations...33 out of 40 in accounts...41 out of 50 in Quants...94 out of 100 in Microeconomics...and I must say that I couldn't have expected better. As far as the other three subjects are concerned, I have absolutely no idea about where I stand. Given the subjective nature of the papers, perhaps I would prefer the status quo

When I wrote my previous post, I missed out on a major aspect of what happened at IIMK over the past weekend. It was the foundation day programme presided over by none other than Mr Subeer Raha, the CEO of ONGC, one of the largest companies of India, and even the world. Mr. Raha, in his foundation address, spoke about the challenges being faced by India as a nation. He put them at ten major or macro factors which could be broken into thousands of micro factors and an equal number of opportunities for people from institutes like IIMK to prove their worth and give back to the society and the tax payer who have given them so much in the first place. Well, what he did speak was quite relevant to the present situation but there were many in the crowd who had different expectations from the CEO of such a big company and were a tad disappointed when the speech veered off to what has been discussed above. However, what he spoke did make such a lot of sense, if we do apply the philosophy for which IIMK has always stood.

For the past few days, there have been occassions and happenings that have posed a few concerns with the student body and administration. The student council had a tough job to do...they not only had to make sure that nothing of the sort happens again and be forceful about it, but at the same time, they had to be democratic and not force the things that are going to happen in the future. They had to involve the junta in a decision that may not be liked at all and though I have never been inside a lion's den myself when the lion is hungry and lonely and the lioness has been AWOL...but I can feel your predicament somewhat...

Anupam, Atul, Mustu and Rohit...you guys did an amazing job. The presentation yesterday was as well-coordinated as it could be and the way you guys handled the entire stuff was absolutely fantastic. With such people as you and the immensely dedicated Place Com working towards the casue, I am sure that each one of us feels his fate secure in your hands. You people have a great responsibility...of not just making us and the IIMK name click and shine but more importantly, to keep the fabric and spirit of our batch together for the two years here and many more to come. Believe me when I say that the way you rose up to the responsibility yesterday has contributed immensely in making one individual feel happy about himself...if that is of any use to you.
Posted at 02:16 pm by Nitai
Permanent Link
Tuesday, August 24, 2004
If you read all this...you deserve...
Life at IIMK has been unusually alive for the past few days and contrary to my nature, I have not been writing anything. I had started this blog as a line of thoughts that are anything but random. All thoughts and feelings that I have been sharing with my blog are very closely related to what has been happening around me. It has been, at times, something as trivial as a movie I watched or a book I read, as serious as personal worries and concerns, as sensational as the student body elections, and as bland as the mid term examinations. Staying with people who are going to be a part of my career and life, directly or indirectly, I needed to know how I react to them and whether that reaction needs to be streamlined or changed. My blog has certainly helped me figure out the way people react to situations and the way I react to them (people and the situations, that is).
Any sort of introspection, in fact, is certain to give you the other perspective, which has been the title of this blog right from the word go. Fortunately or unfortunately, the blog is now being read by my batchmates and what has followed was what had kept me from writing a blog for so long. When I had, in one of my posts, come out of my dilemma by deciding to name all people in my posts as they were and not give indirect references, the blog's readership was quite limited. It was, thus, that the readers I had warned in advance to not treat my posts too seriously, did start doing exactly that and before I knew it, I was on the receiving end of hushed jokes and cry-baby remarks. It turned out that the non-conformist (as
Somas
likes to call it) tendencies that were already present in abundant measure in me, got a further boost in this case. Whether I like it or not, I now have the reputation of ruffling feathers that have been silent for some time and any untoward action/reaction by any one in the batch is measured in terms of what I did at a point in time.
To say that I am totally unaffected by what has been happening would not be true. I am human and humans are social beings. However, thanks to the people who know me for what I am, the situation is not bad...in fact, life is on a roll @ backwaters (as
Yash
would say) and there have been some new friends I really cherish being with. At the same time, it will not hurt if I get along well with everyone. With the kind of people around this place, it is my loss if I do not get to know them better. Almost everyone has something to give...almost everyone has been an achiever and there is so much to learn from each one of my batchmates.
Okay, going back to do what I do relatively better, I need to focus on what has been happening in my life for the past few days for which this blog has not seen any entry. Since there has been so much happening, this post is going to be a long one...probably my longest to date...
IBM gets its act together

Yes, I am writing this post from my lappie. Having decided earlier to get one from the US through one of my friends but that not materialising, I had no choice but to wait for the bulk deals on campus. However, I was not prepared for the kind of deal that we finally struck with IBM. A lot of credit goes to Raul (great job, dude) for getting such a good configuration for almost a pittance. For all those who think that I am talking nonsense will get the gist after I have given them a brief idea of the features that this model has and the price that we have paid for the same.
The lappie is an IBM R51 model, built on Centrino technology, with a 256MB RAM, a 30 GB HDD, a 1.5 GHz Pentium-M processor, and above all, the IBM performance, features, and guarantee...and will you believe it, all this for just 62K. I just need my speakers (which, I am sure, will be in by tomorrow) and then, I will be done. It is really difficult to manage with the laptop speakers, especially if I have to watch movies (which I have been having to, much more than I should).
Indi-Paki bhai -.....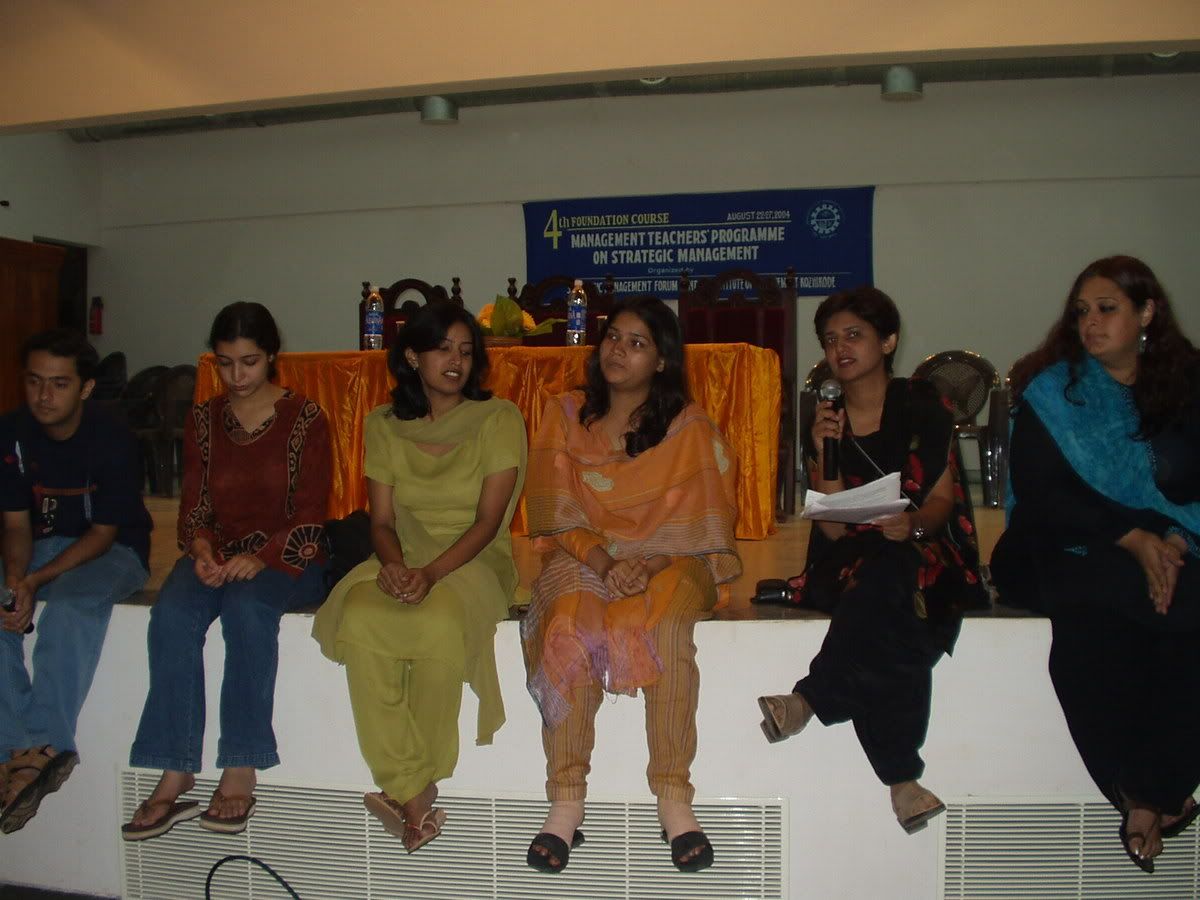 Why I didn't complete the above slogan will be obvious if you look a little more carefully at the picture above and despite the not-too-great quality, figure out for yourself that there was hardly any scope for completing the slogan in its original (or even modified, for that matter) form, at least as far as the delegation from LUMS is concerned. But I think that I am jumping the gun...first things first, there has been a delegation from LUMS (Lahore University of Management Sciences) visiting India over the past few weeks. This delegation, comprising of a faculty member and five students (four girls and a guy), was at IIMK over the weekend, as a part of their visit, during which they were invited to places like IIMB, IIMA, Narsi Monjee, SP Jain and others.
As was apparent from what they said repeatedly during the extensive
interaction
that they had with the students here, these people did not expect India to be what it turned out to be. In their own words, they were taken aback by the hospitality that has been shown to them here. I am pretty sure that even if a delegation was to go to Lahore from here, it will get an equal, if not greater, welcome. Even at the risk of sounding righteous, I will like to point out that this just goes on to show how the relations between the neighbours is being spoilt by the selfish interests of a score of politicians and decision-makers...shame on them for being so selfish...and shame on us for being such cowards as to not challenge them openly and take things in our hands and improve them.
On a more personal front, I thought that the visit got its purpose somewhat diluted, with the number of girl students in the delegation, that resulted in increasing proportionately, the zealousness of the welcome party. Rajat from the senior batch and our own newly elected SCon members were literally falling over each other to be of 'help' to the guests.
All the same, it was great having them here at the IIMK campus and given the good things they had to say about the campus, everyone will be more than happy to have the honor of hosting another delegation from the neighbouring country (it would certainly help if the sex ratio improvement is consistently targeted at by the neighbours, as well).
Pow...pow...powpow
Of the many good things that the Pakistani delegation did for IIMK (apart from getting us some good media footage and enthusing the IIMK guys...yeah, guys specifically...well apart from a few like Reddy who have been shouting from the rooftops regarding their preferences), one of the best turned out to be the Kathakali performance. This was the very first Kathakali performance many of us were watching and what a treat it turned out to be. I had been in the habit of not missing anything similar organised during college and with like minded people as company, it was always great going to watch the masters like Pt Bhimsen Joshi, Ustad Bismillah Khan, Ustad Zakir Khan, to name but a few.
The language barrier ceases to exist when it comes to performing arts. Whether it be the music flowing out from Hindustani or Carnatic instruments, or the theatrics in the plays and dance dramas like Kathakali, what comes across is the talent, regardless of language, religion, and even beliefs. The evening's performance, based on an episode from the epic, Mahabharata, did not have much in terms of the story...it did help to have a readout on whatever there was, though. The story of Kiratham was about how Arjuna was worshipping Lord Shiva and how Lord Shiva, with his consort, Goddess Parvati, tested his disciple before giving him the boon.
As one can probably guess, more than the story, the presentation turned out to be effective. With an unusual beginning that perhaps did not convey the right impression, the performance only became better. The cries of
pow
have become a rage and the way the actors managed to grab the attention of what they called a sophisticated audience (personally, I believe that they were and are way too ahead of what we can ever hope to be) was absolutely amazing. The performances were all very good and adequately suited to their respective roles in the play. If Lord Shiva's character was suitably flippant and did all his
leelas
, Goddess Parvati was the quintessential Indian woman, helpless yet influencing, arbiter yet warmonger...Arjuna was the proud and vain warrior that he should have been, adjusting his paraphernalia even when he had finally bowed down before Lord Shiva.
Sona Chandi Martial Arts
Many people would have jeered at the advertisement of Sona Chandi chyawanprash featuring the Indian cricket captain, Sourav Ganguly, who is shown to indulge in sword fight with a different martial-art style. However, the other performance of the night would have put any such people to shame. Not that Sourav came here to show his swordsmanship, but what happened was even better. It was a breath taking display of the prowess of the practioners of one of the oldest martial arts form of the world, Kalaripayatu (pardon me for mis-spelling it, if I have done so). Clad in the traditinal black clothes and equipped with shining swords, spears, staffs and what not, these people from the heart of Kozhikode showed us and the Pakistanis the spirit of Kerala.
On hindsight, I believe that the Pakistanis would have been more impressed with the Kathakali performance, given the fact that Pathans are generally very fierce warriors and the martial arts performance could be related to many-a-feats of their people. However, I doubt if they had seen anything like the extensive imagery, the play to audience, the detailed make-up and building up of the story, that was displayed in the Kathakali performance.
Of carried away 'childish' outbursts
Nilanjan
has been writing some very interesting blog entries recently. More than that, I have been blessed with some exquisite timing. Not to be confused with the timing of the Indian batsmen (which, incidentally, had been giving us a bad time with our Pakistani guests a much relieved lot), this timing relates to whether you read a blog entry before or after it has been edited. If you have done neither and like me, enter the blog just when the entry is being edited (seeing the full post on the main page but when you click on the comments, you get just a truncated post, killing all your ambitions of posting a cutting remark :-)), it is then that you are said to possess the timing that I am talking about.
So what is it that has caused all the gung-ho and for once, even threatened to topple me from my crown of the official batch gossip??? Nothing much really, as Nilanjan will like us to believe. It was just a party and if people decide to be in two parties at a time, who is Nilanjan or anybody else to stop them from doing that? (I don't intend the sarcasm for I really don't know who is right in this case). On one hand, it does appear rude if some people you have been having a nice time with at a party, leave the party all of a sudden, and later it turns out that they are at some other party.
On the other hand, the other aspect is well taken, too. Friendship is not exclusive and if someone is my friend, I do not have rights on his movements and behaviors. The other person has got his own individuality and the group theory is fast being disposed off and as Yash has commented in Somas's blog, non-conformists are in fashion. The long and short of it is that just because of a tiny little thing like a party, it doesn't deserve an outburst that is full of childish groupism theories (which, I am sure, Raul had a tough time reading about, in my blog).
Just wondering why I do not require the
spirit
ual booster to write such things!!!
It was my day at Paragon
I have been having a bad time at restaurants in Calicut and to imagine that I had to come to this place after I had left everything that has the flesh and blood in it...it does boil the red liquid a bit. Moreover, if you order for soups with exotic names like Herbal Soup and descriptions that are mouth-watering, to say the least...and finally are left with
Palak Daal
, you know what you have been missing.
So it was quite some fun when we finally landed at a restaurant which not only had some decent tomato soup and some more than decent curries, but also turned out to be a nightmare for my more savage friends. Ravi, Vikhyat, Abhijit, Stephen, and Kanav had a hard time trying to digest the sweet and even bland fare served to them at Paragon. Surabhi and I had a field day laughing at them and for now, I have something to say when they raise that singularly embarassing topic of the Herbal soup yet again (which I am sure they will...the fiends).
Who has been reading my blog???
The hit counter at my blog helps me know, in a limited way, about who has been reading my blog. It tells me about the pages from which the site has been accessed and also the IP address of the computer/netwrok from which the blog has been accessed. Over the past few days, there have been visitors (or a single visitor, as is my guess) who have come to my blog from Google, after having searched for a particular faculty member at IIMK. Having reached my blog and having read something interesting (God! what all have I written in the blog), the visitor has even searched for other faculty members who have been teaching us...and this search is not in google...but in my own site. The other teeny weeny interesting factor is that the IP from which this visitor has been coming belongs to the IIMK proxy (oh, my luck!!!)
It may sound like conspiracy theory but it does look like some faculty member has been reading up on my blog. This makes my job of writing about my feelings all the more difficult because if I seriously do not like a teacher's teaching style, can I not even write something unflattering about the same? I would like to believe that the teachers at a professional institute like IIMK will be practitioners of professionalism themselves and will not take my comments in any negative sense (just don't let my grades be affected by my blog...please, God :-)). However, thinking again, can I even take the risk? I know I took the risk with my batch mates...decided to write what I felt...fully confident that they will have the maturity to take it in their stride and be able to identify the spirit with which things have been recorded...but what happened did put a few chinks in my faith. What is going to happen if in deed some faculty member is reading as I write all this and specifically, what will happen if I keep on writing and at some point, forget that there is that distinguished visitor who may check in on my blog yet again...
Finally...something that I have come here for...academics

It was a hectic weekend that just went past. We had four case studies in as many days and all for a single subject, marketing. Dr. Panda has sure stepped on the accelerator but I believe that it is not helping my productivity one bit. I am not sure how he would take this feedback or else I would certainly have tried telling him that I am not grasping all that he has been kindly sharing with his students.
The mid term results have started tinkering in. I am satisfied with what I have managed in accounts. I was expecting something in the 15-20 range out of 25 and I believe that Dr. Broca has been quite kind to us...I managed 18, which makes it a total of 33 out of 40 and I am sure, this is not bad. The other subjects' mid term results are due soon and with a lot of assignments, case studies, and project submissions due over the next two weeks, it is going to be a pressure cooker wroking out here on the hills of IIMK.
Posted at 09:45 pm by Nitai
Permanent Link
Friday, August 20, 2004
Hi! I am Arjun
Itna sab kuch hone ke baad?
Sochna parega
There are two things that do not exist in the dictionary of Arjun Khanna and they are defeat and love, in that order. Arjun lives in Mumbai with his parents...a mis-matched lot if you ask me, a still-ravishing Rati Agnihotri paired with a wonderful actor but ageing Om Puri. The character of Arjun is played by Vivek Oberoi almost as an extension of what he did in Masti and Yuva. Arjun loves fun and parties, but when it comes to girls, he rarely sees things beyond the normal dance-and-song routine and a few practical jokes.
Arjun meets his match in Diya who comes to Mumbai to appear for her examinations and stays at Arjun's parents' home, Arjun's father being a friend of Diya's father (played by Tinu Anand). Diya believes passionately in love and for her, a marriage without seeing, knowing your future partner is headed for the rocks. On the contrary, Arjun believes in arranged marriage and it is this clash of opinion that is supposed to have formed the basis for
Kyun...Ho gaya na
There is hardly anything to the story before the intermission, apart from a few bowling alley scenes where Diya bowls Arjun over with her winning shot...some Formula racing scenes in the beginning for absolutely no reason...a decently shot scene of Arjun, masquerading as a cold drink vendor on the train, showing a film director how to enact a love scene by proposing to Diya, a stranger at the time...and finally Diya falling in love with Arjun and Arjun, as expected, making a mess of it by his tactlessness.
Even after the intermission, the only bright aspect that comes to the movie is the presence of the Big B. Playing the character of Uncle, he runs an orphanage in a different style. There has been a conscious effort by the debutante director, Samir Karnik to go out of the league, at least in this aspect. Uncle is not the goody goody Mr. India who cries at his children's plight and makes sure that their stay is as comfortable as possible. Instead, he treats them as equals and even indulges in silly fights of one-upmanship with them. He does not even think twice about asking the children to fan him while he takes an afternoon nap. Despite all this, Uncle is likeable because he does all this with style...that is Amitabh Bachchan for you.
After the acrimony between Arjun and Diya with which the first half ends, Arjun comes to Diya's home to try and woo her back. As soon as it started to look like Arjun, after a few games where he was pitted as the leader of the kids, working against Uncle, will be able to make amends, there comes Ishaan. Ishaan, played by Suniel Shetty, is a success story of the orphanage and he is one who does not easily forget his roots. Ishaan and Diya know each other for quite some time and as they cuddle up and even team against Arjun, jeolousy and finally despondency sets in as Arjun comes to know of Diya getting engaged to Ishaan.
The climax, which tries to build some suspense but fails miserably in doing so, shows how Arjun makes a last ditch effort to finally open his mouth and say the magic words to Diya and what happens henceforth.
As for the direction, the movie does have some well-executed scenes but tends to go overboard at times, especially during the pranks and games at the orphanage, which instead of gently tickling the viewer, try hard to generate a hearty laugh and finally fail to cough up even a faint smile. With the utter lack of screenplay and a coherent story, the movie fails to deliver despite trying a lot of tricks in the trade. All these tricks...romance...tragedy...comedy...jealousy...Diya-Arjun in Mumbai...Uncle-kids in orphanage...Arjun-Diya-Ishaan in orphanage do not hold the movie together. The only thing they do is to confuse the viewer as to the real intent and purpose of the movie. In fact, the movie goer might even raise doubts as to what the director wanted to focus the story at...
Vivek Oberoi, for one, is in for a bad review on this one. Though passable as long as he emotes with Aishwarya Rai in the same scene, all his frailities and over-the-board stuff come to the forefront when he is forced to share the frame with the B. I know that it may seem like I am biased towards Amitabh but let me assure you that he is the only cheerful aspect of the entire two and a half hours of half baked attempted entertainment. In fact, whenever Amitabh is on the screen, it seems as if you are viewing an advertisement and not a movie, his role is so differently played from the essential fiber of the movie. The other actors have minor roles and are adequate in the same. Suniel Shetty does a good job, probably because he does not have much job to do, anyways in the movie.
The high point of the movie for those who haven't yet had the privilege of watching it might be the expectation of some good on-screen chemistry between the lead pair (including the much-hyped smooch) and the anticipation of seeing the picturisation of some good songs (especially No...No and Aao Na). Smooch my foot...there is hardly any thing to speak about but yes, at least it is one step forward for the lady who wants to change from the erstwhile Ice Maiden tag to perhaps the Bond Girl image. The songs have been picturised quite nicely but somehow appear to be forced between the narrative with not much flow going in.
Over all, if you do not have anything to do and are absolutely gung-ho about Aishwarya (as I am), you can definitely go and watch the movie. Aish looks amazing as ever and in this movie, she even looks real...not the plastic doll that many believe her to be. The grace with which she walks and talks, the enchanting smile, the miscieveous eyes, the puckered lips, the amazing figure...I can write on and on and on about her...wisely said...
A thing of beauty is a joy forever
.
Amitabh Bachchan fans (me again) can also make the movie for an absolutely effortless performance by the master. He is above such roles, is what I will say...were I not in this place and had I joined some media or film institute, I would definitely have made some movie that might do some justice to the legend and his abilities (yes, I do think highly of myself but that's the way it is).
As for those who are not Aish fans and are not too bent on watching AB baby either...
Itna sab kuch hone ke baad?
Sochna parega
Posted at 02:18 pm by Nitai
Permanent Link
Thursday, August 19, 2004
Another day...another hour

This is my blog
This is my space
These are my views
This is not meant for the common good nor for the common interest
If you don't like what is written here, no one is forcing you to read. Go away and stay away.


As soon as I came to my room after yesterday's election results were declared (at about one in the night), I started thinking about what I would be expected to do next. I know it sounds silly but the last election blog post turned out to be quite (a) hit, and as a result, anything that is said on this space about the elections, will naturally be followed with interest, contempt, disgust or in the rarest of rare cases, sympathy. Since I have had the fortune to have been in the good books of the voters, that is, I have actually been elected to the Backwaters team...applause applause...there might have been that knowing look on the faces of some. The question they might be asking is this: "Now that he has won, will he write the same scathing stuff that he did the other day?" They might even come up with the answer themselves...no way, man...it was his defeatist and loser attitude talking that day...tomorrow you will see a changed blog entry...

What is a sword without its sting, a snake without its poison, a word without its bite? So here goes...unabridged...another election coverage...and this time around, let this be heard by anyone who bothers to hear (especially the new media cell, if they are reading...that this post will not be withdrawn...come what may)

Hmmm....so have I generated enough interest in the proceedings...are the readers holding their breath for the next revelation that is going to come along their way...is the atmosphere hot and tense enough...are the pins dropping with enough racket??? Hold on, dear friends...for I am going to take you on the roller coaster ride of the century...

One of the first committees to have gained the top of mind recall of any member of our batch, Place Com had nearly 65 volunteers working for it (I was one of them, too). However, as days passed and people started facing the music of some reeal hard work that PlaceCom has to do, they realised that it is not their piece of money...so they abstained (I did, too) from nominating themselves for the final election round. However, there were still quite a few who did take the plunge (given the sort of glamour associated with PlaceCom, I do not find it surprising). Out of the 28 nominations, there was talk of selecting a smaller number based on some interview process as the faculty Placements head was not comfortable with such a large number fighting the elections.

Now comes the interesting part...ideally, there were supposed to be 16 final nominees but the number finally turned out to be 19. Though it was made clear initially by PlaceCom that the final number could very well be more than 16, the conspiracy theorists still started working. Tongues wagged and conversations became whispers as the "new additions" and their "contacts" in Senior PlaceCom were discussed.

However, with so many days separating the SCon elections and this one, the spark did not light up the fire and whispers started dying out...yet existing. The elction process was similar to what happened in SCon...candidates were asked to come to the well and speak out, with all audience questions saved for the end (there were hardly any, probably because of this). I must say that the highlight of the speeches for me were:

When some people started saying that they would teach how to do things to people who don't know how to do things by themselves. From my public speeches, I have learnt one thing...never undervalue your audience...even if you underestimate them, never let it show...if you have done so, you have dug your own grave.

When some people consciously tried to avoid using the table as a backrest...while some took the table head on :-)

For all other committees, it was decided to give the candidates one minute each to speak. It was going to be a mess, with nearly 68 people standing for different posts (as Yash was kind enough to point out :-)). I was so sick of the process that I didn't want to speak...I went and gave some shit about Horizons and as soon as I could, got my name removed from the list.

Good sense prevailed subsequently, as the other committees made the speaking optional. With the voters not in a mood to go deep (???) into the candidates' agenda, many eloquent speakers were booed out of the well with promises of votes if they just keep quiet and let the things go on...for God's sake.

And so it went on, with some good breaks in the middle...Prashant starting in his inimitable style with Pictionary which, slowly but surely picked up interest...Vikhyat talking about how he plans to bring down people from Switzerland (or was it Singapore) to participate in Horizons...Marda telling us about what he will do to keep our gastroenteric juices flowing...Amarpreet with his agenda of defeating IIM Indore in the number of internet hits...Bunty insisting on writing on the board that his name is not Bunty but Sarbamitra Barua...

The ballot paper was a long one...with nine boxes instead of eight for the PlaceCom (I am not nit-picking...just mentioning a fact, for God's sake)...and boxes for Spandan and Spic Macay, for which even the election quorum was not reached (shame on us...). With an amazingly (but not surprisingly...our batch has some enthu) huge number of nominations, the voters had a tough time, borrowing pens, looking at the names and associating the numbers with them...

Finally, after all the shouts and cries, came the absolutely stunning display of camaraderie and josh that filled many-a-heart (mine included) with joy and hope for good things remaining in this world. Desks thumping and hands joining together, shouting and catcalls followed each of the elected nominees as their name started rolling out in the presentation. It was absolutely fantastic to see the batch coming together like this...way to go, guys...hope this thing that has started, never dies out...Amen!

Because of the lack of time and space, I just thought that I will write what I felt about the PlaceCom members since they have an important role to play in my career...for the others, they will have to make do with an honorable mention in my illustrious (!!!) blog.

The PlaceCom (Placements Committee)

1. Abhilash Vijay Nair
With his IBM experience of hiring, and a serious demeanour, he was always a tough nut to crack for any competitor.

2. Abhishek Kumar
His tremendous popularity and the way he has raised his voice (for...against...people...things) in the past made him another winner.

3. Devroop Dhar
The silent types, he is also believed to be a smooth operator and has just that required blend of popularity and sincerity required for the job.

4. Gagandeep Kalsi
The kind of person, no one has anything against. Quite likeable (as most of the Sardars are) and pretty enthusiastic, a good choice again.

5. Kunal Bharadwaj
I have personally seen him work really hard at the brochures and if that is anything to go by, we have another good bet in the team

6. Pavithra B Poonacha
Seven years of work experience...and the only girl in PlaceCom to boot...need I say anything more?

7. Raul Sinha
The laptop guy...I had threatened him with my vote as the bargaining point if he does not get the lappie delivered soon...he was another winner with the hard work already visible.

8. Sauhard Saran
He had an interesting way of selling himself...associating himself with the dream of any IIM grad, he promised to make use of his contacts at his previous employer, Mckinsey.

An absolutely effective and wonderful combination...I voted for seven out of the final eight.

Horizons Committee

1. Abhijit Chakraverty
2. Deepak Nallur
3. Manish B Shukla
4. Sharika Munshi
5. Sundesh Sundar Shetty
6. Surabhi B Prasad

I voted for four out of the final six. Go guys, show them all, what it means to have a world famous Management fest!

Backwaters Committe

1. H Sandeep Reddy
2. Nitai Utkarsh (that's me...thank you voters...will try not to let you down)
3. Malini Pande
4. Qaynat Sharma
5. Saurabh Goswami
6. Vikhyat Srivastava

I voted for four out of the final six. Yana Gupta Yana Gupta Yana Gupta.....

Industry Interaction Cell

1. Prajakt N Deotale
2. Puneet Jain
3. Rahul R Agarwal
4. Ravi Girdhar

I voted for three out of the final four. People, we want lectures (read jobs) from the CEOs of the Morgan Stanleys and the Mckinseys...

Media Cell

1. Amarpreet Singh
2. Priya TS
3. Sandeep Gopal

I voted for three out of the final three. A great team, one intelligent fact finding Sardar, one mallu girl, and one smarty potential topper

Social Service Group

1. Deepak Kumar Sethi
2. Deki D Dorjee
3. Mayank Mohan Agrawal
4. T Ramesh Chandra
5. Tripuramallu Madhu Smitha

I voted for five out of the final five. Another good team, with many of them already having worked for the social cause and having the gravity enough to make the SSG a successful cause.

Alumni Committee

1. Suryanarayanan TN
2. Shailendra Chak
3. Vaibhaw Kumar Shende

I voted for two out of the final three. A liekable team that will definitely be able to hold the batch together even after we move out of these hills and cottages.

Sports Committee

1. Dheeraj Batra
2. Sarbamitra Barua

I voted for one out of the final two. The weighlifter and the dancer...what magic are they going to create for us? A basketball court...a football field...any other miracles???

Mess Committee

1. Aditya Sagare
2. Vinay Marda

I voted for two out of the final two. I want some good food, some well baked rotis, some more of paneer but some less of palak, a once-in-a-week menu of Hyson...Taj...Al Bake maybe???





Posted at 12:27 pm by Nitai
Permanent Link
Wednesday, August 18, 2004
Probability (fortune+bravery=favor) = 1.0

Once upon a time, in the kingdom of GC:ASW, there lived a princess called Probability and a peasant called Statistics. Ever since Statistics, the peasant, had observed the relative frequency of Pond's cold cream being applied on the exponential face of the princess, he had fallen discrete over continuous in love with Probability.

The only desire that remained in the heart of Statistics was to normalize Probability and create a z-score with her such that it lies within 3. A six sigma score, he was sure, would overcome 99.97% of the problems that any poor peasant faces in wooing any rich princess.

The only thing that he was afraid of was the king of GC:ASW who went by a name that was integral to that of the kingdom. The king had the Poissoning habit of drawing box plots over the ambitions of potential wooers of Probability. But Statistics was brave and more than that, he had the wise minister ASW on his side. ASW gave his support probably because he had some z-score to settle with the king.

And so it was, that one fine day when the birds were twittering 'alpha beta gamma' and the leaves were whispering 'phi theta kappa', Statistics went to Probability's palace. With ASW in tow, Statistics made short work of any qualitative or quantitative opposition that the king could offer and eloped with Princess Probability.

And they lived happily ever after.

Posted at 03:30 pm by Nitai
Permanent Link