Saturday, August 14, 2004

If you come across a person who has been in the singularly unique habit of reading other people's blogs and has had, in the past two days, the chance to come across one which, for some reason, is called mode c, you will definitely be advised in your own interest to put a wager on being able to change the color of his face from pink to yellow.

For those who have problems in producing this coloring effect by the normal course of action, I would sincerely advise them to take my advice and just ask the fellow who wants a dye on his face to go and read my blog again. If he does so, the fellow with the soon-to-be-colored face will find a striking difference that will, if not anything, certainly fulfill his and in turn, your coloring objectives.

If you do follow the above actions to the tee and later, come and tell me that the plan has not worked, I am certainly going to view your eyes with a distinctive degree of interest (they are supposed to shift, you know...especially when a person is lying through the teeth).

I am not sure if amongst the numerous colors that would have come on the face of one who had seen my blog two days back and is again going to see the blog today, which one comes first out of the colors associated with shock, dismay, disgust, surprise, agony and such. However, I am sure that the chemistry teacher at the high school (or was it physics?) had done a good job when he had said that white light, when dispersed, forms VIBGYOR, out of which Y, if I remember the rhyme (had something to do with dirty fellows) correctly, stood for yellow.

And as for the dispersion of white light, I am sure that the teacher (by any chance...I was just wondering and all, but could it just have been...I mean does it have the teeiest weeniest of chances to be the history teacher???) had put me on his lap, given me five of the juiciest with his cane stick and whispered in my ear that whenever the rainbow is formed, it is because the white light has this uncanny habit of dispersing.

And as to the rainbow being formed, even a person of your intelligence will be able to see for yourself that this is the effect that will be the result when the blog is shown to the reader-who-came-yesterday-and-is-coming-again-today.

Since I have already hinted at your intelligence (which I did not want to do because of my particular habit of talking in tangibles), it wouldn't be further amiss to assume that you will now be putting your grey cells to the exercise by asking the question that, though obvious to the geniuses of the day and like, comes with the much exhausting mental exercise to the commoners like you and me. The question, as has come across after a strenuous mental exercise to yours truly, is 'What is it that is different in the blog?'.

Had my father heard of the question, he would have been proud of my analytical abilities and would have allowed me, as a reward, to get the measurements of the door that broke down last winter, and which needs a replacement. However, the question is not about fathers and doors but about the blogs and changes and I think that I am digressing. Since the question is here, the next thing the genius will pop up with (don't be disheartened if you hadn't thought of it, my poor little commoner) is the quest for an answer.

Well, for one, it is dead. Before you ask, Mr genius, if 'it' refers to the answer and raise questions hinting towards death-before-life, let me tell you that 'it' is my post about the SCon elections at IIMK and 'it' is dead. It is dead because one of my friends asked me to kill it. My friend asked me to kill it because he thought and earnestly believed that it was bringing a bad name to IIMK. I agreed to kill it because my friend was intelligent enough to shift from a moral standpoint, where the killing was more of a demand, to the personal and emotional standpoint, where the killing became a senti do-it-for-my-sake thing. I am not bothered in the least for it, the petty thing, at least not as much as to refuse a do-it-for-my-sake-thing, especially since it has already outlived its pupose (the redership of the blog has gone up by heaps and bounds...not that this was the purpose, though :-)).

Also, being close to the comoner when it comes to the grey stuff, I did not really understand the fuss that it had created and the mountain hill that was formed out of the mole was utterly beyond my comprehension. So it was, that I decided to give some free tips to the people who earn their livelihood by placing wagers on people's faces changing colors from pink to yellow...

Posted at 12:50 pm by Nitai
Permanent Link
Friday, August 13, 2004
With malice towards one and all

What is the meaning of such a controversial blog?

How can he be so stupid?

It is silly, that's what it is...

He should not have taken people's names

He is a sore loser

The guy doesn't know what he is doing...the pervert

The things might have happened, alright but why the heck did he put that in black and white?

What does he want to achieve from this?

Who is he...some sort of saviour who is going to deliver us all?

I never expected this of him...what with the silent image that he has...how can he be so bitter?

Why is the guy so angry...it's because he lost the elections, isn't it?

What was the need to poiliticize everything?

What is he, Mr goody-two-shoes?

This will bring a bad name to IIMK...people will now know that IIM people are immature!!!

He could have waited for another day...let things cool down

I am an elite king maker...yippee...you need to pay to join my elite group

I hope you are not a king maker if we are going to consider you for the Placement Committee

How did he miss my name? I was equally important in making of the king :-)

When I read it first, I was very angry and didn't even want to talk about it but when I read it again, I realised that it was really funny.

I am a Bihari...how can he label me as a part of the Bombay gang?

Does he assume that we (Delhi gang) are fools enough to trade three votes for one???

He knows that his blogs are read by many...he must be more responsible before writing down such things

These are just some of the comments that my previous blog entry received...directly, that is, people who were men enough to come and tell things to my face...and indirectly, that is as part of the dinner table/canteen conversations.

By the way, if any one was expecting a justification or even went as far down the line as expecting an apology for my previous post, I am sorry to disappoint the person. If anything, the intent behind writing the article has been bolstered by the comments that the article has received...both direct as well as indirect.

Posted at 02:26 pm by Nitai
Permanent Link
Monday, August 09, 2004

First things first, I admit that this idea is in its stage of infancy and may not be practically implementable at all. Nevertheless, this blog is one place where I can open my heart out without worrying too much about the jeers and laughs that the idea might garner in its wake. Okay, so there are the comments...but honestly speaking, the regular commentators on this blog are people whose criticism is valued, too...so here goes...

The seeds of this thing grew much before IIMK came in my perspective, in fact, it was sometime in college that I thought of it for the first time. I have always been itnerested in debating my (well...actually, more of the opponent's) head off and so it was that in college, when I ultimately started officially handling the affairs of our Literary Wing, I decided to make an innovation. I wanted to make the debates more interesting and popular. I had seen Parnab Mukherjee, the quiz master and Reuter journalist, moderate a debate in the previous year. Developing further on those lines, I decided that I will make the debate a team event with various rounds. There was the idea of this one round where both the teams will send one person each to the stage and there will be a one-to-one debate between them on the lines of the Presidential election debates in the USA. To liven up the proceedings (and to ensure that I am not too far off from the limelight), I decided to moderate the event and add in my juicy comments as and where applicable.

Sounds familiar??? I know it would to all those who have seen The Big Fight on NDTV moderated by Rajdeep Sardesai and they will cast doubtful aspersions on the novelty of my idea. Be that as it may, my idea goes one step further. To give the credits where they are due, I must say that this idea came about after our orientation feedback session with Prof Uday Damodaran. While discussing one of the issues raised by the students, he told us about his idea of a club or group that will invite people from other walks of life than management to come and deliver addresses to the IIMK junta....people like Arundhati Roy, Satish Gujral and so on.

For all those who are still trying to find a relation between the two ideas, let me pass on some wisdom!!! I plan to invite these people to IIMK for a big fight with the cream of the Indian youth intellegentia (read IIMK junta). These people are going to come and defend any one of their deeply held philosophies (Narmada mission or America's role in destroying WMD in the case of Arundhati Roy, for example) against one of the IIMK students (chosen based on the debating skills and research done on the particualr topic). There can be questions from the audience as well to either of the two people on the stage. This will not only make the talk more interesting, it will also give a USP to the college which, I am sure will be remembered and talked about across the colleges of India.

I know that it is all castles built in the air but I am sure that it is not impossible either. Prof. Uday has already given positive indications about providing the fundings required for such a group and the basic idea of the big fight has already been implemented (both by me in college and much after that...mark this...by NDTV). So what am I looking for???
Like minded people with the enthusiasm to make this idea turn to reality
Even an iota of support from others who prefer to stay away from this
Support, of course, from the faculty, especially those responsible for the funds
Some time from our 'revered' teachers to carry out the work

I already have some possible names for the event...
Gunning on
Get your arms
The confrontation

Readers of the blog are free to add in their own names or other ideas for the events (these can be held at a monthly or bi-monthly frequency)

Posted at 12:41 pm by Nitai
Permanent Link
Sunday, August 08, 2004
Sunny
He will loot your money
Wicked Sunny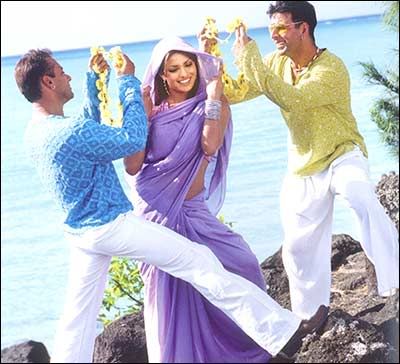 Those are the sort of lines you can expect from the latest David Dhawan offering 'Mujhse Shadi Karogi'. Starring Salman, Akshay and Priyanka together for the first time, the movie has, if anything, got its cast right. The baseline of the movie, as might have been easily guessed by the typical trailer-surfer, is that
thandi hawa ka jhonka
Sameer (played by who else but Sallu miyaan) and
The wicked
Sunny (played by Akshay Kumar) vie for the affections of
The full monty enthusiast
Rani (played by Priyanka Chopra).
With the
panditji
predicting that Sameer will have a life full of anger where he will not spare anyone who goes against his will, the mood of the story sets in. Sameer goes on to beat up kids in school (luckily, the director was not inspired by one gun-toting kid in one developed country), and calms down only when one of his now-here-now-vanished friends recites one-half of a stupid jingle (???) to him, urging Sameer to complete the other half and thus forget his anger. For all those who are convinced that counting from one to ten is the best remedy to manage your anger, this one sure takes the cake if the protagonists of our story are to be believed. Let me see if I remember the lines...it goes something like this...
Badtameez
(!!!)
Chaddar ki kameez
(???)
Lohe ka pajama
(wow!!!)
Bandar tera mama
(cool)
Kutta tera yaar
(not sure but guess, it was kutta)
Billi teri mausi
(doesn't rhyme na , I know)
Aam ka achaar
(why...don't ask)
Aja mere yaar
(ooof...over...finally)
Going forward, Sameer is seen beating up the goons who try to molest a scantily clad Amrita Arora roaming all alone in an indoor basketball court that seemed to be located in some kind of a garage (what was she doing there, for God's sake, you ask...haven't you left your knees at home before coming to watch a David Dhawan movie, I ask). Next thing we see is that the lass goes and gets married off to some Mika-types (remember Mika, the Punjabi singer...brother of some other singer...Daler???) Gentleman (some gratitude, what?), thus breaking the heart of our hero who decides to take up a job in Goa to cool off his heels, but not before he has promised his silver haired Dadi (played by Sashikala) that he will never get angry and fight again).
In Goa, Sameer meets a mobike goon of Eagles gang (remember Josh???), played by Rajpal Yadav, an astrologer (Rajpal yadav again), a landlord who has a different ailment every day (who else but Kadar Khan playing the boring routine once too often), his to-be love interest Rani and Rani's dad Colonel (played by Amrish Puri)...all in the order named above. The characters are all interesting in the fact that they are all incapable of any intellect...all of them live life and well...just live life.
Now, this Rani has an interesting habit of keeping her balcony window open while she does a lot of things in her bedroom...The full monty, Striptease...and what not. Now, can you blame our hero for falling head over heels (literally) for the lissome lass??? All is hunky dory till our hunk decides to take his foot to his big mouth and make a mess out of the simple exercise of saying 'Marry me' (it is so simple, David, isn't it?). He gets entangled with Rani's father, the Colonel of the Portuguese war and how does he get entangled...some of these incidental encounters are extremely funny the way they are enacted by both Salman and Amrish Puri. All this starts to get a little boring, however, and just when the interest starts to wane a little, in comes Sunny...aka the evil graha Shani for our hero.
Sunny comes, he sees and he conquers. He takes full advantage of the earlier discussed foot-in-mouth situation and woos Rani and his family away from Sameer. With a lot of other entendres thrown in like Sameer battling six Sunnies (Matrix, anyone???)...Sameer's name (and hand et al) getting involved with Rani's mother (and her pallu et al)...Sameer beating up the Eagles and their declaring Sameer as the boss...The kanta laga girl making a cameo, with this cameo conveniently planted by Sunny in Sameer's bed...Sameer rubbing the guard at his enterprise (played by Satish Shah) the wrong way, not knowing that he is Rani's uncle...and many other Tom and Jerry-sque adventures that make you cry with indignation and at the same time, laugh with disgust at the very silliness of it all.
The movie's climax, though a little hasty and awkward, tries to unite the two passions of Indians, cricket and Bollywood....what with the chaste Punjabi of Kapil paaji, Bhajji Paaji and Sidhu paaji...and the huddling up of some Indian cricket team members (you can feast your eyes (???) on Parthiv, Kaif, Srinath and Irfan apart from the ones already named). What really happens in the end...who actually gets the affirmative answer to his 'Mujhse Shadi Karogi' question...is for the mvie-goer to go and see.
As for the music, it is strictly on the okay side with one or two catchy numbers...the timing of the songs could have been better and more importantly, a few songs that were not dream sequences would certainly have been appreciated.
The performances from the lead pair of Salman and Akshay are superb in their timing and on-screen chemistry. They do make a dynamic pair and the game of one-upmanship does get off really well. Amrish Puri is tops, as always, restrained as well as comic to the hilt. The Yadavs (Rajpal and Rajpal) are good, too with the astrologer yadav hogging more of the limelight that the Eagles yadav. Rest of the performances are complementary and work well towards the purpose of this movie...which the director David Dhawan has once again, and with a panache...delivered to his audience...full time entertainment without your thinking caps on...severe headache if you want to take your head along to the theatre.
Posted at 02:40 pm by Nitai
Permanent Link
Thursday, August 05, 2004
Of rains and the subconscious
I heard somewhere that it has been raining all over the country and what with all the flood stories that the news papers invariably carry in addition to the local 'strike' news, the tidings I got from the birdie seem to be true. The point I am trying to make here is that even given the nature of rains in different parts of the country, I am sure that very few places can match up to the glory of this place on the hills, especially when its pouring like this. The misty mornings (days???) give you that happy feeling in the pit of your stomach...as if you have been looking at the tresses of some very beautiful girl...jet black hair, falling as smooth as the way clouds move in the sky...shining as bright as the snow capped mountain peaks...the never ending fall of those black stars accompanied with the music of life...a symphony that thrills and even scares you...that soothes you to sleep and accompanies you to the ultimate realisation...oh, the glory of it all...the wind, the mist, the hills and the water pouring down...will it ever end...I hope not. Let it continue for as long as it wants to, don't make it go away for it is the reason why we are here, it is a celebration of our existence, is it not?
What the rains have done for me is that they have made me think and think deep (you might have guessed that from the post's initial few lines! :-)) I have been thinking about things that I normally keep on the back burner...happy things, sad things, generally things that can be thought about, lying all cozy and warm in your thick bedsheet or sitting on a chair in your balcony watching the rain splash your feet every now and then. It was in this mood that I came across the latest post on
Priya's blog
where she had written some of her thoughts (is it the thinking season???) on why we are the way we are. I don't have the patience and the time (have to go for dinner to the city) to write all that down again...might as well do that some time later...in the meantime, if any one is really interested (why...why not??? :-)) in my views on the subject, they can read my comment on her blog.
Posted at 07:31 pm by Nitai
Permanent Link