Sunday, January 28, 2007
I hope that no one from my family is reading this because if they get to know that I had been driving my Alto at 142 kilometres per hour, they will be scandalized, to say the least. It definitely was a scandal, as far as I, as a driver, am concerned. Having really learned driving about four months back, it was quite a stretch, by any extent of imagination, to try and literally stand on the pedal and gleefully look at the speedometer break all previous levels.
Once Aditya and I decided to while away time on a lazy Republic Day evening by going to Greater Noida and experiencing the Express Way and its much talked-about speeds, I got thinking about what my little baby could do. The frustration of not having been able to go to India Gate and watch the proceedings of Republic Day festivities live was already on my mind, but that is another story that deserves a separate paragraph so before I get into the high speed adventures of mine, let me delve a little into what could have been.
It was while coming back from a meeting with some HNI or the other that I started discussing with Rohit, a colleague, about what fun could be had if one gets the opportunity to watch live action on the 26th of Jan. Before we could even start discussing it any further, the cabbie, who was our escort for the day, butted in with a comment of his own. He promised us two VVIP passes, each one admitting three, and the confidence with which he promised the same, raised my hopes no end. He told us that he had worked for quite a number of days at the residence of Ram Bilas Paswan, the minister, and that he was quite capable of arranging two passes or even more.
Of course, what happened after he had promised that and after he had given me his number to contact him and collect the passes is anybody's guess, and that anybody would have been right. I called him so many times that I lost the very count of it and the last time I called him was from a pub in CP, in the vicinity of which, he had promised to meet me and hand over the passes to me. The fact that it did not happen, despite two rounds of snacks and drinks between JC, Dada, and myself, just added to what was going to happen the next day.
What happened the next day was of course, what I had started illustrating when I began this post. The Express way from Noida to Greater Noida, for those who are unaware, is a driver's dream and so it turned out for me. Starting off at about 100 kmph as soon as I entered the beauty of a stretch that the road was, I soon started testing what I could do. For family member(s) who haven't yet been able to kill the urge and have gone on till here, I did look at both sides of the road before pushing the pedal real hard. Initially 125 kmph seemed all that the Maruti offering could offer, but as I literally stood on the accelerator pedal, even if it was a slope, Alto LXi (3 months and 5000 kms old) managed top speed of 142 kmph.
After all the exhilaration and all the adrenaline rush, we moved on to Dilli Haat to spend the evening, planning to look at some good roadside stores and eat some good street food. However, it was not to happen as the damn place was closed because of the 26th Jan holiday. The next destination could have been NFC (New Friends' Colony for the uninitiated) but ever since I had taken Aditya and his brother there on a rather cold and bland and lonely night, Aditya has gone dead against the very idea of that place. The next mutually agreed-upon destination turned out to be the Chinese food area next to Chanakya theatre and that proved to be quite an experience, right from driving along Shanti Path, trying to find the suddenly elusive Pakistani High Commission (or Embassy, whatever it is), to having the Chinese sizzler and soup that started from smelling bad and ended at tasting surprisingly delicious.
The weekend has been a long one and as normally happens on such long and unplanned weekends, the rest of the days were not really remarkable, except, of course, a movie and some hopefully positive event at the family end, about the both of which, I will try to talk in further posts.
Posted at 08:37 pm by Nitai
Permanent Link
Tuesday, January 16, 2007
Gurubhai Gurubhai aavya che...
tha nahi hai...mera naam Gurukant Desai tha...hai...aur aage bhi rahega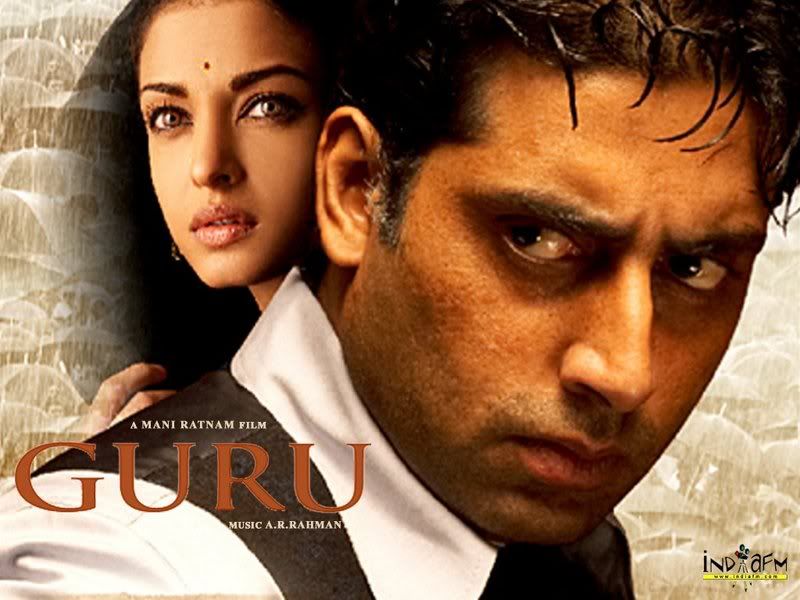 As Mani Ratnam's Guru carries his swagger to the microphone and smirks at hearing of competition's efforts at undermining him, the audience does not know whether to empathize with him for the background that he has risen from, or to protest the absolute lack of respect the rich industrialist has shown for the law of the land.
Despite the dropped (once-too-often) hints of the movie's story being based on the life of Dhirubhai Ambani and of course, the several sequences of the movie mirroring memorable instances of the life of Reliance's founder, there is still quite a lot of originality of idea. Mani Ratnam makes sure that he does not fall prey to the biographical conundrum, but at the same time, he makes optimum use of the sheer magnetism of Dhirubhai's story.
From the protagonist venturing out to Turkey, learning new ideas and getting his self-confidence going, to his coming back and setting up his own business and earning for himself, the story of Guru is a journey across people who ditched him, people he ditched in return, and of course, the several innovative ideas that are used in both the processes. But to limit the scope of this movie to just that would be injustice to the little nuances that the director and the actor are able to bring to the story, refining it beyond just another dramatic rendition of an interesting sequence of events.
Abhishek Bachchan, Aishwarya Rai, Madhavan, Vidya Balan, the indomitable Mithunda and of course, the talented support cast have made the life and times of Gurukant Desai stand out, almost to perfection. Most of the actors, Abhishek clearly towering above the others, have given a unique twist to the characters they play, infusing life into them and making sure that the viewer is clearly able to see the mental makeup of each of them.
Aishwarya is not just looking drop dead gorgeous (perhaps more than any of her previous performances, if that is humanly possible) but also manages to bring the right expressions on her face at the right time, and that, I am sure would be a welcome change for fanatics like me. Madhavan manages to portray a sincere and intelligent image, just right for the character he portrays, never trying to overshadow the chief protagonists of the movie and yet managing to make his presence felt.
And then there is Abhishek, the dynamite of this package. If Amitabh is to be believed, his performance has actually brought him to tears. Even if you can not be so superlative, you will nevertheless realize that this one has been one of Abhishek's (or any other actor's, for that matter) lifetime performances. Before moving on to the technical aspects of the movie, one must mention the one and only Mithunda, who keeps showing now and again why he is rated as one of the better actors of the Indian movie industry and why he has all these acting awards in his kitty. From the mentor that he is to the young Guru, to the person who encourages his muse to take on the successful Gurubhai, to the aged guardian of an unwell Guru, he manages the transitions with characteristic ease and elan.
What does one say about the director of such a movie, except perhaps salute his genius and marvel at his knack of identifying the audience's nerve and hitting on it like no one has ever done before? Mani Ratnam, with this movie, has moved on from a mere story teller to someone who is much wiser to the needs of the industry. And industry it is that he is working in, which is apparent from the various interviews Mani gave to the media as a part of the movie's publicity. Clearly mentioning that the movie is not a biography and yet discussing the story's stark similarities to Dhirubhai's life (right to the episode of bribing a highly placed minister), Mani has proved his intellect beyond doubt.
Audiences across the country have enjoyed watching this movie and once they are done with drawing the parallels between Dhirubhai, Reliance, and the movie's story, they have praised the director/actors no end. The movie's credits notwithstanding, the important thing that has come to the forefront from this movie is the very idea that people have been talking about it. In addition to being a good omen for the fortunes of this movie and its stakeholders, it also augurs well for the Indian movie industry which can now consider another door open as far as finding ideas for making movies are concerned.
Posted at 05:27 pm by Nitai
Permanent Link
Thursday, January 04, 2007
Adieu to my childhood, adieu to the child in me
As I left for the railway station, Pappumama's words kept ringing in my head (however melodramatic the ringing idea may seem), "kewal itna kahenge ki jis hak se nana nani ke samay aate the, usi hak se aate rehna" (all I will say is that keep coming with the same feeling of right as you used to during Nana-Nani's times). Will it ever be the same, I kept asking myself and despite the assurances I gave to a crying pappumama, I could not bring myself to believe that it will ever be anything close to what it was.
What it was, had been my childhood, the entirety of it. From the age of 4 when things had just started registering themselves till the age of 16 when I was just about ready to spread my wings and soar into the sky, my life was centered around Nana and Nani, or should I be saying that their lives were centered around me? The simplest and most complex of my wishes were commands for the two, who had taken up the responsibility of raising me, their grandson.
With Buxar not providing the best of facilities and institutions in terms of education, they (and of course Maa and Papa) believed that I would have a better chance at succeeding in life if I get a good start. And what a start it turned out to be! Right from making sure that I get the best of schooling to trying to inculcate the best of traits in me, Nana and Nani had not left any stone unturned. If I have reached any stage in life, I owe most, if not all of it to Nana and Nani.
When Nana passed away three years ago, I was working at Infy and it was about the time when I had started writing this blog. I still remember what I wrote here and the condition in which I was when I wrote it. It was the first death that I had seen up close and that too, of someone who was probably the dearest to me. All the same, things soon changed from the feeling of utter loss that I had started to feel to the absolute need of keeping up the facade for the sake of Nani. The facade soon turned into a notion of sanity and truth from the farce that it had been during its inception.
It was very clear, not just to me but to the entire family, that Nani deserved much more than a life tormented by memories alone. For me, in particular, it meant all the more to make sure that I was able to express to her all the love that I missed out on when Nana was still alive, having taken things for granted. Someone who used to cook snacks for me and keep it in the fridge everyday, long after I had left Patna for good, deserved all the expressions of love that I could manage and even more.
And so I was, still a child for her, reveling in sitting close to her, snuggling up to the warmth of her blessings, and generally chatting away with her as I probably wouldn't have done otherwise. Today, thus, seems an end of all that childishness. As I think back on the events of the past week, I know now that it is not going to be the same. I can no longer treat myself as the youngest son of the family. The relations will change, sooner or later, since the facade is no longer there and since reality, in its whole self, seems an illusion after all.
Posted at 04:36 pm by Nitai
Permanent Link
Tuesday, November 07, 2006
Now this one has been real quick. Considering the gaps between posts for the last five-six odd ones, it must be surprising for whoever still passes by this place to find yet another post. But here it is, yet another episode in my not-too-interesting-but-still-eventful life.
Apart from work, things have been very dynamic in the past few weeks. My flatmate Niranjan has decided to move out to Bombay and join Adventity, leaving me behind with a 3 bedroom flat, and a monthly expense of Rs. 10200, which shall no longer be shared by two as it used to be. Things, however, started coming back to the black from the red when I decided to put up some advertisements (one of them on this blog) looking for a flatmate.
I got three replies to the advertisement, one of them from my batch mate Vineet. A couple of other people also came to see the flat in addition to Vineet but I got the impression that none of them were too impressed with the location of my flat. I did want to go for Vineet, of course, because even though I do not know him well, he is still a batch mate and I have seen him off and on for two years and have at least some idea of what to expect.
The twist in the tale came when Aditya got his visa refused and decided to (or was forced to) stay in India for at least another two months. The question now was whether I wanted to be good to my word to Vineet or was inclined towards staying with Aditya, whom I have come to know pretty well over the last two years. A difficult choice, in deed (also considering that Aditya's stay in India was going to be only temporary), but in the end something that presented a simple enough solution. The three of us have decided to move in together to some place in South Delhi that Vineet has taken the onus of finding for us. The only things that concern me are the size of the flat (since South Delhi is anyway so expensive and since I do want a big enough flat to accommodate guests) and the avilability of facilities like parking, and uninterrupted water, power, and internet. Probably asking for too much but still hoping to get most of it.
So much about the boring story of my life at home. At work, things are much more in the flux, with dynamically changing (always increasing :-( ) targets and new people to meet every day. The markets keep moving up and it is very interesting to note how the investors are still as scared to invest at these market levels as they were at the bottom levels of nearly 9000. It just goes on to show that any extreme is very uncomfortable for players in a field where one small mistake may cost lakhs of rupees. Despite the psychologically interesting and observable fact that I just mentioned, it does pose serious problems for investment advisors like me whose targets depend on being able to convince people to plough in the moolah and keep ploughing it in, come whatever may.
Posted at 05:28 pm by Nitai
Permanent Link
Thursday, November 02, 2006
It has been ages since I worte my last real post on Mode C and the blog, I though, was as good as dead. But then again, as Pavan says he keeps hoping for, the suppressed finds utterance yet again and here I am, typing away on this keyboard of mine. It is a great morning in Delhi with just the right amount of chill, just the right amount of visibility or the lack of it, just the right amount of traffic and of course just the right kind of songs playing on the car radio.
The car radio mention, of course, was an announcement for all those who are not too dumb to realize that I have got a car now...nothing flashy as of now, just a simple, non-expensive, fuel efficient, with a good resale value Maruti Alto (the one with the Let's Go ads on TV and radio, if you are one of those who remember them and not the real thing).
Amongst other things, I am not married yet and despite the good intentions of all those who have been asking me about the probable time period for reversal of my marital status' amplitude's magnitude, anything less than 3 years does not do justice to the charts.
I still come to office everyday, work reasonably hard but unfortunately, have been hard pressed to show any results so far. With the batch of 2006 at Kotak Wealth now kicking in with their numbers, I am still short on results, despite the efforts being there. Stretched targets (missed by miles last month and increased even more this month) are not helping either. But then, that is a lot of crib and will pass with time, as it has always done.
Life, otherwise, is cruising along just fine and even though personal life is not too happening (as usual :-)). A good circle of friends helps, of course. With Nishith (from IIML), Himadri (from IIMC and ICICI), Kushagra (from IIMC), JC (from Fore and a lot of places), Nasir (from Cardiff and StanChart), and Manpreet (from IMI and Indiabulls), time has no reasons not to fly when we want it to. It is just that I keep losing touch with my past so quickly that I get scared at times. It was Loyola, DPS, and IT earlier, but Infosys and IIMK have been added to the list so fast that it is simply frightening. It is not that I do not make friends at these places or that I am identified as a recluse when I am at the campuses mentioned above but once I am out, I am out, literally.
I don't know if it is the same for everyone and if everyone is able to keep in touch with just a couple of friends each from the different place that one has been associated with in the past, but it has been so in my case. So much so, in fact, that I am seriously thinking about the root cause of it all, not that I am bothered to do anything about it but am just curious.
Posted at 09:26 am by Nitai
Permanent Link