Thursday, January 04, 2007
Adieu to my childhood, adieu to the child in me
As I left for the railway station, Pappumama's words kept ringing in my head (however melodramatic the ringing idea may seem), "kewal itna kahenge ki jis hak se nana nani ke samay aate the, usi hak se aate rehna" (all I will say is that keep coming with the same feeling of right as you used to during Nana-Nani's times). Will it ever be the same, I kept asking myself and despite the assurances I gave to a crying pappumama, I could not bring myself to believe that it will ever be anything close to what it was.
What it was, had been my childhood, the entirety of it. From the age of 4 when things had just started registering themselves till the age of 16 when I was just about ready to spread my wings and soar into the sky, my life was centered around Nana and Nani, or should I be saying that their lives were centered around me? The simplest and most complex of my wishes were commands for the two, who had taken up the responsibility of raising me, their grandson.
With Buxar not providing the best of facilities and institutions in terms of education, they (and of course Maa and Papa) believed that I would have a better chance at succeeding in life if I get a good start. And what a start it turned out to be! Right from making sure that I get the best of schooling to trying to inculcate the best of traits in me, Nana and Nani had not left any stone unturned. If I have reached any stage in life, I owe most, if not all of it to Nana and Nani.
When Nana passed away three years ago, I was working at Infy and it was about the time when I had started writing this blog. I still remember what I wrote here and the condition in which I was when I wrote it. It was the first death that I had seen up close and that too, of someone who was probably the dearest to me. All the same, things soon changed from the feeling of utter loss that I had started to feel to the absolute need of keeping up the facade for the sake of Nani. The facade soon turned into a notion of sanity and truth from the farce that it had been during its inception.
It was very clear, not just to me but to the entire family, that Nani deserved much more than a life tormented by memories alone. For me, in particular, it meant all the more to make sure that I was able to express to her all the love that I missed out on when Nana was still alive, having taken things for granted. Someone who used to cook snacks for me and keep it in the fridge everyday, long after I had left Patna for good, deserved all the expressions of love that I could manage and even more.
And so I was, still a child for her, reveling in sitting close to her, snuggling up to the warmth of her blessings, and generally chatting away with her as I probably wouldn't have done otherwise. Today, thus, seems an end of all that childishness. As I think back on the events of the past week, I know now that it is not going to be the same. I can no longer treat myself as the youngest son of the family. The relations will change, sooner or later, since the facade is no longer there and since reality, in its whole self, seems an illusion after all.
Posted at 04:36 pm by Nitai
Permanent Link
Tuesday, November 07, 2006
Now this one has been real quick. Considering the gaps between posts for the last five-six odd ones, it must be surprising for whoever still passes by this place to find yet another post. But here it is, yet another episode in my not-too-interesting-but-still-eventful life.
Apart from work, things have been very dynamic in the past few weeks. My flatmate Niranjan has decided to move out to Bombay and join Adventity, leaving me behind with a 3 bedroom flat, and a monthly expense of Rs. 10200, which shall no longer be shared by two as it used to be. Things, however, started coming back to the black from the red when I decided to put up some advertisements (one of them on this blog) looking for a flatmate.
I got three replies to the advertisement, one of them from my batch mate Vineet. A couple of other people also came to see the flat in addition to Vineet but I got the impression that none of them were too impressed with the location of my flat. I did want to go for Vineet, of course, because even though I do not know him well, he is still a batch mate and I have seen him off and on for two years and have at least some idea of what to expect.
The twist in the tale came when Aditya got his visa refused and decided to (or was forced to) stay in India for at least another two months. The question now was whether I wanted to be good to my word to Vineet or was inclined towards staying with Aditya, whom I have come to know pretty well over the last two years. A difficult choice, in deed (also considering that Aditya's stay in India was going to be only temporary), but in the end something that presented a simple enough solution. The three of us have decided to move in together to some place in South Delhi that Vineet has taken the onus of finding for us. The only things that concern me are the size of the flat (since South Delhi is anyway so expensive and since I do want a big enough flat to accommodate guests) and the avilability of facilities like parking, and uninterrupted water, power, and internet. Probably asking for too much but still hoping to get most of it.
So much about the boring story of my life at home. At work, things are much more in the flux, with dynamically changing (always increasing :-( ) targets and new people to meet every day. The markets keep moving up and it is very interesting to note how the investors are still as scared to invest at these market levels as they were at the bottom levels of nearly 9000. It just goes on to show that any extreme is very uncomfortable for players in a field where one small mistake may cost lakhs of rupees. Despite the psychologically interesting and observable fact that I just mentioned, it does pose serious problems for investment advisors like me whose targets depend on being able to convince people to plough in the moolah and keep ploughing it in, come whatever may.
Posted at 05:28 pm by Nitai
Permanent Link
Thursday, November 02, 2006
It has been ages since I worte my last real post on Mode C and the blog, I though, was as good as dead. But then again, as Pavan says he keeps hoping for, the suppressed finds utterance yet again and here I am, typing away on this keyboard of mine. It is a great morning in Delhi with just the right amount of chill, just the right amount of visibility or the lack of it, just the right amount of traffic and of course just the right kind of songs playing on the car radio.
The car radio mention, of course, was an announcement for all those who are not too dumb to realize that I have got a car now...nothing flashy as of now, just a simple, non-expensive, fuel efficient, with a good resale value Maruti Alto (the one with the Let's Go ads on TV and radio, if you are one of those who remember them and not the real thing).
Amongst other things, I am not married yet and despite the good intentions of all those who have been asking me about the probable time period for reversal of my marital status' amplitude's magnitude, anything less than 3 years does not do justice to the charts.
I still come to office everyday, work reasonably hard but unfortunately, have been hard pressed to show any results so far. With the batch of 2006 at Kotak Wealth now kicking in with their numbers, I am still short on results, despite the efforts being there. Stretched targets (missed by miles last month and increased even more this month) are not helping either. But then, that is a lot of crib and will pass with time, as it has always done.
Life, otherwise, is cruising along just fine and even though personal life is not too happening (as usual :-)). A good circle of friends helps, of course. With Nishith (from IIML), Himadri (from IIMC and ICICI), Kushagra (from IIMC), JC (from Fore and a lot of places), Nasir (from Cardiff and StanChart), and Manpreet (from IMI and Indiabulls), time has no reasons not to fly when we want it to. It is just that I keep losing touch with my past so quickly that I get scared at times. It was Loyola, DPS, and IT earlier, but Infosys and IIMK have been added to the list so fast that it is simply frightening. It is not that I do not make friends at these places or that I am identified as a recluse when I am at the campuses mentioned above but once I am out, I am out, literally.
I don't know if it is the same for everyone and if everyone is able to keep in touch with just a couple of friends each from the different place that one has been associated with in the past, but it has been so in my case. So much so, in fact, that I am seriously thinking about the root cause of it all, not that I am bothered to do anything about it but am just curious.
Posted at 09:26 am by Nitai
Permanent Link
Wednesday, October 25, 2006
DELHI - Flatmate required for a 3 BHK flat in Patparganj, East Delhi
1 Flatmate required on urgent basis for a 3BHK flat with details as
follows

Location - Patparganj (11 kms frm CP, 8 kms frm Noida, close vicinity
to some 5-6 malls, just off the National Highway and 2 kms frm Anand
Vihar Bus Terminus so well-connected)

Features - 24 hrs power backup, unlimited water supply, parking,
lift, security et al.

Furnishings - TV, Fridge, Equipped Kitchen with stove, cylinder etc,
built-in almirahs

Monthly rental - Rs. 9000
Monthly maintenance - Rs. 1200
Electricity and water charges as consumed

Do feel free to post this message to any forum you are a member of
(company, grad college, etc) if you do not see a need for it yourself.

Contact details
Nitai Utkarsh
mailto: nutkarsh@gmail.com
Posted at 03:19 pm by Nitai
Permanent Link
Monday, August 21, 2006
99 out of 100 people you meet will advise you against watching this movie, as they did to me. I still went for that one time and perhaps, you ought to, as well.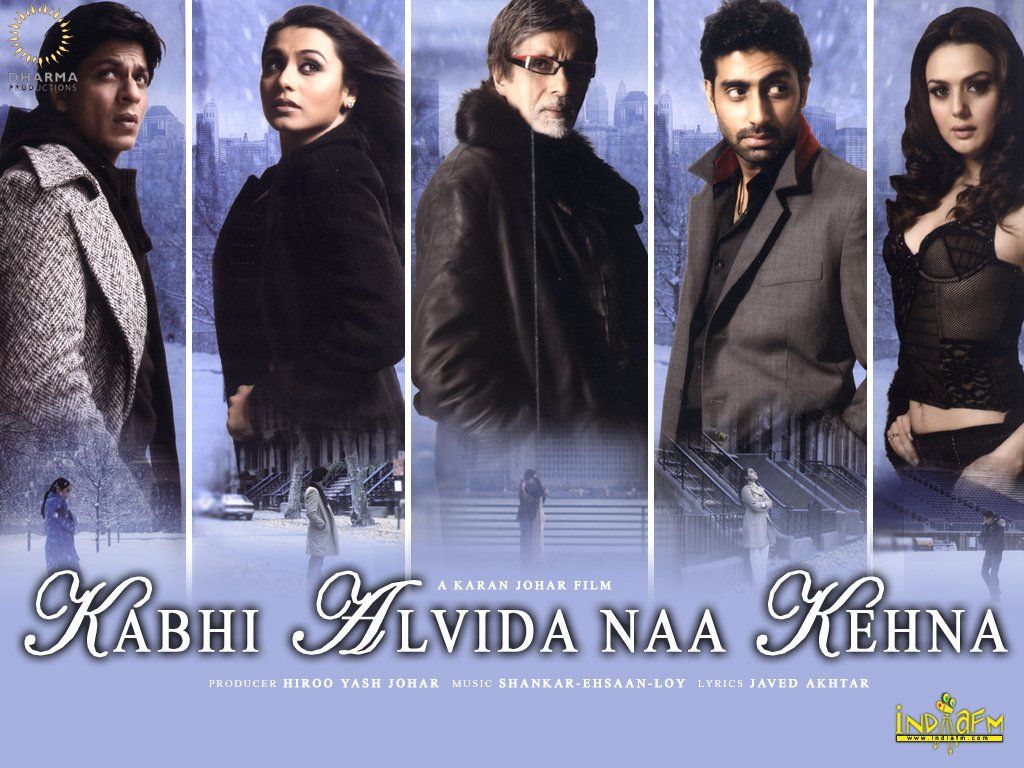 Like me, you may have been intrigued with the characters of the movie and the director coming on forums like NDTV's We, the people and discussing things other than what you would expect people who have been parts of a Karan Johar production to discuss. I mean, how many times have you seen a Shobha De discussing a Karan Johar movie other than to rubbish it and the ideal family values that it portrays? How many times have you seen a Shahrukh Khan straying from the "I am dream walking into my romantic roles" statements of his to something like "I did not know and did not believe in the character that I was playing"?
Even if you haven't seen all Karan movies, take it from me since I have that you will not find anything like Kabhi Alvida Na Kehna if you take your mind in the past. In fact, the movie is as much away from tradition as it could have been. Amidst protests that accuse the movie of showing things in an irresponsible light that may encourage people to take the easy way out of problems and some others that claim that the movie does not show what is real in the Indian context and is too far fetched to be of any interest to the audience, I will like to put forth that the very fact that the movie has been able to raise such aspects and critique means that there is something more to it than being claimed by some.
At no point do I want to say that I liked the movie. I did not and the movie had a lot of glitches and unnecessary package for me to enjoy it totally but that it did provoke some thought process inside me, I can not deny. Unlike its predecessors who have raised the bad marriage question many times in the past, KANK tries to find solutions in the coves that have been unexplored by Bollywood so far. As Karan Johar says in the chat show, his friends and contemporaries (which would mean people like me and others of my age group) are facing more marriage woes than ever before and more importantly, they have no compunctions in looking at the easy way out, get out of a bad marriage.
At the cost of giving away some part of the movie's story (which is not too much of a suspense, anyway), let me point the crux of the matter here. There are two couples not hitting it off with each other and one part each of these couples gets disjointed from the traditional view of marriage and tries and finds love outside marriage. The transition from saying "Family is family" with some conviction to mocking at the same words is what Kabhi Alvida Na Kehna is all about. It does take more than three and a half hours to say that and despite this being the worst aspect of the movie, I believe that the job has been done and the message conveyed in as explicit a manner as there could have been.
Right from the Sexy Sam character of Amitabh Bachchan to the anti-tradition, pseudo-modern undertones of the story, the movie is set in the context of the urban young and there, too, the concentration is more on those who have already broken away from the mould, if not in reality then at least in the head. Somewhere along the line, the intended audience of this movie is prepared to let go of the threads that bind them to the Indian way of treating relationships. A stark contrast to earlier movies of Karan Johar that have always shown the weakest of Van der Waal's forces enough to not only sustain, but even mend the most embittered of relationships, KANK shows that there comes a time when even the Indian says "enough is enough".
The best part about such giving up of relationships in the movie is that it is not driven by something very concrete like the man beating the wife or the wife being a promiscuous cheat, but the more subtle feelings of being left out, being forced to make a "samjhauta" are at the back of the redical steps...small things that we all know, make all the difference in real life, as well.
Cut to what everyone has been talking about...yes, the movie is horribly long, Amitabh Bachchan is wasted in a story that did not need him, but for giving it the conviction and stage that only he can provide, there are too many tears and wasteful, repetitive moments, Rani Mukherjee's acting is limited to the use of glycerine and Shahrukh Khan's to being the foul mouthed jerk whose sense of humour is not only foul but without even the last tinge of creativity. The screenplay is non-existent and the dialogues could have been so much more sharper. Karan Johar fails when it comes to details, but I will still say that he gets the bigger picture right.
In terms of the actors, not commenting on Amitabh's blink and I am gone role, rest of the cast has been mediocre, to say the least. The fault would once again lie on the screenplay and the director who seem to fail miserably in infusing any breath of fresh air at any stage in the movie. Agreed that the content and the context did not allow for too many deviations from the stark settings, but the only deviations that are there are too crass and awkward for the actors to do any justice to the same. The careerist bitch played by Preity is so easily converted into the lovelorn wife that it becomes difficult to digest the contrast between one situation showing her leave a job for her husband and the other where she ends the relationship with her husband in a jiffy. Some consistency would not only have done wonders for the movie, but also allowed the actors to give a sane performance. I won't, as I said, comment on what Amitabh Bachchan was doing in this movie so that also leaves Kiron Kher out of the ambit. Honestly speaking, the two were wasted beyond redemption.
Music of the movie works and is quite in line with the story and events as they unfold. All said and done, I feel that though the movie has fallen to the neglect of details, the idea behind it has been pretty brave and unique and as such, it does deserve that one time in the theatres (watching it at home might not be able to sustain your interest for enough time to let the movie impress you in any way). I, for one, will not advise anyone against watching this movie!
Posted at 11:21 pm by Nitai
Permanent Link