Sunny
He will loot your money
Wicked Sunny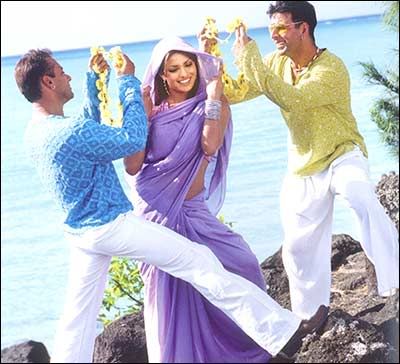 Those are the sort of lines you can expect from the latest David Dhawan offering 'Mujhse Shadi Karogi'. Starring Salman, Akshay and Priyanka together for the first time, the movie has, if anything, got its cast right. The baseline of the movie, as might have been easily guessed by the typical trailer-surfer, is that
thandi hawa ka jhonka
Sameer (played by who else but Sallu miyaan) and
The wicked
Sunny (played by Akshay Kumar) vie for the affections of
The full monty enthusiast
Rani (played by Priyanka Chopra).
With the
panditji
predicting that Sameer will have a life full of anger where he will not spare anyone who goes against his will, the mood of the story sets in. Sameer goes on to beat up kids in school (luckily, the director was not inspired by one gun-toting kid in one developed country), and calms down only when one of his now-here-now-vanished friends recites one-half of a stupid jingle (???) to him, urging Sameer to complete the other half and thus forget his anger. For all those who are convinced that counting from one to ten is the best remedy to manage your anger, this one sure takes the cake if the protagonists of our story are to be believed. Let me see if I remember the lines...it goes something like this...
Badtameez
(!!!)
Chaddar ki kameez
(???)
Lohe ka pajama
(wow!!!)
Bandar tera mama
(cool)
Kutta tera yaar
(not sure but guess, it was kutta)
Billi teri mausi
(doesn't rhyme na , I know)
Aam ka achaar
(why...don't ask)
Aja mere yaar
(ooof...over...finally)
Going forward, Sameer is seen beating up the goons who try to molest a scantily clad Amrita Arora roaming all alone in an indoor basketball court that seemed to be located in some kind of a garage (what was she doing there, for God's sake, you ask...haven't you left your knees at home before coming to watch a David Dhawan movie, I ask). Next thing we see is that the lass goes and gets married off to some Mika-types (remember Mika, the Punjabi singer...brother of some other singer...Daler???) Gentleman (some gratitude, what?), thus breaking the heart of our hero who decides to take up a job in Goa to cool off his heels, but not before he has promised his silver haired Dadi (played by Sashikala) that he will never get angry and fight again).
In Goa, Sameer meets a mobike goon of Eagles gang (remember Josh???), played by Rajpal Yadav, an astrologer (Rajpal yadav again), a landlord who has a different ailment every day (who else but Kadar Khan playing the boring routine once too often), his to-be love interest Rani and Rani's dad Colonel (played by Amrish Puri)...all in the order named above. The characters are all interesting in the fact that they are all incapable of any intellect...all of them live life and well...just live life.
Now, this Rani has an interesting habit of keeping her balcony window open while she does a lot of things in her bedroom...The full monty, Striptease...and what not. Now, can you blame our hero for falling head over heels (literally) for the lissome lass??? All is hunky dory till our hunk decides to take his foot to his big mouth and make a mess out of the simple exercise of saying 'Marry me' (it is so simple, David, isn't it?). He gets entangled with Rani's father, the Colonel of the Portuguese war and how does he get entangled...some of these incidental encounters are extremely funny the way they are enacted by both Salman and Amrish Puri. All this starts to get a little boring, however, and just when the interest starts to wane a little, in comes Sunny...aka the evil graha Shani for our hero.
Sunny comes, he sees and he conquers. He takes full advantage of the earlier discussed foot-in-mouth situation and woos Rani and his family away from Sameer. With a lot of other entendres thrown in like Sameer battling six Sunnies (Matrix, anyone???)...Sameer's name (and hand et al) getting involved with Rani's mother (and her pallu et al)...Sameer beating up the Eagles and their declaring Sameer as the boss...The kanta laga girl making a cameo, with this cameo conveniently planted by Sunny in Sameer's bed...Sameer rubbing the guard at his enterprise (played by Satish Shah) the wrong way, not knowing that he is Rani's uncle...and many other Tom and Jerry-sque adventures that make you cry with indignation and at the same time, laugh with disgust at the very silliness of it all.
The movie's climax, though a little hasty and awkward, tries to unite the two passions of Indians, cricket and Bollywood....what with the chaste Punjabi of Kapil paaji, Bhajji Paaji and Sidhu paaji...and the huddling up of some Indian cricket team members (you can feast your eyes (???) on Parthiv, Kaif, Srinath and Irfan apart from the ones already named). What really happens in the end...who actually gets the affirmative answer to his 'Mujhse Shadi Karogi' question...is for the mvie-goer to go and see.
As for the music, it is strictly on the okay side with one or two catchy numbers...the timing of the songs could have been better and more importantly, a few songs that were not dream sequences would certainly have been appreciated.
The performances from the lead pair of Salman and Akshay are superb in their timing and on-screen chemistry. They do make a dynamic pair and the game of one-upmanship does get off really well. Amrish Puri is tops, as always, restrained as well as comic to the hilt. The Yadavs (Rajpal and Rajpal) are good, too with the astrologer yadav hogging more of the limelight that the Eagles yadav. Rest of the performances are complementary and work well towards the purpose of this movie...which the director David Dhawan has once again, and with a panache...delivered to his audience...full time entertainment without your thinking caps on...severe headache if you want to take your head along to the theatre.
Posted at 02:40 pm by Nitai
Nitai


August 9, 2004 12:50 PM PDT



hi hi hi...*evil grin*...you will have to watch the movie for that...why should I suffer alone???