Pappu and Munni had done it again. Not exactly counted amongst ideal children, the brother-sister duo was living up to their reputation even today as they bunked school to go the Mela that had come to their town. Pappu and Munni had never seen a Mela and were very excited at the prospect of seeing if what they had read in their story books about such fairs was actually true. Mummy had given them their pocket money only yesterday and their pockets were full of jingling coins as they made their way towards the crowded street that led to the Mela. As they were about to enter the huge gates that welcomed them to the Mela, they heard a familiar voice behind them. "Oh no! Postman Uncle had seen them, he will tell all", thought the children.
But Postman Uncle was smiling. He came to where Pappu and Munni were standing, scooped them up his broad shoulders and after smilingly admonishing them for bunking school, agreed to show them around the Mela and not complain to Mummy or Papa (of course, Munni's tears and Pappu's tantrums had a role to play). "First up", said Postman Uncle, "we will go to see what you children will like the most".
As Pappu and Munni stood awed at the wonders that the Bioscope-wallah was exposing them to, Postman Uncle started telling them about Indian film industry, including
eight things about Bollywood
that Amardeep says people might not know about. He introduced the children to India's greatest film makers like Satyajit Ray, their movies like Pather Panchali and Arnab's
intensely personal take
on the legendary Pather Panchali. Postman Uncle also told them that apart from movies, TV and print media have taken up important roles in the society but as Arzan says, their
lop-sided priorities
might as well make it impossible to take anything you hear or read at face value.
In answer to Pappu's rather innocuous question about the quality of Indian movies vis-a-vis Hollywood movies, Postman Uncle relayed the views of Sunil who does not see the need to be
defensive about Bollywood
, not any more. "In fact Pappu,", said Postman Uncle, "if you really want to see the current face of Indian movies, hop on to this
music review of The Rising
by lazygeek and you will find what works and what doesn't".
The Book Stall
After spending quite some time with the Bioscope-wallah, Pappu and Munni had moved towards the glisteningly covered and unique smelling books. Flipping through the books, Postman Uncle told Munni about how Vikrum finds it difficult to impart the knowledge of books to Mumbai's slum dwellers for whom,
even bandages are luxury
. "In the internet era", said Postman Uncle, "books have been replaced by sites like Wikipedia but as Dilip says, their
accuracy is subject to change
, as well". When Pappu complained of lack of time to read all these books, Postman Uncle silently glared at him and told him about how Amit discusses
Attention Deficit Disorder
and its impact on journalism and media.
Removing his glasses to wipe them, Postman Uncle seemed to be lost in a different world as he advised the children to be true to their books' learnings and not let things end up in a situation, as described by Patrix when he talks about the
Desi Columbine
. As Pappu and Munni hung on to his words, Postman Uncle told them to try and develop their culture, language, and literature along with them selves, just as Charu talks about her
musings on language
.
The Food Pavilion
By now, the children were famished and the inviting sight of The Food Pavilion proved irresistible even for the otherwise sedate Postman Uncle. As they made their way through stalls of delicacies, Postman Uncle warned the children about the ills of roadside food but all the same, pointed them to how Rashmi explains people wanting to
stomach street food
. Seeing Munni dig into her
chaat
plate with gay abandon, Postman Uncle started his discourse about etiquettes but in good measure, backed it up with Ram's anecdote about
The Bite-ing reality
.
The International Exhibition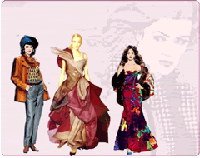 "How come he is so tall, Postman Uncle and how is that girl so fair?", Pappu shrieked out as soon as Postman Uncle was finished paying for the
chaat
they just had. "Children, that is the international stall and those people are not Indians." "Who is an Indian, Uncle?", asked Munni. Postman Uncle just smiled in reply and told her about how Surya wonders about
what it means to be an Indian
and about Nimbupani's
mixed feelings
about the difference between Indians born in India and those in the US or between Indians and people from the Indian Sub Continent.
When Pappu wanted to know if he could go to visit some other country, Postman Uncle advised him to get a job in the IT industry when he grows up and then, as Sumne points out, everyone will ask him, "
Yavaag Foreign Ge??
". He continued, "Once you go there, however, you will also have to adjust to their way of doing things, as Nilu did by
re-learning how to nod
".
Ever the source of information, Postman Uncle told the children about achievements of Indians abroad. "However", said Postman Uncle, suddenly getting misty eyed, "before foreigners accept India and other South Asian countries in their fold, we need to counter prototypes like the one Aaman calls the
blanket assumption
that pan-Islamic terrorism is only about the Arab Muslim populace.
India House
The children had now moved on to the India House and were busy impressing Postman Uncle with their knowledge by shouting out names of the Indian leaders they could identify from the hanging posters. Postman Uncle kept smiling at each name the children shouted and from his side, entertained them with Dhiraj's tales of
how Wajid Ali Shah turned into Krishna
. "It has always been the spirit of Indians that has made them successful despite all odds", said Postman Uncle as he took the recent example of Gaurav's descriptions of the
Mumbai downpour, here
and
here
. To drive home his point, Postman Uncle quoted Indiagenie on how
the spirit of Mumbai
came forward to counter the natural calamity.
Coming back from a conversation with a friend he had met in India House, Postman Uncle found the children engrossed in space station models. Seeing this, he started telling them about how Indian industry was successfully shaping India's future, notwithstanding the debates plaguing them like the one Neelakantan mentions about in arguments over the
value added by a call center job
. Postman Uncle went on to tell Pappu and Munni about the modern centers of development that these businesses had given India and to illustrate such centers, Postman Uncle used excerpts from Saket's post on his
first experiences at Delhi and adjoining Noida
.
The Curios Shop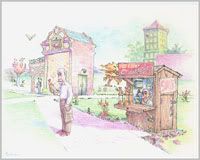 The children hardly listened to the last part about other commercial centers of India as their attention was diverted by the curios shop keeper who kept digging out one item after the other for the children. Laughing his rather jarring laugh, Postman Uncle recalled the experience of the unsuspecting rabbit by the name of Neelakantan who barely managed to
escape the jaws of an MLM specialist greyhound
. Warning the children against spurious products and services, Postman Uncle gave the example of Bangaloreguy who finally had only
split hair and ruined garments
to show.
On being shown a really innovative product, Postman Uncle reluctantly agreed to buy it for the children but he told them to be careful with it because he said that at times, there are more issues related to an innovative product than one thinks of right away...something similar to what Aditya talks about as he presents the
two sides of the Brain-enhancing-drugs coin
.
Going home

Even Postman Uncle had lost track of time, roaming around with the wonder struck kids but as he chanced to look at his watch, he realized that it was time for him to deliver his letter and for the children to go home. Passing his hand over their heads in blessing, Postman Uncle asked Pappu and Munni to promise to be good and further sharpen their knowledge and develop their personalities through appreciating and getting involved in things like the
Scouting movement and its present significance
as described by Arzan. "It is only when you have a solid foundation, that you will be able to think like Saheli who wishes
tools of technology to encourage more cooperatives
, working for the benefit of all.
As the children walked back to their home, they kept thinking of the day's wonders but at the same time, Postman Uncle's wise words were not lost, either. Pappu and Munni made a silent promise each to them selves to follow Postman Uncle's advice and have something substantial to show Postman Uncle when they meet him at
the next Mela
.