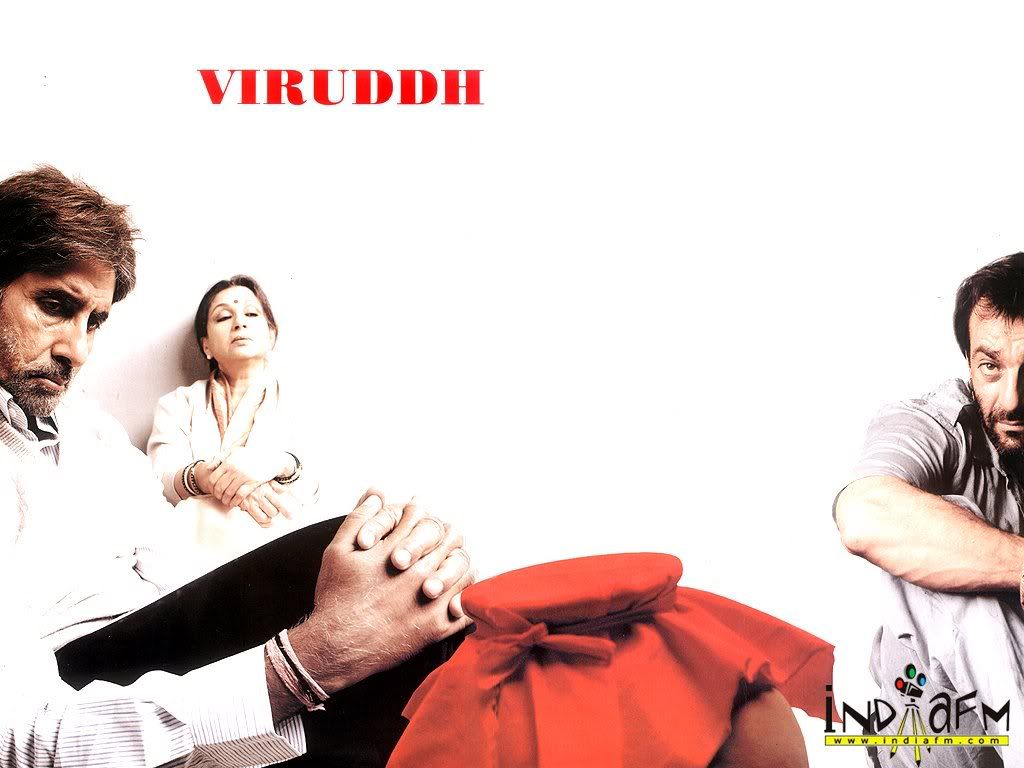 As Vidyadhar Patwardhan gets back from his morning walk with his friends and starts bellowing "Sumi" as soon as he opens the door, it seems to transmit the viewer to the quintessential middle class home with Dada, Dadi, Papa, Mummy, and the kids.
As Vidya and Aman enter the home and try to work around Sumi to make her accept a Brit as her daughter-in-law and the ease with which she does accept it all...which child or which parent can fail to get a little misty eyed with it?
As Aman, Vidya, Sumi, and Jenny sit in the living room...joking, laughing, Sumi putting oil into Jenny's hair, Vidya and Aman convincing Sumi to let Jenny and Aman go to the party, Jenny trying her broken Hindi and saying "main sabke liye coffee banata hoon"...it is just not possible to stop that smile from coming to the lips.
As the neighborhood mechanic, Ali makes his boisterous appearances in the frame and as Ali gets straightened by Sumi and the way Vidya takes all the credit with Sumi smiling behind his shoulder...could you have asked for more?
But more is what Viruddh delivers and delivers, with panache. Mahesh Manjrekar comes into his element after a long time and after some unforgettable escapades into trash commercial cinema. He delivers the goods this time and no, he does not promise another Saaraansh, nor another Dhoop. Viruddh, as the name indicates, is not just about coming to terms with something bad that happened, but revolting against it, and doing something about it. The protagonists do not lose hope, but keep fighting till the end, and that is the beauty of the movie. Of course, who better for this fight than the pair of Amitabh Bachchan and Sharmila Tagore...seasoned actors who out perform the rest of the cast by miles.
Roughly speaking, Viruddh is the story of how an aged couple's happy family is shaken upside down by events that threaten to tear the very fabric of their home and lives and how the emotional strength of the couple, brings them out of this lurch. Nothing that has not been tried before but this time, they have done it, with a twist. More than the twist or the story in its entirety, it is the subtle moments that pack the kick.
Vidyadhar Patwardhan (Amitabh Bachchan in another of his memorable roles) tries to laugh while sitting on the park bench and is not even able to open his mouth, forget guffaw like those from the laughter club he was a regular member of.
Vidya and Sumi (Sharmila Tagore in an amazingly powerful comeback role) lie on the bed and imagine sounds when there have been none.
They don't embrace each other to share their pain but follow the more natural process of handling their individual sorrows alone...but they know, both of them know what the other is feeling.
Sumi knows that Vidya did not really want the tea he asked for as an excuse to cry alone and Vidya knows Sumi did not run out to prepare tea...touching, most touching.
The helplessness with which Amitabh, as Vidya, performs even the bravest of acts is to be seen to be believed. Doing all this, of course, is the actor we have all seen as the angry young man, an all powerful variation of the human species who does not think twice about his ability to deliver the world of all evil. Watching the same man with sagged shoulders, permanent lines on his face, and a tired gait makes you cry out at the unfair nature of it all. Believe me, Manjrekar could not have got such reaction by the medium of many other actors.
And then, there is Sumi, the mother who is traditional and yet speaks fluent English, one who cries on hearing her son's pining for her hand made sweater and yet is strong enough to support her husband who has started to lose the battle. Sharmila Tagore is as believable as she is graceful and has proved yet again why she is considered to be one of the legends...the difference that she can bring to a character's treatment is what makes Sumi so real.
John Abraham, as the ideal son Aman, does not have much to do but does well in whatever little he is made to put in. He looks serious and well meaning for the most part which is what an ideal son of Vidya and Sumi should have been. Anusha, as the Brit live-in-turned-wife of Aman, could have been much better. Though she does manage the accent pretty well and her attempts at broken Hindi are a treat to hear, they are not as much to watch. A better screen presence would have helped.

Sanjay Dutt, in a dynamic appearance (as the movie credits claim) as Ali, is good and does what he has been kept in the movie for...draw whistles. Last but not the least, Sachin Khedkar, that much under rated actor, is at it again although the role does not offer much scope to him to display his talents. He does manage, pretty well, to show his own frustration and inability.
Viruddh is not as much a take on the system as Saaraansh and Dhoop might have been but it has more to do with the struggle, a very subtle difference in the take on the topic that makes Manjrekar's effort all the more laudable. The movie might not succeed at the box office (Sanjay Dutt's whistle inducing charms notwithstanding) but this has to go down in history as one of the better movies that Bollywood has come up with and one of the better performances of that man, that legend that goes by the name of Amitabh Bachchan.
Posted at 01:36 pm by Nitai
nadir


July 27, 2005 03:54 PM PDT



Have u finished ur mid terms or endterms whtaever? Writing a blog that too a movie review in between exams ....... hmmm ...... shaane log shaani baate! :)
Nitai


July 27, 2005 06:42 PM PDT



Midterms/Endterms are not going to change if one inconsequential little speck like me stops writing movie reviews in his blog ;-)

Ye shaane kaun hai...any relation of Rane??
paro


July 27, 2005 10:08 PM PDT



Bohot time hei tere paas!!!!!!!!!
Sumit


July 27, 2005 10:09 PM PDT



Bole toa ekdum perfect... If only I cud pen down my thoughts like u.. . simply no points to differ on dis review.. :)
Nitai


July 28, 2005 12:55 AM PDT



time ka to aisa hai madam ki heeheheh

and Sumit, thanks :-)
Keshav


July 29, 2005 10:31 AM PDT



Hey Nitai! You seem to be a hardcore Amitabh fan, just like me!!

And your reviews are compelling. I must watch this one too!

Yaar, bahut paise kharch hote hain har movie dekhne par! Kuch ek ki burayi bhi kiya karo.
Nitai


July 29, 2005 11:46 AM PDT



yaar the movies I don't like do not figure on the blog so you will hardly find any reviews that say nasty things (and certainly not about an AB movie!)

As for the paise waise, ab aap naukri waale log hum students se aise bolenge to kaise chalega? ;-)