"Like all other directors across the world, I have also been inspired by The Godfather. This is my tribute to it"
Ram Gopal Verma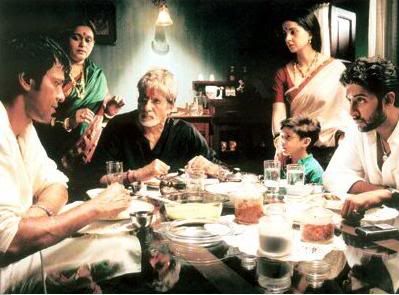 No, this movie is not Godfather. No, this is not the first time that Amitabh Bachchan is playing such a role. No, this is not an Amitabh movie.
Yes, there are similarities in some sequences that make you remember Godfather (especially part of the opening sequence where the father of a wronged girl comes asking for revenge and perhaps even the dining table scenes or the last scene where the new don takes charge). Yes, Abhishek Bachchan comes up with yet another stellar performance. Yes, the movie does carry the trademark Ramu style.
Sarkar is anything but Godfather copied frame to frame. There is no way it could have been. The Italian mafia is too different in its style and fabric, when compared to the Mumbai underworld. While politics was only a minor irritant in the Italian mafia scene, it is a major factor when one comes down to Mumbai and its dons. Amitabh Bachchan plays Sarkar, the undisputed (so far) king of Mumbai who rules over the masses with an iron rod, working for the poor and not caring about the rich, law, order, system, etc.
Sarkar is a law unto himself and Amitabh Bachchan does look the part with a panache. He plays the quintessential ageing man with a deep voice, one who may not be in the prime of his health but one who still demands respect by his glance, stare and voice. It is not so much the dialogues and/or the histrionics that matter in this movie (for there are hardly any, at least from the father-son duo of Amitabh and Abhishek) but it is the silent stare, the expressions in the eyes and the slow, steady and deep baritone that does the acting. Kay Kay (supposed to be playing a combination of Sonny and Fredo Corleone) does raise his voice a lot and like Sonny Corleone, is shown to be the hot-tempered one in the family and like Fredo Corleone, does things that are against the family.
In fact, perhaps the the only central theme in which the movie can be be said to be similar to Godfather is the family concept and the patriarch passing on his duties, though he does not want to, to the younger son, the one who has always been kept away from the dirt and scum. The family, however, is not as much that of an underworld don as it is of an influential politician who has taken it upon himself to become the messiah of the poor and the helpless.
Although the intent behind the movie was good, but it has been an overdose of underworld movies from the Ramu stable now and yet another, despite the Amitabh-Abhishek magic, does not really work from the point of view of the average movie goer who might never have heard of The Godfather. For the multiplex audience who have been expecting a hard-hitting (and for a change, decently "inspired") movie, the disappointment is written clearly as they realize that it is not the story of Don Vito and Michael and Sonny that they have grown up on. Rather, it is just an attempt to take the basic idea and build upon it as per Indian conditions, a concept that may be foreign to many of them who are used to direct frame to frame lifts.
The characterisation, unexpectedly is a trifle weak in this movie. Apart from the Bachchan duo, as Ramgopal Verma admits himself, rest of the actors are not stars, taken mostly from the stage and cast in what has been a clear attempt at making a commercial movie. Although the addition of more stars would have helped in the commerical aspects, even the characters and their placement in the current scheme of things does not seem to be good enough. While the villains are all caricatures (as has been seen in many Mumbai underworld movies) going by names like Silvermani and laughing hysterically, the sidekicks have nothing to do than grind teeth, either. The female leads are wasted and have nothing to display (literally or otherwise) at all in a short movie (just over 2 hours) which is dominated entirely by the brooding looks and toned-down but effective dialogue deliveries of Amitabh and Abhishek.
Amitabh Bachchan holds the movie together, no doubt, with his voice booming across the screen in every other frame but this movie belongs to the junior B. With Yuva and Bunty aur Babli, he has already proved that he can act outside his father's shadow and in this movie, he really out does himself. In fact, in some of the scenes, the intensity of his expressions surpasses those of Amitabh himself, truly something any actor would die for. Kay Kay is wasted in a role where he does not know what to do, a mix between Sonny and Fredo, he is neither strong nor completely weak, a waste of a character and an actor. Katrina Kaif looks amazingly beautiful and more than that, carries oodles of sex appeal but since she does not have much to do in the movie, no impression of her acting even starts getting formed. Rest of the support cast is just that, support cast and none of them manages to make his/her presence felt in the middle of the Amitabh-Abhishek performances.
The background score, though it sounds good initially, starts getting on the nerves when it is repeated every now and then without scope or necessity. Cinematography is apt and the dialogues crisp and as per the situation. There are no typical hard hitting whistle inducing typical-Amitabh-movie dialogues but Amitabh manages to overcome this minor issue with the extra-ordinary way in which he delivers even the most ordinary dialogues. Ram Gopal Verma comes back to direction after a long gap and actually realizes his dream of over 25 years by making this movie. However, he does not manage to do something extra-ordinarily novel this time. Unlike his different-from-the-league movies like Kaun, Bhoot, or even Satya, this one has a lot of aspects that Ramu has already shown us and has already got our respect for.
Looking at the promos, and expecting a Godfather made by Ram Gopal Verma and enacted by Amitabh Bachchan, is not going to help when you go to watch this movie. Expect another Amitabh and/or Ramu master piece and you will get it but if you expect a different underworld movie after Satya, Company and D...or if you want to relate Amitabh Bachchan with Marlon Brando or Abhishek with Al Pacino, there is disappointment written right ahead.
Posted at 01:31 pm by Nitai