Aisa koi saga nahi, ki jisko thaga nahi
Aisi maari langdi, ki kabhi jaga nahi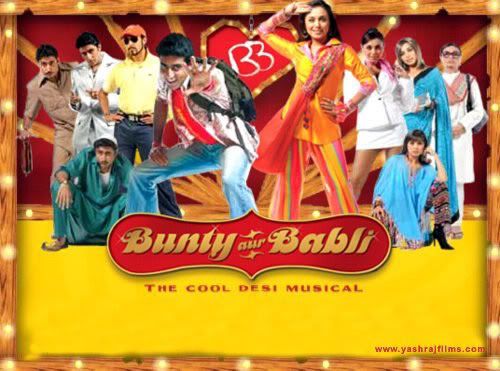 Amitabh Bachchan tucks in his upper lip while he lets the lower one drool...the eyes are popped open and the eyebrows raised a little...Sharaabi, Laawaris, Amar Akbar Anthony anyone?
Abhishek Bachchan tucks in his upper lip while he lets the lower one drool...the eyes and eyebrows are covered with black glasses...ummm...he also has a red, heart-shaped balloon in one hand and his father's arm in another.
Amitabh Bachchan romances Rekha on screen and the rumours of their off-screen chemistry fly thick and fast.
Abhishek Bachchan drinks at a bar and later dances to the tune of a soulful kawwali...ummm...but not before some yesteryear songs featuring Rekha have already been played in the background.
Amitabh Bachchan is the undisputed and charismatic leader of the cheats and thieves who can never be wrong...Don anyone?
Abhishek Bachchan is on his first con job while the song that plays in the background is...ummm...the legendary "Are Deewano, mujhe pehcaano" from Don.
Amitabh Bachchan displays some acrobatic skills on a motorcycle with an attached car and of course, with the irresistibly funny Dharam paaji.
Abhishek Bachchan uses almost an exact replica of the bike with the attached car and as a replacemnt of Dharmendra, he has...ummm...the un-put-downable Rani Mukherjee.
Amitabh Bachchan says "Is duniya me do tarah ke keede hote hain...ek wo jo gandi naali me rehte hain aur doosre wo jo samaaj me rehte hain"...Hum anyone?
Abhishek Bachchan says...ummm..."Ye jo world hai na world, isme do tarah ke log rehte hain...pehle wo jo saari zindagi ek hi tarah ke kaam karte rehte hain aur doosre wo jo ek hi zindagi me saare kaam kar dete hain...aur hum un doosron me se hain"
Welcome to the very first movie that stars none other than the First father-son duo of Indian moviedom...the movie that has been touted to be the ultimate entertainer...the movie that is expected to put Abhishek firmly on the path to success that he has embarked upon, post Yuva...the movie that people believe is sure to cash on the amazing Abhishek-Rani chemistry...the movie that attempts to transform Ahishek into the next Amitabh. Bunty aur Babli does all this (except the last one, for there is no other Amitabh...no way) and more.
Overheard in one theatre at Kolkata, "it is almost never that I am impressed by a movie, especially not if it is a Hindi movie, but this one sure has some interesting moments". Words of praise, or what? The movie begins with the invigorating "Dhadak Dhadak" song picturised all over Banaras and neighboring areas and right from the word go, sets the tone for the rest of the stuff that's going to come on. As Abhishek and Rani gyrate (in one of the most natural-yet-prepared choreographic displays which to the viewers' pleasant surprise, is maintained throughout the movie, right across the songs) to the tunes of the song, the expectations are set and the viewers are seen visibly loosening up in anticipation of something good.
From the small towns (Banaras which is not shown to be Banaras, Lucknow with its Miss India-hosting HBTI, Kanpur without its Miss India-hosting HBTI) that stifle the dreams of the two protagonists to the big, bad world is one eventful journey which is as hilarious and entertaining as it is meaningful and reflective. The amazingly visual portrayal of the fascinations of the small town youth is incisive as Vimmi from Pankhinagar is seen clinging to her pin-ups of models (all female, BTW) and as Rakesh from Fursatganj (aptly named, BTW) fixes up the shower at his terrace, refusing to go to the community tap for a bath like everyone else does.
While one gets lost in the entertaining escapades of Rakesh aka Bunty and Vimmi aka Babli, at display is one of the more effective directorial styles seen in recent times. Instead of making the entire thing look like episodes of some comedy soap on television, or like the Anil Kapoor-Madhuri Dixit (or Anil Kapoor-Sridevi) con-after-con movies, the narrative style is very different...just weaving together tales in the lives of Bunty and Babli and bringing it all together like postings on a collage...letting it all conjure some sort of magic that sets the note for the second half to begin.
And then the second half begins and how! Abhishek Bachchan has been shouting himself hoarse and that too from the rooftops that he wants to go to the theatre to watch Bunty aur Babli and throw coins when Amitabh Bachchan's first shot is shown and why not? The rock star get-up complete with the leather jacket, the Bihari style of talking complete with the red gamcha (towel for the more cultured ones), the burning of the 100 rupee note to light up his bidi, Assistant Commissioner of Police, Dashrath Singh has an amazing entry.
Unfortunately however, the story suffers from another of the directorial experiments here on, the first of which had been going so good so far...but not this time. As the narrative changes from a visual inspired yet audio complete sequence of events to more of the still photography, newspaper clippings, scandalized expressions kind of thing, all things come to a passe. Even the voice of Amitabh Bachchan as the narrator does not offer the same pace to the happenings as the zestful effort by Rani and Abhishek had done in the earlier half. A slightly different ending (very slightly, mind you so don't raise your hopes sky high) does manage to stem the rot somewhat but the rot had begun to set in, no doubt. In fact, had it been another set of actors or rather had it been anyone else apart from THE MR. AMITABH BACHCHAN, there just might have been a few problems.
The direction is good in the sense that the way the scenes have been panned and arranged with able support from the editing and cinematography departments is truly outstanding and almost a trendsetter. The only low side can be the obvious effort at trying to cash in on the Amitabh and Abhishek combination but this being the first time, I guess it can be pardoned...nay...even appreciated. The music is mind blowing and the choreography absolutely spot on. The music is in tune with the spirit of the movie, whether it be Dhadak Dhadak that starts the proceedings or the immensely classy rap song that ends it. In fact, I haven't seen more people stopping in their tracks during the rolling of the end credits...not even two hot couples from the Tauba Tauba song in Kaal had the effect that an old, 65 odd year old man had in this one.
And then of course, was the Different (with D in capital) kawwali that features none other than the gorgeous Aishwarya Rai. As she sways to the tune of "Kajraare Kajraare" in a backless folksy ensemble, trying to woo Amitabh and giving the cold shoulder to Abhishek (you read that right, no misprints), the initial reaction from the audience is rather low key. It is only when Amitabh and Abhishek get into the act and the music gets hotter and faster and Different (with D in caps again), that the feet start tapping and the wows start coming.

Talking about guest appearances, there is Raj Babbar in an extremely short role that has been made rather inconsequential, keeping in mind the entertainer tag of the movie. Prem Chopra makes an appearance, too and if you are not looking carefully, the makeup and his rather straight voice (so different from the days of "Prem...Prem Chopra naam hai mera") might just prevent you from realizing who plays the cameo.
Amitabh Bachhcan rules the roost and though he appears for just one third of the movie, he has a greater impact on the proceedings and the movie's fortunes than Abhishek and Rani combined. This, however, does not take anything away from Abhishek and Rani who have both given their best and come out wonderfully, what with their post Yuva on-screen chemistry "rocking" and all that. Rani Mukherjee is Babli personified, all chirpy and young and bubbly, except in the fag end where the entire movie gets a little slow. Abhishek delivers another good performance. Apart from the forced sitting posture and the change of voice in one of the con scenes to sound and look like his father did in Agneepath, his has been a mature portrayal of a small town dreamer who can think like an unattached, insular adult but is yet a child, and a prankster at that, at heart.
Abhishek is no Amitabh but Amitabh, of course is...Bunty aur Babli is no Don or Amar Akbar Anthony or Satte pe Satta or Sharabi...but nevertheless, an entertainer it is. The Amitabh-Abhishek combo is no Amitabh-Govinda (refer Bade Miya Chote Miya) but immensely nostalgic it makes you feel...as you look at the duo dancing together and start realizing how similar the son and the father look and dance and act and react and walk and talk...okay let's cut the talk bit for the AIR reject has got something completely different going for him...but the rest really makes you all dreamy eyed and open-mouthed as you celebrate the final coming home of all that you have been doing right from the first Abhishek movie...trying to compare him with his father, the one and only Big B.
Posted at 03:07 pm by Nitai
Prashant Kumar


June 3, 2005 04:24 PM PDT



WOW!!! thats all i can say... and thats not for the movie!!
great review my dear... u almost made me visualize all those scenes...
i for one did not grow up on a diet of Vitamin (Big) B, but nevertheless, it would be almost blasphemous to say anything against the vast genius of that one and only epitome of Indian cinema... so, here is he, delivering once again what he is does best : entirely mesmerizing Indian junta... three cheers to the Don...
abhishek, for me, was a sure no-no after i saw one of his initial movies... Tera Jadoo Chal Gaya... copycat!! trying to emulate and cash in on his dad's image... sick!!! but then, things changed dramatically once i saw Yuva... besides Priyadarshan's magic, it was undeniable that for once Abhi had outdone the irrepressible Ajay... and now he seems to have topped all that and delivered the killer punch... great...
ah, the situation is almost like the saga of Sachin & Sehwag... here is the Don of world cricket who has imprinted his stamp of virtuosity all over (a la amitabh), and then slowly emerges a young "nawab" from nafajgarh who, i thought initially, was just trying to play big shots like our hero, Sachin... ah, he will fail for sure, thats what i prophesed... and lo, what we have now... not only has he emerged from the shadows of the great master blaster, there are even some wicked murmurs of the Genius himself being eclipsed in the explosive exploits of Viru...
so what do we have next?? it would be too much to even imagine that Abhishek would ever be even close to Big B, but still he is on the right track... and charging ahead in leaps and bounds... Ajay & Co. pull up your socks...

P.S. :- i must confess i still am a die-hard Ajay fan... old habits die hard...
and i risk my life to add that even sachin is not my personal favourite...
Nitai


June 3, 2005 05:08 PM PDT



Thanks for the wow, Prashant and as for you, a wow from my side to the thought process in your comment...taking the thinking plane to cricket from movies (despite these two being the only things that India thinks of) is SOME lateral thought.

Sachin and Amitabh are both demi-Gods in India, I agree but the charm of the two is based on entirely different parameters.

Although I do agree that there is art in cricket, as well and the way Azhar turned his wrists or Qadir bowled his googlies or Imran used his bowlers can only be unique but cricket, being a game, is a science that can be emulated and perfected with practice.

However, in movies, despite what the NSD graduates and people belonging to the method school might say, I believe that to be as freely entertaining as Amitabh is, you have to be born that way. Ajay Devgan, Shahrukh Khan, even Abhishek can touch Amitabh in one field or the other at some time with die-hard practice but the sheer variety of entertainment that Amitabh can provide is unarguably his own copyright.
Prashant Kumar


June 3, 2005 05:39 PM PDT



:-) thanx.. (lateral thinking?? i am flattered!!)
to be frank, now even i am wondering what made me write all that.. one reason for sure is that i am passionate about cricket (can anything be more cliched than that for an indian)... i just wanted to put in my appreciation of the review you had conjured and after two lines it just started flowing...
yeah i do agree about the ingenuity, the free-flow, the artistry, the you-dont-know-where-that-comes-from displays of histrionics which enthralls one and all... cricket, i accept, can never be as great and as wholesome an entertainer as hindi movies... three cheers to that...
so Big B would always remain BIG, no matter what or who comes in, for ages and ages... we just hope that he goes on delivering such out of the blue performances time and again for years to come... amen!!!
Keshav


June 3, 2005 06:23 PM PDT



Pretty impressive style of review, I must admit!

I was a little skeptic about watching the movie though, but, your review provides me the reason to take a chance!
Nitai


June 3, 2005 06:40 PM PDT



well Prashant, cricket is in no way inferior or superior to movies but it is just that the two are so different and the parameters to judge the greatness of a cricketer can perhaps not be applied as it is to an actor.

Thanks, Keshav and the movie is definitely worth a watch...if not for anything else, then at least for the first of a series of father-son magic affairs (Ram Gopal Verma's Sarkar, based on Godfather should be another of the good ones to come)
iG


June 6, 2005 03:54 AM PDT



itna sannata kyun hai bhai?
Keshav


June 8, 2005 10:25 AM PDT



I saw the movie, and just as I could expect from your review, the first half is what is worth the watch, ofcourse, not to forget the Different Kawwali you had mentioned!! Amitabh rocks as always!!

And yes, I already am very eagerly waiting for the release of Sarkar.. the promos just increase the temptation! Hope, it's worth the build up!!
Nitai


July 6, 2005 04:35 PM PDT



Thanks for liking the blog, Esmeraldza!
Indians do seem to be a bit skeptical about the current breed, more because of their sheer number than any other prejudice.

As for Mr. B, he will have people eating out of his hands wherever he goes :-)
tAMMY


July 14, 2005 07:53 PM PDT



I think that Bunty Aur Babli is a great movie everyone should go watch. Abhishek was fantastic. Proven a lot to many people over the months. Good on him. I am more of a Abhi fan then a Hritik. I don't even know if i have spelt his name right. Rani look great. And they both are superb together. Can't wait for Sarkar, Dus, Dhoom 2. and the Karan Johar movie. As you can tell I AM A MASSIVE ABHISHEK BACHCHAN FAN!!!!!!!!