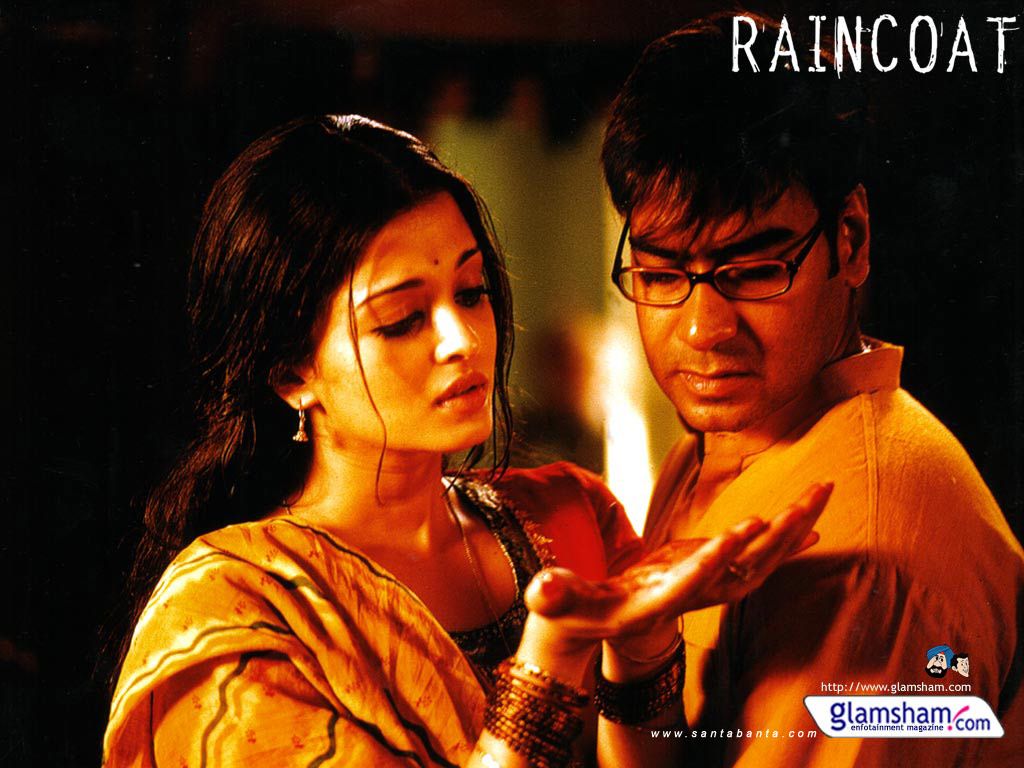 With only six actors to fill the frames and the frames themselves, moving at a pace that can not be called anything but slow, Raincoat never had the big chance to be a superhit. The promotions of the movie have been coming on the tele for a long time, too and much of the curiosity effect has been killed before the movie actually became ready for release. Rituparno Ghosh, however, has done a wonderful job of translating one of O Henry's works on screen through this short movie that beautifully traverses the border between mainstream and art cinema.
Manoj lives in Bhagalpur where he loses his job with the local factory, putting him in dire need of money. He decides to go to Calcutta and ask his friends for some monteray help and with that, start a business. Once in Calcutta, he goes to see his college friend who makes television serials. He is welcomed there by the friend and his wife and given all contact addresses of people who might be able to help him.
Manoj has another agenda to meet in Calcutta, and that is to meet his childhood sweetheart Neeru, who had given him the slip and married a well-off business man from Calcutta. When Manoj visits Neeru amidst the rainy weather wearing the raincoat lent to him by his friend's wife, the story moves on to a dialogue between Manoj and Neeru and occasional flash back sequences to establish their romantic history and subsequent bereavement.
The events take an interesting turn when Neeru borrows Manoj's raincoat to go out to buy soem supplies from the grocery and there enters into the scene, another character, the full-bladder Landlord.
Ajay Devgan as Manoj and Aishwarya Rai as Neeru have done an amazingly perfect job of portraying two estranged lovers who have not really let go of their passions for each other. Aishwarya Rai looks sweet as well as manipulative. Having tried the same kind of role in Khakee, she perfects it in Raincoat. In the flash back as well as in the current sequences, she clearly comes across as the dominant partner of the romance and not just because the story is so, but also through the way the two actors act out their respective roles.
The silent yet disturbed protrayal of a ditched, troubled man by Ajay Devgan, though not very spectacular, is as effective as it could have been. He restrains himself, stutters, stammers, cries, and at the same time brags with abandon, as any normal person in real life would have done.
Annu Kapoor impresses in his small but effective role. It has been a long time since he made an appearance on the big screen and this time, he does not disappoint. He is very straight forward and rude, as the nature of his character demands. More than that, he manages his entry and exit very well.
Direction by Rituparno Ghosh is bordering on excellent. Specifically, the scenes between Aishwarya and Ajay and between Annu and Ajay are very well executed. The rip-offs between the lovers, the tone of Aishwarya and the way she carries herself are evidences to the mastery of Ghosh.
The cinematography, however, might be one area where the movie loses out a little, although it must be admitted that the look of the movie is in keeping with the feel of the movie. The dark corners, the stormy nights where the faces of neither Ajay or Aishwarya are clearly visible, though they add to the story, take away a lot from its appeal. This is where, despite some very popular mainstream actors, the movie moves on to the art cinema mode with hardly any background music and dark backgrounds.
Even on other occasions, when there is background music aplenty, it is in the voices of Shubha Mudgal which is anyday not as popular as a Lata or a Kavita or an Alka. Classically beautiful, yes but practically popular, certainly not.
If you want to watch Aishwarya uninterrupted for one and a half hours and that too, at one of her best, if Ajay Devgan has started impressing you more and more with every movie he takes on, if you are in that over-boisterous kind of a mood and require some straightening, Raincoat will do wonders for you. If you are already in the dumps and are looking forward to some cat calls and whistles, you are in for a disappointment.
Posted at 05:02 pm by Nitai