Sunday, December 11, 2011
Hellos peoplessss...I have moved, bag and baggage to
modec.blogspot.com. All past posts, comments, etc have already been moved to the new location. I plan to be more frequent with my updates there so hope to catch much more of you guys at the new place.
Posted at 10:32 pm by Nitai
Permanent Link
Monday, November 28, 2011
Almost two and a half years ago, when I was persuaded by my sister to buy a flat for myself in Mumbai instead of paying increasingly exorbitant rents to increasingly greedy landlords (despite the recession), I never realized truly what I am getting into. Whether it was the EMI and the stretch that I would have to do to meet it, or it was the positives in terms of an integrated complex with a mall, a club house, a hotel, a school, a hospital, etc...I had not really visualized any of it.

Things kept changing and May 2009 till now, there have been many new experiences that I have had with my first home. Increased traffic, food chains refusing to deliver, having my own club house with a swimming pool, squash/tennis/badminton courts, gymnasium, etc, no cafes near my home where I could spend a lazy sunday morning (always a dream), the neighborhood's low brand appeal, the rapidly increasing rentals and property prices, the nearest multiplex although only four kilometres away taking anywhere between twenty minutes to an hour to reach, society formation and new rules that it brought along, comfort of being just three and a half kilometres from office...so many things for it and as many against it.

And then something came up. Phoenix Mills (of the High Street Phoenix fame) took up old and defunct Mukund mills right next to my place (five minutes walking distance) and decided to convert into Phoenix Market City, India's largest mall and amusement complex. From the time they announced the project through the entire construction to the opening a week back, the expectations that I have had of the mall kept on increasing.

Yesterday, I had a chance to visit the newly opened mall and boy, was I pleasantly surprised! I did expect a good collection of brands, given the size of the mall but was definitely prepared for what I saw. Anything that one could ever need in terms of shopping/entertainment was already there or in the process of being there. In addition, there were a lot of stores which were not even branded and work was in progress. Nothing seemed to be missing and there was much more packed into it than what any other place I have seen has to offer.

This was just the inside of the mall, someone said, and there is an entire courtyard that is still to be laid down. I ventured out into the courtyard and realized that it was almost twice the size of the mall (which took me one and a half hours of walking across 4 levels to just cover). What shape the place would take 3-6 months down the line had my antennae of anticipations all propped up.

With the size of the mall being so large, it becomes very important for it to be properly laid out in terms of the ease of finding a particular brand/store in the entire "market city". Once again I was not disappointed when I saw that each floor of the mall was arranged in the form of 2-3 hub-and-spoke models with each spoke representing a lane of shops. Each such lane was invariably based on a theme (all footwear brands in one lane, all apparel brands in another, etc).

While walking through all these hubs and spokes, I made a note of the stores that were either already functional or whose branding was visible (and which were at most a month away from opening). There were a lot of brands that I was aware of, some that were more boutique in nature and the mix was just right, it appeared to me. The names below are just those that could recall having seen earlier (both large and small). Many others are relative unknowns or still on their way and I am really looking forward to discover more in addition to the ones listed below:


Cafes (always wanted one of these close to my house, am now spoilt for choice)
Cafe Coffee Day, Costa Coffee, Cafe pico, Di bella coffee, Kalmane coffee, Cafe bean garu, Cafe Royal

Entertainment
PVR (the largest in India for sure, some 14 screen megaplex is what I have heard), TimeZone, FunZone, Amoeba

Restaurants/Eating Out
Mcdonalds, Cream Centre, Subway, KFC, Pizza Hut, Rainforest, Rajdhani, Mainland China, Joss, Egg Sunday, Kailash Parbat, Maroosh, Mad over Donuts, Hokey Pokey, Gelato, Bowl House, Smokin Joes, Cookie Man, Golden Tips Tea

Wellness/Health/Cosmetics
Sukho Thai, Aroma Thai, Essence of China, VLCC, Health & Glow, The Body Shop, Lush, Nyassa, Color Bar

Fashion/Apparel
Zara, Debenhams, Diesel, Veromoda, UCB, French Connection, Promod, Espirit, Alcott, Calvin Klein, Guess, FCUK, Lee, Levis, Wrangler, Luxury Boulevard, Sisley, Celio, Van Heusen, Allen Solly, Arrow, Louis Phillippe, Blackberrys, Park Avenue, Belmonte, Raymond, Lords, La Senza, Madame, Rockport, Color Plus, Headquarter, Indian terrain, AND, 109F, Biba, Bebe, Wills Lifestyle, Ayesha, Globaldesi, Only, JacknJones

Kids Fashion
Mothercare, Mom & Me, Liliput, UCB Kids, Just for Kids,

Footwear & Bags
Charles n Keith, Bagzone, Hidesign, Nine West, Aldo, Aldo Accessories, Esbeda, VIP, Samsonite, Reliance Footprint, Timberland, Converse, Nike, Reebok, Adidas, Crocs, Planet Sports, Cheemo, Catwalk, Gossip Shoes, Bottomline Footwear, Metro, Clarks, Hush Puppies, Puma, Mochi, Bata

Departmental Stores
Lifestyle, Max, Pantaloons, Reliance Trends, Reliance Hyper

Jewellery and Watches
Swatch, Titan, Fastrack, Swarovski, Cygnus, Gilli, Carbon

Others
Canon, Archies, Hallmark
Posted at 10:55 am by Nitai
Permanent Link
Thursday, November 03, 2011
The middle of anything is not normally nice. Whether it refers to the mid-life or mid-week, being in the middle of work or getting into the mid-management, being in the middle has its follies for sure. The past few months have specifically brought this to the fore in my case. I am 31 now, a good enough age for all uncles and aunties getting worried about my marriage and yet the same people expecting me to stay away from the serious discussions...the really serious ones, whatever that means!

I love to be with the "youngsters" and yet I am expected to behave in a particular manner that befits the fact that I have been working as a profesional for almost a decade now while the real "youngsters" still have to get out of their alma mater. I want to have my say and give my suggestions on discussions that go on in the household but am not considered mature enough to understand the implications of everything and the one all-defeating explanation of experience giving wisdom is invariably unassailable.

I have had reasonable success at work, getting ahead of the curve thanks to some fortuitous circumstances and some kind seniors. I have been pretty fortunate in getting the kind of responsibilities that I have, learning the kind of things that I can, achieving the successes that I do. But what is up next? Does life stop here or is there more to achieve? Of course there is, much more but as some will say, all in its due course. But how do I explain that to my ambitious self that does not want to wait for this time to come, whenever it deems fit to?

I want to reach the next level right now. Age and associated assumed lack of experience, peer band parity, HR policies, nepotism, and sheer lack of meritocracy can go back to the stone age and red-tape-infested cobweb that they belong to. Is it too much to ask (and that too in a world that is so competitive) to be given recognition that matches the responsibilities assigned to a person.

What answers do I have to give to my often-cynical mind that keeps asking me as to the stage when the functional role gets translated into a job role? Even companies that are considered evolved in their thought processes have a delay of about 6 month to a year before they shift someone to a higher job role after that person having moved to a higher functional role. Is it too unfair to ask that if you do not consider a person worthy of getting a higher designation, more recognition, better prospects, then why would you assign more and critical work to him and why would you have expectations of him that you would normally not have from a peer of his?

But then there is the other perspective to think of, too...as is always the case. Am I really thinking about what I do as some sort of God's gift to mankind? Is there really something in me that deserves that extra recognition? What is wrong with the efforts of those that are my peers from an age, education, or career point of view that can excuse a lower standing for them than what I supposedly deserve? Am I just over-estimating my contribution and significance? Is there, after all, some merit in why things are the way they are and not the way that I want them to be?
Posted at 01:44 am by Nitai
Permanent Link
Monday, April 04, 2011
World Cup Cricket 2011: The Glitter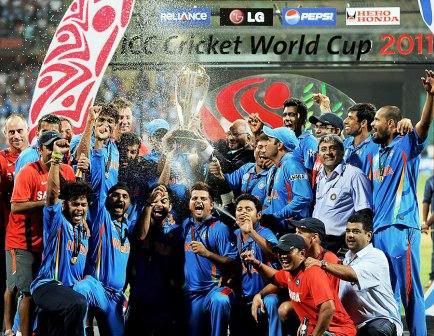 As he stared in the distance, the whole country stared with him. He kept looking at it till it disappeared above the horizon and then all hell broke loose. He didn't know what to do and neither did any of the others who were staring with him. The deed was done, the task accomplished...what next? How does one start believing that what had been elusive for so long is finally within reach, in the hands. His hands...hands of all others...hands of the chaiwallah chotu who had been given a day off that for once, he was not spending nursing his jagged palms. In fact, he was beating them together to join the cacophony all around him.

His eyes seemed dreamy and his smile was so unsure...quite a contrast with what was the situation a moment ago. Grit and concentration had given way to a sheepish grin. Even the teeth were showing through as his partner jumped on to him...elated, overjoyed, as incredulous with it all as he was...he didn't know how to react. The others were celebrating too, jumping on to each other, opening champagne bottles at some places, exchanging the few leftover drops off some soft drink bottle recovered from the trash at others. They were all united though, in their celebrations. He had won, his partner had won, his team and his nation had all achieved one of the biggest wins of their lives.

India...champions of World Cup Cricket 2011. Doesn't it sound surreal...even now? The celebrations are still going on, parties are giving way to other parties and blue tees, though replaced by formal striped shirts, have made sure that the color blue is retained at least in the stripes. Every new day brings with itself a new realization of what it means to be the world champions and not just for the people who made it happen, the 15 crorepati team members of the Indian cricket squad, but for millions of others who took it upon themselves to make sure the country won. They performed pujas, skipped offices, reduced their social lives to nothings, faced the brunt at home as they made others skip episode after episode of the popular soap opera...all to watch 11 people running after a small little ball.

The celebrations, though they still continue in one way or the other, were the loudest that night. Loudest and the most emphatic. The rich paraded the cities in their cars, moving downtown in bumper-to-bumper traffic, sticking their heads out of the sun roofs or just sticking out of the windows for the not-so-flashy-car-owning variety. They were carrying flags, playing loud music streaming out of the radio stations, all party songs...shouts of Indiaaaa Indiaaaaaaaaa were everywhere.

The others were shouting too. If not through the stylish cars that they could never dream to own, they had their own ways of feeling a part of the joy that had spread out to them too for once. They could not wave the tricolor (would rather afford clothes that they could wear to protect their modesty) but would still smile at all passers-by and encourage them to fly the flag high up in the air if they were just holding it in their hands. Their eyes were their means of celebration, eyes that were gleaming with pride...eyes that seemed to say that it was not eleven men on the field who had defeated some serious odds to emerge victorious...eyes that were claiming their own share of the spoils...eyes that were smiling, participating, goading on.

As I turned to sleep that night, the image that stood with me was not the one in which Dhoni stood imperiously, having hit the winning shot...not even the one where the master was lifted on to his team-mates' shoulders and paraded around the stadium with the tricolor...not the one in which the Boys in Blue lifted the big one...The World Cup. The image that I had in my eyes as they said a silent prayer to appreciate the joy this night had brought with it...was that of three kids standing in front of a road-side restaurant.

They had probably just finished their routine of serving customers, washing utensils, cooking rotis, etc...or perhaps they were still doing it and had taken a quick break to come out for a minute. They were standing there hand-in-hand, happiness written in capital letters across their faces. They couldn't have seen it on TV, there was none around but would definitely have heard it...on radio, from people who would be bothered enough to tell them the score. They knew for sure that India had done it...that they had done it. As they saw cars flash past, luxury celebrating amidst their misery, their faces were hopeful...hopeful that now that India has won the world cup, they stood a chance as well. Their misery can also end if India's wait for the world cup can end...what if it took 28 years...it will be faster now. The world moves faster now, their lives shall move even faster and they will win again...this time their own personal cups.
Posted at 04:22 pm by Nitai
Permanent Link
Monday, March 14, 2011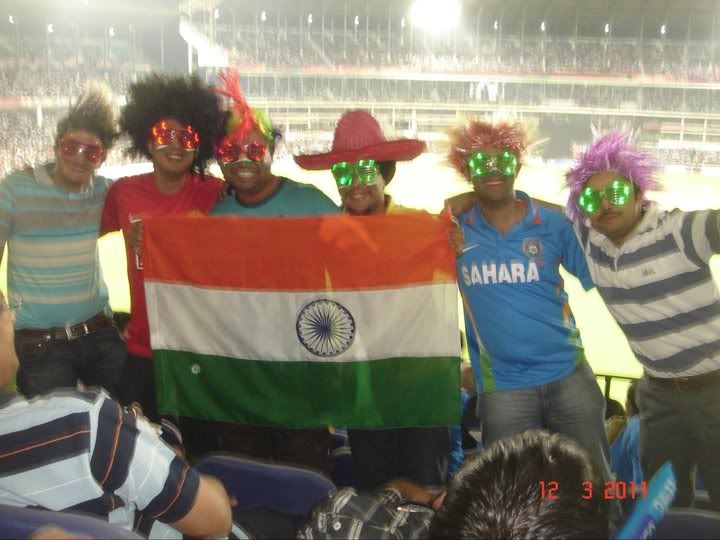 India started off this cricket world cup, like many other tournaments in the recent past, as favorites to win it. Some may say that this was guided not by the talent or form of the team but more by the sheer financial muscle of the Indian cricket board and consequently the media hype surrounding all its activities. Whatever be the reason, India have been the favorites and playing at home, with this being the last world cup the great Sachin would play, the really tall batting order (at least on paper), and of course the spin friendly subcontinent tracks have all been reasons used to justify India's expected fortunes in this tournament.
So far, the progress of the team has been quite steady in the tournament, helped, in no little means, by the way the tournament has been structured and the way India's matches have been scheduled. India has already played the minnows and beat them (not too comprehensively though, raising a few eyebrows enroute) and tied a game with another big contender, the set-on-revival-course England. Almost through to the next stage (pre-ordained of course given the format of the tournament), India met South Africa at Nagpur on Saturday, March 12 in a game that was supposed to be the first acid test of a team that has, in such a matter-of-fact manner, put its claims on being world champions.
This was the background with which I and a few colleagues from office were viewing the upcoming match. Having already made our train reservations to Nagpur, we were frantically looking out for tickets for the match. Things turned to desperation and we turned to desperate measures, buying tickets at 6X premium and actually feeling pleased about it. Slight goof-ups and certain presumptions also meant that we didn't have confirmed train tickets while coming back. Expecting the wait-listed tickets (wait list 6 onwards) to get confirmed with time, we were quite gung-ho about the entire idea of the weekend trip to Nagpur.
And it was time as the whole lot of us found ourselves at the CST station of Mumbai on Friday evening, ready to set off for the Orange city. The start of the journey itself was fraught with events that were quite unexpected. The boss had got extra tickets and one of us had latched on to it, getting last minute wait-listed tickets and the rest of it. Having reached the platform with all of us, he realized at the last moment that the boss's train was re-scheduled and he was not sure if he would make it and if he didn't make it, so wouldn't our guy's match tickets that were with the boss.
Our guy was of the hardened material, though and he took the plunge and got into the train. It was real good that he did, for though the boss didn't manage to come, he ensured the tickets came through and what an extra-ordinary turn of events this resulted in for him and for the rest of us!
As we touched base at Nagpur station amidst the early morning cool breeze, the signs were all there and it couldn't have started any better. Thanks to one of us, who had arranged for a guest house, we were soon refreshed, fed, and ready to take the stadium on. A party shop in Bandra had completed our wardrobe and get-up and we were all set with the tricolor painted on our faces, glowing glares, multi colored and shaped wigs, etc. We had bought Indian flags on the way and even had a couple of posters enticing ESPN and Star to cover us during their broadcast.
Entry into the stadium and our stand was smooth considering the early start we were able to manage from the guest house. The stand itself was awesomeness personified, right behind the bowler's arm and at reasonable altitude, arguably the best place from which one can watch live cricketing action. And what action it turned out to be! It just seemed to get better and better and we were witness to some brilliant batting by India, another masterful century by the little master, some hard hitting by Sehwag.
The peak was built up over such a long time and at such a pace that when the fall came, it hit us real hard. Right from the moment we had got hold of match tickets till the time Sachin was at the crease, things were going in only one direction...up. And down it came after that but how! 29 runs - 9 wickets...the last over by Ashish Nehra...the heart-breaking loss...
As if this was not enough, we realized that the tickets we were counting on to get confirmed did exactly the opposite of our expectations. With the e-ticket automatically canceling itself, we were left without any tickets for our journey back. With our hearts heavy after the Indian defeat, we did not want to spend any more time in Nagpur than necessary and decided as one that it will be better to try getting back to Mumbai as early as possible instead of trying to figure out some other options that will add to the time and more importantly, the money.
So it was that except for the lucky colleague (who, by the way, won a contest in mid-innings, getting a tee and goodie bag for it, got himself snapped with South African fans of the fairer variety, and finally even came on TV when despite all our efforts, we didn't) of ours, we found ourselves in the sleeper coach of the train begging people to let us sit down for a bit. Our friend, of course, got to fly back on a cheap ticket even though he did not even have a wait-listed ticket to begin with...all backed by one of the weirdest stretches of good fortune I have ever seen.
By the time we reached Mumbai, we were completely done in by the heat, dust, discomfort, and all associated perils of the journey back. The only thing we did not feel was boredom, thanks to the amazing gang we befriended on the train who not only happily shared their seats with us but also chatted and played with us all the way through.
Battered and hardened, as we made our ways to our respective homes with drooping shoulders and hoarse voices (what with all the Saccccchhhhiiiin....Sachin shouting), I thought of the team that was played out to be invincible before the tournament started and which was considered so vulnerable now with every day, every match bringing out some new chink in the armor. We will all get back to work the next day I thought, shrugging off the travails of the Nagpur trip slowly and surely. Will the Indian team also get over the pedestals they have been placed on and then thrown out of, all of it in such a hurry? Will they get back to believing in themselves and not the hype surrounding them? Will they stop being blind to their faults and finish wallowing in the make-believe world their fans would want them to be a part of? Will the day we were just witness to turn out into being just another day for the Team in Blue or will it be the day that made a difference...ye sab dekhenge hum log!
Posted at 02:08 pm by Nitai
Permanent Link